USA Degree, Not Just Speed, Fuels Enfinger's Success
---
Posted on December 10, 2015
Marketing and Communications
---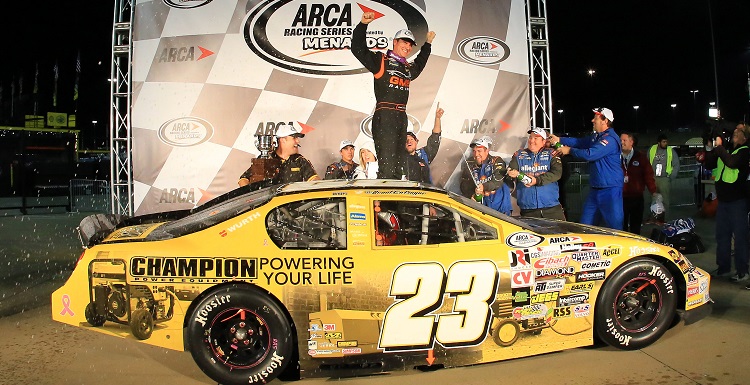 Grant Enfinger, who holds a marketing degree from USA, celebrates at Kansas Speedway in October after winning the 2015 ARCA Racing Series championship. Photo courtesy of GMS Racing LLC.
---
Maintaining perspective can be tricky with the world whizzing past at nearly 200 mph, but Grant Enfinger contends teamwork and unflinching management skills help strike the appropriate balance.
"No, I'm definitely not where I thought I would be at this point," said Enfinger, 30, who this fall became Alabama's first ARCA Champion in the Automobile Racing Club of America's 63-year history.
"There have been times when I thought I would be further, and there are times when I thought I wouldn't be racing at all. I have been on the upside and the downside of the racing roller coaster, and I try not to get too caught up in the highs or lows because you never know what's coming next. It's definitely a tough balance. I want to continue climbing the ladder, but still appreciate what we are doing here and now," he said.
Enfinger, who earned his bachelor's degree in marketing in 2007 from the University of South Alabama's Mitchell College of Business, has spent nearly two-thirds of his life behind the wheel. It began with go-karts at age 11, followed by Legend cars – and two Alabama Pro Legends division state titles – and eventually six NASCAR Camping World Truck Series races before joining the ARCA circuit. Enfinger recently announced his return to the NASCAR truck series.
The Fairhope native, who relocated recently to join North Carolina-based GMS Racing, said his father, a lifelong race fan, always encouraged his passion and took him to his first race at Talladega when he was still in grade school.
"After that I talked him into getting me a co-kart. Then it was Legends Cars when I was 15 or 16, and then we really started talking about taking it to the next level. There were a lot of late nights – staying up working on cars all the time – from that point on, and I guess I still haven't grown out of that stage," Enfinger said from North Carolina, where his fiancé, fellow USA alum Michelle Dupre, joined him recently. The wedding is set for January.
Enfinger said his initial goal in joining the racing world was simply to make a living doing what he loves, but now after four years, he's committed to continuing to "climb the ladder."
He said his marketing degree is serving him well because there's "definitely a competitive environment on the business side" of racing.
"When you break it down there's really three sides to the racing business. There's the performance aspect that I feel like we've had for a while now, and we're able to show it off at the ARCA level and be able to contend for wins most of the time we show up. And, of course, there's the speed aspect. But to me, the business aspect is often more important than the other two because if you don't have the business side down, you never get the chance to show off the performance," he said.
His marketing background also comes in handy when it comes to landing sponsors that, to date, have included national partners Allegiant Travel and Alamo Rental Car alongside local sponsors here – Triple K Construction, Baldwin Container Co., Wurth USA and DSLD Homes.
"That's a big part of what we do, and that's where the marketing degree and the Mitchell College of Business really comes into play. The most difficult part of all of this is just getting the deal done, so you can worry about the performance aspect," he said.
6 Questions with Grant Enfinger
USA: How would you describe the feeling of getting into the driver's seat of a race car?
Enfinger: "There's definitely a huge rush anytime I get in the race car. It's important to stay 100 percent focused all the time without letting emotions or fatigue get in the way. I am always trying to play out any potential scenarios in my mind. I always put a lot of focus on the initial start, and depending on the track we are at, how I should manage the tires."
USA: If you could listen to music in your car while you were racing, what would be on your playlist?
Enfinger: "There's no better music than 9000 RPM, but if I were to listen to something else it would have to be some old, twangy country."
USA: How do you transition from driving on a track to daily driving? Is speeding the hardest part?
Enfinger: "When you go from some of these places where we are close to 200 mph and then get on the highway at 55 mph everything just feels like it's in slow motion. It's a little difficult adjusting back to the daily driving, but probably not as bad as you might think."
USA: How does your adopted North Carolina compare to Fairhope? Do you miss the Alabama Gulf Coast?
Enfinger: "The Charlotte, N.C., area is nice. It's cool to be close to the mountains and actually have four seasons. It's a great place with lots to do, but the Gulf Coast will always be home. My fiancé, Michelle Dupre, just moved up here, but we get back quite a bit to see our family and friends, and to get crawfish."
USA: Racing is a tight-knit community. How difficult was it to join the fold when you don't hail from an area viewed as a traditional training ground for the sport?
Enfinger: "Most of the other drivers come from racing families but I really don't. Anywhere new can be difficult I guess, but it's definitely a team atmosphere, so you get close with the guys that you work with."
USA: What is the single most important marketing skill gleaned from your University of South Alabama degree and how do you leverage it to further your career?
Enfinger: "Management. Taking the resources that we have available and making the most out of it. Whether it's managing marketing, public relations, time, tires, on-track risks, people, equipment, money, etc. This business is extremely competitive, so you can't just do a good job at something. You have to do a better job than the other 40 guys you are competing against. There are so many variables in racing and so much is dictated by circumstances out of our control."
---