USA Student Earns Degree 37 Years Later
---
Posted on December 10, 2015
Alice Jackson
---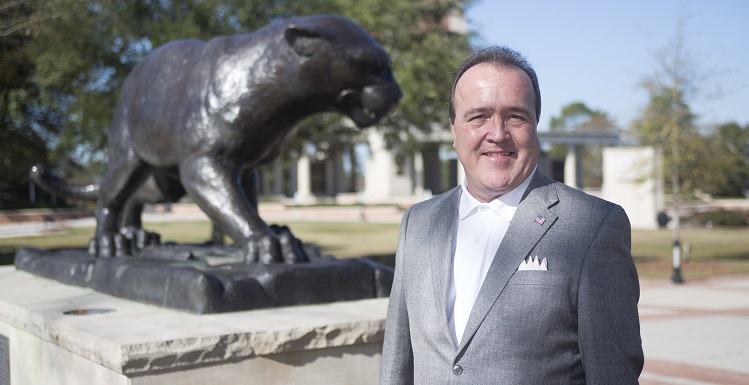 John Waldron enrolled at the University, in part, to set an example for his son. "Everything was going great until the day our 16-year-old son announced that he wasn't going to college because I hadn't completed my degree," Waldron said.
---
On Saturday, 58-year-old John Waldron will walk across the stage in the University of South Alabama's Mitchell Center to accept his bachelor's degree, ending a journey that was interrupted in 1978.
He had been an aviation management major working part-time at an airport when his employer noted that Waldron would do well in management because of his work ethic and devotion to detail. A short time later, Waldron was offered what he thought was a good job, and he left the classroom to seize the opportunity.
"I had one semester left, and I was a young person with a lot of varied interests," Waldron said. "It's a very different world now than it was then. Over the next 12 years, I traveled the world working with Eastern Airlines."
Life without a college degree was good, Waldron thought, and he never really worried about the lack of a degree. He and his wife, Anita, shared a strong work ethic and the desire to achieve. His awakening to the necessity of returning to the classroom was still years away.
When Eastern Airlines collapsed, Waldron went to work in a friend's pizza business where he learned the food and beverage business. A year later, needing more money to support his and Anita's growing family of three children, Waldron became a manager with the Steak and Ale food chain.
Three years later, during a conversation with a golf club manager, Waldron pinpointed why the man was having a serious problem with his food and beverage business.
"I took one look at his operation and saw that his chef was running a catering business out of the club's back door and giving the club the bills for it," Waldron explained. "This was a corporation that was acquiring various facilities, and I became general manager of their place in Nashville. Within eight months, I was vice president of food and beverage."
Eventually, golf club management took the Waldron family to North Carolina. While there, their two daughters attended college in South Carolina. Finally, the desire of living in a coastal area led the family to Mobile where Waldron became general manager of the Country Club of Mobile.
"Everything was going great until the day our 16-year-old son announced that he wasn't going to college because I hadn't completed my degree, and I'd turned out okay," Waldron said. "I decided that I had to finish my degree both for myself and to be a better example for my son."
He signed up for interdisciplinary studies at the University of South Alabama and returned to the classroom to earn 38 credit hours.
"It was a very different world from when I'd left college. Students today have a much more casual style of writing and speaking, but there's so much more writing demanded of today's college student," Waldron said. "I don't know that I wrote one paper in the entire time I was in college the first time. At USA, I probably wrote 25 papers."
He believes his ability to manage his time better also helped him. "When you're young and in college, you have so many competing interests, but when you're older and working, plus have a family, you have to make the most of the time you have," Waldron said.
He said the biggest change has to be the advising available to South Alabama students.
"When I left college, no one really cared whether you finished your degree or not, but today there's professional advising available to give students the opportunity to make better life decisions about their future," Waldron said.
He also faced the challenge of back surgery and recuperation during his studies. "That was a little bit tougher, but again you have to make up your mind you're going to make it work no matter what."
He said the variety of studies was something very different from his earlier time in college when studies were more focused only on his major.
"I loved the variety of the classes and the chance to learn things I'd never known," Waldron said. "I took an art appreciation class, and I had never known there was so much to learn about art."
The variety of studies at South led him to admit that if he had his life to live over again, perhaps he would have majored in finance with a desire to be a stockbroker or an entrepreneur.
And, how did his return to college impact his son's future?
"Oh, he's in college now," Waldron said. "As far as his mother and I were concerned, he didn't really have an option to not go to college, but now that I've earned my degree from USA, he's transferring here next semester to study engineering."
---