A Hollywood Experience on the Gulf Coast
---
Posted on December 29, 2015
Joy Washington
---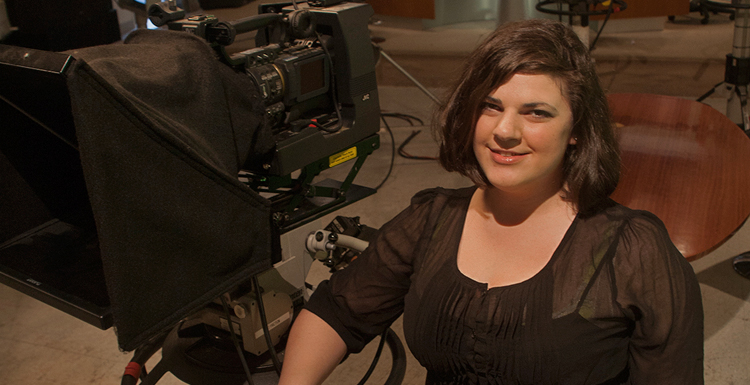 Recent communication graduate Erin Weninegar, 23, is ready to build her film career thanks to the education she received at South Alabama and opportunities from alumni Drew Hall and Horst Sarubin, pictured below with Eva Golson, director of the Mobile Film Office.
---
Film students at the University of South Alabama are taking advantage of the many opportunities to get real-world training in film and television right here in Mobile.
Erin Weninegar, 23, recently walked across the stage at the Mitchell Center on Dec. 12, receiving her bachelor's degree in communication from South Alabama. She plans to move to Atlanta and continue to work on films and strive to direct one someday. Thanks to Dr. Richard Ward, associate professor in communication, she is confident and ready to build her film career.
"Dr. Ward has played a huge role in helping me throughout my college career," Weninegar said. "As my advisor, I met with him every semester; he is an excellent professor and mentor."
Ward, a film graduate from the University of Southern California, said the department of communication at USA has numerous faculty members who have worked in film and television industries. He has worked for two commercial television stations, produced training videos and worked in the post- production department at Universal Studios in Los Angeles.
"Our concentration tries to cover as many aspects of the film and television field as possible," he said. "We offer two courses in studio-based television production and two courses in location digital cinema production."
Weninegar, a native of Chickasaw, also took advantage of opportunities that were offered by communication alumni Drew Hall and Horst Sarubin, who have had successful film careers working in Mobile and Hollywood.
"We have learned the importance of reaching back," said Hall. "One of the reasons we have done well in the film business is because we had professors like Dr. Ward who connected us to others in the film industry locally and in Hollywood."
Sarubin agrees. He said, "South Alabama has been an anchor for us."
"I started working with Drew and Horst last spring," Weninegar said. "With the help of a friend who worked at the studio, I jumped at the opportunity to intern. I was hired as a production assistant to the producer and director. Drew and Horst also hired me to work on a short film with them as a script supervisor."
University supporter Eva Golson, the director of the Mobile Film Office, works to assist directors and producers in securing locations for their feature films, music videos and commercials. Because of the great relationship Golson has built at South Alabama, she wanted to make a difference by establishing a $25,000 endowed scholarship. It will be matched by the Mitchell-Moulton Scholarship Initiative to support eligible students in the department of communication. Golson has also supported Hall and Sarubin, helping them build their careers in the film industry.
Hall graduated from USA in 2000, and he is an award-winning writer, director and producer at Frame 29 Films. Sarubin, who attended South from 1994-2000, is a writer, technical producer and director at Frame 29 Films. They work together at the studio in Mobile and in Hollywood. They are grateful for their friendship that started while they were studying at South Alabama. More importantly, they are also pleased to be able to help students get film industry experience right here in Mobile.
Ward and Dr. Steve Rockwell, associate professors in communication, are appreciative to Hall and Sarubin for giving students an opportunity.
"Drew and Horst stood out by their absolute commitment to their chosen field," Ward explained. "We recognize the value of placing our students in quality internships. What Drew and Horst have done, by engaging in feature-length production in Mobile, has been to allow our students to have Hollywood-level internships right here at home. This has been of tremendous importance."
Weninegar will always be grateful to Hall, Sarubin and Ward for the experiences she had as a student. But, she is also grateful to Ward for allowing her to stretch her wings.
"Erin has been one of the most dependable students," Ward said. "I recommended her to the department of theatre and dance at the University for a live video feed. She successfully directed the live video through all six productions of the play, 'An Enemy of the People.' This type of competence is in no small measure the reason Erin was named the Outstanding Digital Cinema and Television Graduate for fall 2015."
An overview of Drew Hall's film work:
Hall has directed five feature films, including "Skyhook," "The Phoenix Rises," "Sons of Liberty," "Convergence," and "Nigel and Oscar." His sixth feature, "Aether: The Rise of Specter," is in development.
An overview of Horst Sarubin's film work:
Sarubin's technical credits can be seen in the blockbusters "The Hobbit" trilogy, "Ironman 3," and "Furious Seven." He has also written an Internet commercial for Microsoft New Zealand, and he shot a documentary in remote Papua, New Guinea. He's also developing several other projects with Hall.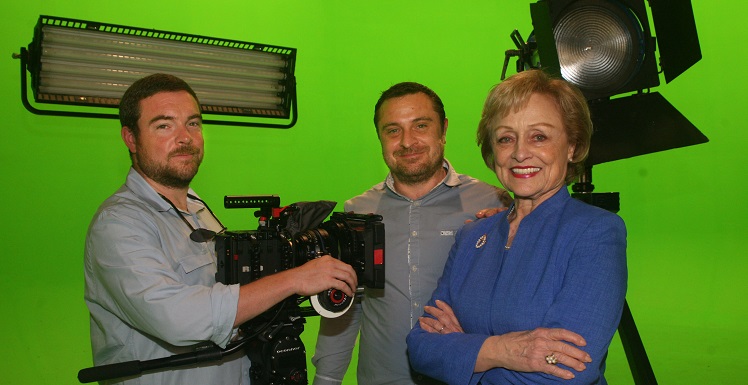 ---