Fort Michilimackinac

The great fur trade entrepôt of the upper Great Lakes during the French and British colonial periods, Fort Michilimackinac is also the most intensively excavated French site in the United States.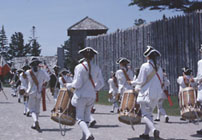 Established in 1715, the fort became a center of French influence among the region's Native American peoples. When the French left the region in 1763, the Odawa leader, Pontiac, orchestrated an attack against all British frontier posts in the west.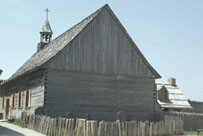 Fort Michilimackinac was captured by warriors who had entered the stockade under the pretense of a game of lacrosse to be played for the British troops. The modern reconstruction interprets both French and British occupations of the fort. The public can observe excavations conducted every summer.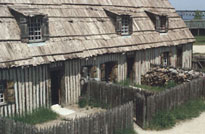 To read about Fort Michilimackinac and other sites of interest in northern Michigan, see:

France at Mackinac: A Pictorial Record of French Life and Culture, 1715-1760, by Eugene T. Petersen (Mackinac Island State Park Commission, Mackinac Island, Michigan, 1968).

Fort Michilimackinac, 1715-1781: An Archaeological Perspective on the Revolutionary Frontier, by Lyle M. Stone (Michigan State University Museum, East Lansing, 1974).

Excavations at Fort Michilimackinac: 1978-1979, the Rue de la Babillarde, by Donald P. Heldman and Roger T. Grange, Jr., Archaeological Completion Report 3 (Mackinac State Historic Parks, Mackinac Island, Michigan, 1981).

Craft Industries at Fort Michilimackinac, 1715-1781, by Lynn L. Morand, Archaeological Completion Report 15 (Mackinac State Historic Parks, Mackinac Island, Michigan, 1994).