Fort St. Jean-Baptiste
In 1714 Juchereau de St. Denis established this outpost on the border with Spain's colony of Nueva España. Here Spanish and French colonists carried on an illicit but highly profitable trade for the next half century. This off-site reconstruction of Fort St. Jean-Baptiste, first built in 1716, depicts its appearance in the 1730s. At nearby Los Adaes State Historical Park, archaeologists are investigating its Spanish counterpart, which served as the capital of Texas.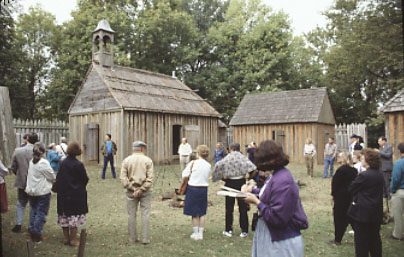 Samuel Wilson, a renowned expert in French colonial architecture, devised this reconstruction, which includes some pieux-en-terre structures. These simplest of buildings had walls made from poles placed directly in the ground - not recommended in the damp soils of the Southeast.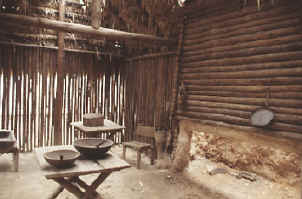 Clay bake ovens were omnipresent in the French colonies, but no colonial examples survive. This facsimile is based on a type still found occasionally in Québec.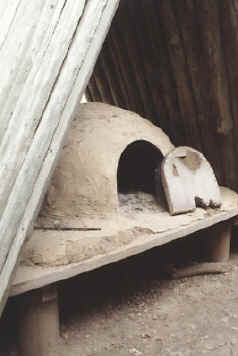 Note the coq gallois (Gallic cock) weathervane on the church spire, and the decorative roof finials, common features of all French colonial communities in North America.
Peering over the fort palisade, one can see a wood shingle roof on the left, and two bark-covered roofs with projecting decorative finials. Atop the belfry is a Gallic cock weathervane, still visible on churches throughout France.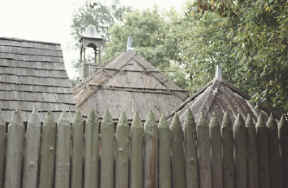 For more information, link to: https://www.lastateparks.com/historic-sites/fort-st-jean-baptiste-state-historic-site

To read about Natchitoches and other sites of interest in northwestern Louisiana, see:

1996 Annual Report for the Los Adaes Station Archaeology Program, by George Avery (Department of Social Sciences, Northeastern State University of Louisiana, Natchitoches,1996).

Analysis of Ceramics from Three Eighteenth and Nineteenth-Century Sites in the Locale of Natchitoches, Louisiana, by James H. Matthews (M.A. thesis, Department of Anthropology, Northwestern State University, Natchitoches, Louisiana 1993).