La Pointe Krebs House
The oldest standing structure in the state of Mississippi is this unique building in the coastal city of Pascagoula. Evidently built sometime between 1772 and 1780, it combines two unusual construction styles. The original two-room structure has thick walls of oyster-shell concrete (called tabby).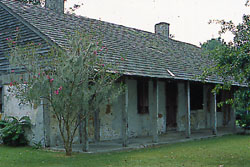 Around 1820, a third room was added to one end, with walls made in the traditional French colombage style, with mud and Spanish moss (a mixture called bousillage) used to fill in the spaces between wooden uprights. The tabby and bousillage both contain animal bones and pieces of pottery made by the Pascagoula Indians who occupied the site until about 1750.Today the house stands (newly restored) on the edge of the Pascagoula River in a park operated by the Jackson County Historical Society.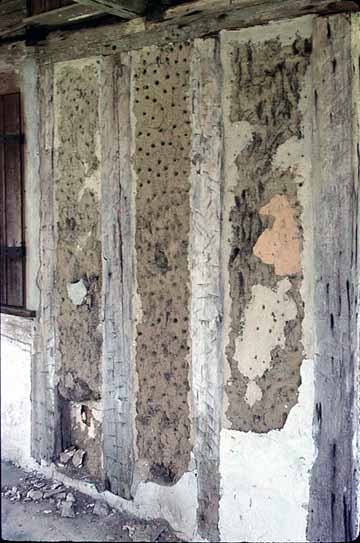 To read about the LaPointe-Krebs House, see:
Archaeology at the Kreb's House (Old Spanish Fort), Pascagoula, Mississippi, by Gregory A. Waselkov and Diane E. Silvia. University of South Alabama Archaeological Monograph 1 (Mobile, Alabama, 1995).