Documenting the Past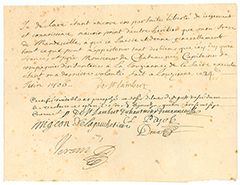 St. Lambert's Will, 1706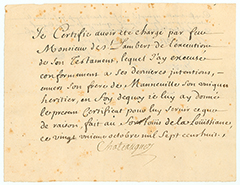 St. Lambert's Will Certification, 1708
The Mandeville and St. Lambert Papers
In 1702 Gabriel Philippe de Hautmesnil de Saint-Lambert (b. 1689) and his brother François Philippe de Hautmesnil de Marigny de Mandeville (b. 1682) first ventured south from Montréal with Charles Juchereau de Saint-Denis to found a trading establishment in the Illinois country. On the Wabash River they built a trading post and tannery to process furs and deerskins obtained from the Mascoutens and other native peoples. When Saint-Denis died in 1703, the trading venture collapsed and the Philippe brothers led a band of coureurs de bois further south. After joining the Tunica Indians in an attack on the Koroas and Yazoos in 1704, the Canadians arrived at the French colonial settlement of Mobile on January 28 of the following year.

Commandant Bienville immediately appointed "St. Lambert" (as he signed his name) ensign for one of the Troupes de la Marine companies garrisoning Fort Louis de la Louisiane. Our first document is his will, signed on June 24, 1706, appointing Bienville's brother Antoine Le Moyne de Chateaugué his estate executor and leaving all his properties to his brother Mandeville. St. Lambert died on July 15, 1706, at the age of 17 from yellow fever brought from Havana to Mobile on the supply ship Aigle. Bienville then appointed 24-year-old Mandeville to St. Lambert's rank of ensign, the most junior commissioned officer rank, often filled by teenagers. By favoring a fellow Canadian, Bienville alienated the colony's French-born commissary Nicolas de La Salle, who had sought the appointment of his 13-year-old son to that rank.
With our second document Chateaugué executed St. Lambert's will at Fort Louis on October 21, 1708. One week later Mandeville sailed from Port Dauphin carrying both documents with him to France, to lobby the royal court on Bienville's behalf for more supplies for the struggling colony and to put his own financial affairs in order. Once in Paris, Mandeville had both documents notarized on August 4, 1709, and prefaced his own signature with "De St. Lambert." This use of his brother's name suggests some truth to Bienville's later accusation that Mandeville had deceived the King's minister "by passing himself off as his deceased brother" to gain a promotion to lieutenant, although that cannot have been the case with the notaries certifying St. Lambert's will. Our third document, also drawn up by the Parisian notaries on August 4, 1709, attested that both the former documents were entered into the minutes and were considered originals.
In November 1710, Lieutenant Mandeville boarded the Renommée in La Rochelle harbor and set sail for Louisiane. Diverted for nearly a year by her crew's privateering, smuggling, and general disinterest in assisting the Mobile colonists, the Renommée finally reached Port Dauphin in September 1711, bringing the first resupply to the colony in three and a half years. Mandeville returned just as the colonists were rebuilding Mobile at a new location, at the head of the bay and 27 miles downstream from the old settlement, hereafter known as Old Mobile, location of St. Lambert's grave.
Mandeville remained in Louisiane, commanding a company of troops on Ile Dauphine for a time, where he was promoted to captain in December 1714. In July 1716 he loaned his sword to an ensign under his command, who employed the borrowed weapon in a duel involving the governor's son. Selected in August 1716 for command of Fort Toulouse, a new post to be built among the Alabama nation, Mandeville reportedly could not find sufficient numbers of pirogues and oarsmen for the upstream voyage; one of his lieutenants accomplished the task the following year.
Mandeville's company garrisoned Fort Condé in Mobile, where he attained the rank of senior captain in the colony (after a brief loss of rank in 1721 for insubordination to the Compagnie des Indes). In 1720 he returned to Paris to marry Madeleine Le Maire. On April 16, as he was about to return to Louisiane, Mandeville commissioned our fourth document, a power of attorney for his sister Louise Philippe to handle all of his affairs in France. (Unfortunately the bottom two inches of the document containing the signatures of notaries and witnesses has been trimmed off.) In October 1727 the King promoted Mandeville to major of New Orleans and named him a knight of Saint Louis; he was buried there on October 25, 1728.
References: Old Mobile: Fort Louis de la Louisiane, 1702-1711, by Jay Higginbotham (Museum of the City of Mobile, 1977); Dictionary of Canadian Biography, volume II, 1701 to 1740, "Philippe de Hautmesnil de Mandeville" entry by John Fortier (University of Toronto Press, 1982); France's Forgotten Legion: Service Records of French Military and Administrative Personnel Stationed in the Mississippi Valley and Gulf Coast Region, 1699-1769, by Carl A. Brasseaux (Louisiana State University Press, 2000).