2017 AMTESOL Conference
---
Posted on January 23, 2017 by SARIC
SARIC
---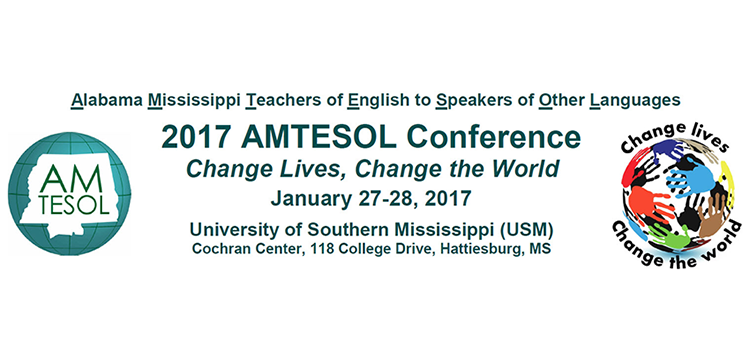 ---
Welcome to the 2017 AMTESOL Conference in Hattiesburg! This conference is open to everyone involved with the teaching and administration of programs for English language learners of all ages. Focused on the teaching of English as a second or foreign language, AMTESOL strives to meet the needs of K-12 teachers, intensive language teachers, community program teachers, administrators, researchers, and graduate students throughout Alabama and Mississippi.

Pre-Conference Workshop
Friday, January 27th
9:00am-12:00pm Options: 3 workshop sessions
12:00pm-12:45pm Lunch
Conference Presentations, Exhibits, and Events
Topics will be related to the following: Early Childhood, Elementary Education, Secondary Education, K-12 Administration, English Language Institutes (ELIs) on college campuses, ELI Administration, Community Programs, and Adult Education.
Friday, January 27th
12:45pm-6:00pm Exhibit Hall
1:00pm-4:45pm Concurrent Sessions (6 per hour)
4:30pm-6:00pm Poster Presentations
6:30pm-7:30pm Dinner
7:30pm-8:30pm Keynote Address
8:30pm-9:30pm Social Event "Name that Tune" (AMTESOL's very own Game Show!)
Saturday, January 28th
7:00am-9:00 am Breakfast
8:00am-9:00 am Annual AMTESOL Business Meeting
8:00am-12:45pm Exhibit Hall
9:00am-12:45pm Concurrent Sessions (6 per hour)
Registration: Early bird (Dec. 16th), Regular, Friday-only, Saturday-only, Student
Conference updates: To be posted on the AMTESOL website at www.amtesol.org
Professional Development Credits for K-12 Educators: CEUs and SEMIs
For information about the conference program, contact Alison Stamps AStamps@international.msstate.edu
For information about hotels and conference site, contact Ann Morris ann.morris@usm.edu
AMTESOL Conference Group Reservations (arranged by USM's English Language Institute)
January 26 & 27: Reserve with conference rates by December 19, 2016 or until room block is filled.
To book hotels, visit
www.amtesol.org/#!hotels/cmwx
Courtyard by Marriott
100 Lundy Lane (119 Grand Drive), Hattiesburg
(601) 268-3050
AMTESOL group rate $99/night
Residence Inn
116 Lundy Lane (116 Grand Drive), Hattiesburg
(601) 264-9202
AMTESOL group rate $110/night
---
---