South Alabama Research and Inservice Center
SARIC serves over 8,000 educators in the Baldwin County Schools, Chickasaw City Schools, Clarke County Schools, Gulf Shores City Schools, Mobile County Schools, Monroe County Schools, Saraland City Schools, Satsuma City Schools, Thomasville City Schools, and Washington County Schools.
SARIC's sixteen member Governing Board is comprised of teachers, school administrators, higher education representatives, an Alabama Department of Education representative, and a lay citizen. These governing board members, representing each of the school districts in the SARIC service area, set policy, approve staff development programs, ensure accountability, and provide guidance to ensure that SARIC efforts are aligned with local school district needs.
This web site is designed to provide information regarding our program offerings, special events, and internet resources for teachers and administrators. We hope you find the site useful. We look forward to hearing from you.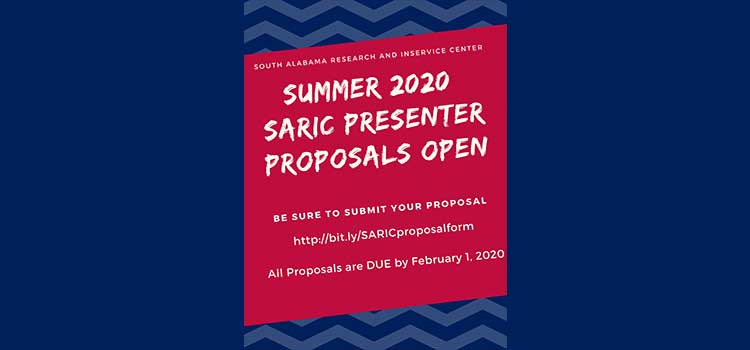 Summer 2020 SARIC Presenter Proposal
South Alabama Research and Inservice Center Summer 2020 SARIC Presenter Proposal is Open. Be sure to submit your proposal. All proposals are due February 1, 2020
▷ View full news article
|
▷ more news articles