Learn to Move, Move to Learn
---
Posted on June 9, 2016 by SARIC
SARIC
---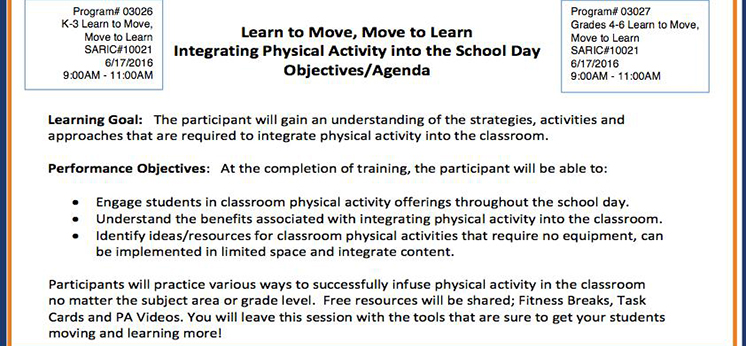 ---
Program# 03026
K-3 Learn to Move, Move to Learn
SARIC#10021
6/17/2016
9:00 AM - 11:00 AM
Program# 03027
Grades 4-6 Learn to Move, Move to Learn
SARIC#10021
6/17/2016
9:00 AM - 11:00 AM
Integrating Physical Activity into the School Day
Objectives/Agenda
Learning Goal: The participant will gain an understanding of the strategies, activities and approaches that are required to integrate physical activity into the classroom.
Performance Objectives: At the completion of training, the participant will be able to:
Engage students in classroom physical activity offerings throughout the school day.
Understand the benefits associated with integrating physical activity into the classroom.
Identify ideas/resources for classroom physical activities that require no equipment, can be implemented in limited space and integrate content.
Participants will practice various ways to successfully infuse physical activity in the classroom no matter the subject area or grade level. Free resources will be shared; Fitness Breaks, Task Cards and PA Videos. You will leave this session with the tools that are sure to get your students moving and learning more!
---
---