Alabama Space Academy® for Educators Scholarships
---
Posted on April 1, 2019 by SARIC
SARIC
---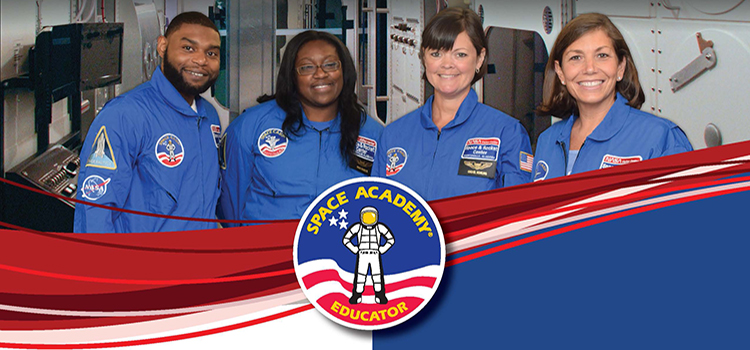 ---
Alabama teachers attend Space Academy for Educators at no cost!
The U.S. Space & Rocket Center has received funding from the Alabama Legislature to bring educators from across the state for FREE during Alabama Space Academy for Educators.
This immersive, professional development program allows teachers to train like astronauts as they learn among their peers.
Lesson Plants and Activities: Take away standards, aligned activities and lesson plans that encourage and develop 3-D thinking in your classrooms.
Best Practices: Learn from your fellow educators from across the state. Share ideas for enhancing your curriculum. Stimulate creativity through hands-on activities.
Network: Tap into a community of engaged, committed educators. Build professional friendships that continue long after you've completed your mission here.
Archives and Support: Access NASA and Space Camp lesson plans and experiments that can be adapted to your classroom. Build your own curriculum with objectives-driven activities designed for grades 4 - 9.
Alabama Space Academy for Educators — where professional development is mission critical.
Register Now!
VISIT spacecamp.com/educators
Alabama Space Academy for Educators
June 5 - June 10, 2019
Check in Wednesday, June 5 and graduate Monday, June 10.
June 26 - July 1, 2019
Check in Wednesday, June 26 and graduate Monday, July 1.
Includes:
Lodging at University of Alabama in Huntsville
Meals during program days
Flight suit, t-shirt, backpack and all educational program materials.
Receive 45 Professional Development Credits.
Educators Get Ready for the Next Giant Leap!
To learn more go to
spacecamp.com/alsae
To apply go to
spacecamp.fluidreview.com
For additional information contact
Heather Roden at
heatherr@spacecamp.com or call (256) 722-5639
---
---