Biology outreach to 3rd, 4th and 5th graders at Mobile Botanical Gardens
---
Posted on June 15, 2021 by Jason Strickland
Jason Strickland
---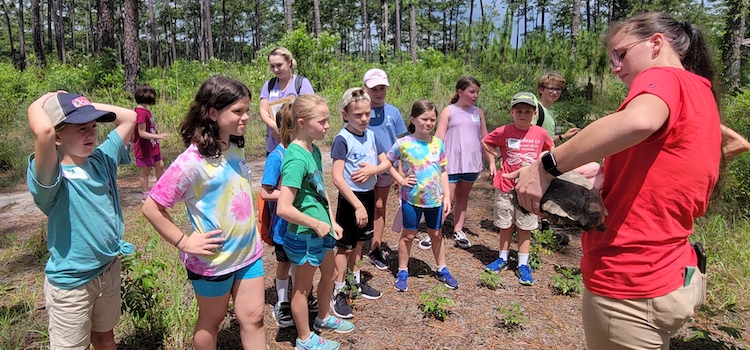 Photo of Dawn Canterbury talking to students about Gopher Tortoises in the Mobile Botanical Gardens.
---
Members of the Biology Department at the University of South Alabama participated in Nature BLAST at the Mobile Botanical Gardens. Assistant Professors Dr. Adam Chupp and Dr. Jason Strickland, Master's student Dawn Canterbury, and undergraduate biology major Onna Andrews talked to 3rd, 4th and 5th grade students about reptiles and amphibians. They discussed the main characteristics of these two animal groups and some of the representative species that can be found in Southeast Alabama. Additionally, the students were able to see both preserved and live animals as they learned how to identify different species. The day ended with a walk through the Mobile Botanical Garden's Longleaf Pine Forest in search of the state and federally protected Gopher Tortoise! The students saw an adult Gopher Tortoise in its burrow and were also shown an adult male Gopher Tortoise up-close. As evidence of their enjoyment, the NatureBLAST attendees were asking if they could join the Biology Department by the end of the day!
Dr. Chupp has been conducting research on the Mobile Botanical Garden's Gopher Tortoises since 2017 and is interested in the behavioral ecology of this threatened keystone species. He is currently serving on the board of directors at the Mobile Botanical Gardens. The Mobile Botanical Gardens is one of Dawn's sampling sites for her thesis which includes studying behavioral and disease ecology of Gopher Tortoises.
---
---