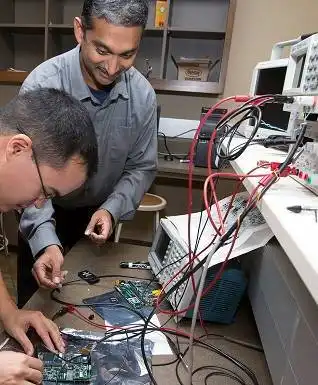 Dr. Edmund Spencer
Associate Professor Electrical Engineering

---
Education
Ph.D. Electrical and Computer Engineering, University of Texas at Austin
M.S. Electrical and Computer Engineering, University of Texas at Austin
B.S. Electrical and Electronics Engineering, University of Leicester, UK
---
Research
Space plasma physics and space weather.
Design and development of next generation instruments for space science and space plasma characterization.
Development of theoretical and analytical frameworks to analyze and interpret the measured data from instruments immersed in or proximate to a plasma.
Interaction of the solar wind with the earth's magnetosphere.
Nonlinear dynamics of growth, onset, expansion and recovery phases of geomagnetic substorms.
Nonlinear dynamics of the initial, main and recovery phases of geomagnetic storms.
Development of Full Electromagnetic 3D Particle in Cell codes for the analysis of RF instrument behavior in space plasmas.
Analyzing and synthesizing models to explain satellite and ground based measurements of solar wind-magnetosphere-ionosphere activity.
Genetic Algorithms, Particle Swarm Optimization, Differential
Evolution and other stochastic optimization algorithms and applications.
---
Publications
E. Spencer, S. Patra, Ionosphere Plasma Electron Parameters From Radio Frequency Sweeping Impedance Probe Measurements, Radio Science, 10.1002/2015RS005697, August 2015.
S. Patra, E. Spencer, The effect of changing solar wind conditions on the inner magnetosphere and ring current: A model data comparison, JGR Space Physics, 10.1002/2015JA021299, August 2015.
T. Andriyas, E. Spencer, Collisionless Resistivity in a Bifurcated Current Sheet, JGR Space Physics, doi: 10.1002/2013JA019242, June 2014.
E. Spencer, S. Russ, R. Gollapalli, B. Kerrigan, J. Mullins, K. Leggett, D. Clark, J. Mizell, D. Vassiliadis, G. Lusk, Measurements And Particle In Cell vs. Fluid Simulations Of A New Time Domain Impedance Probe For Ionospheric Plasma Characterization, Poster, AGU Fall Meeting 2015.
D. Vassiliadis, J. Christian, A. Keesee, E. Spencer, J. Gross, G. Lusk, Bringing Space Science to the Undergraduate Classroom: NASA's USIP Mission,Poster, AGU Fall Meeting 2015.
E. Spencer, Development of a Time Domain Radio Frequency Plasma Impedance Probe For Measurement of Absolute Electron Density and Electron Neutral Collision Frequency, Poster, AGU Fall Meeting 2014.
For a complete list of publications, please see CV.
---
Courses
EE 354 Electromagnetics I
EE 355 Electromagnetics II
EE 575 Stochastic Processes