Cutting Carbon Emissions
---
Posted on May 17, 2022 by Lance Crawford
Lance Crawford
---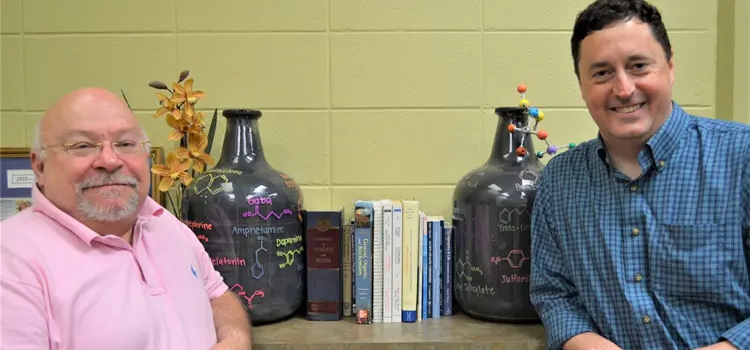 Dr. James Davis, left, professor of chemistry and Dr. Kevin West, professor of chemical engineering, have partnered with Norton Engineering Consultants to take their technology of reducing carbon emissions into the industrial marketplace. While hurdles remain, this technology is promising and could have long-term effects for South and the global environment.
---
Two University of South Alabama professors researching energy efficient forms of carbon-capture have developed a technology that reduces industrial power plant emissions using ionic liquids – salts in a liquid state that melt at relatively low temperatures.
The technology is now a step closer to commercialization with the University entering into a licensing agreement with Norton Engineering Consultants, whose specialty is exhaust gas purification for petroleum, chemical and environmental control companies around the globe.
Dr. James Davis, a USA chemistry professor, has been working on carbon-capture technology since 2000. The initial motivation was the removal of CO2 from natural gas, a process that often needs to be performed before it can be sold as fuel.
Dr. Kevin West arrived at South in 2008 joining in this research adding his expertise in chemical engineering.
"Norton Engineering is licensing the technology so they can offer it to chemical and energy companies as an effective and efficient way in which to capture CO2 produced as a byproduct of their operations," West said. "We are very excited that Norton Engineering is taking this technology into the industrial world, and we hope that it makes a significant and lasting impact."
As global concerns surrounding climate change increased over the years, so did the focus of Davis' research.
"The whole global warming, large-scale carbon-capture furor grew up around us as our work continued and it gradually supplanted natural gas purification as our main targeted application," Davis said.
West's contributions have added another dimension to the development of South's CO2 capture technology.
"We designed, prepared and performed qualitative demonstrations of the capture chemicals and their use prior to his arrival," Davis said. "The implementation of any new chemistry in industry requires exquisitely careful measurements of properties, performance, design and optimization of the physical reactors and settings in which they will be used. Dr. West has carried all the water in that critical element."
The function of South's carbon-capture materials and conventional materials are similar except South's are ionic in nature and don't evaporate where others do, offering a more environmentally friendly option.
"Many conventional systems will capture the CO2 while losing some of the capture material out of the exhaust stack – swapping one environmental problem for another," Davis explained.
There are still hurdles to clear, but the technology is promising and could have long-term positive effects for South and the environment.
"If all goes reasonably well, this could result in meaningful royalty income for the University, as well as the prestige that would be associated with being a major player in helping to deal with a problem widely regarded as having global implications," Davis said.
---
---