Career Launch: Engineering Grad Lands Aerospace Job at Boeing
---
Posted on July 22, 2021 by Thomas Becnel
Thomas Becnel
---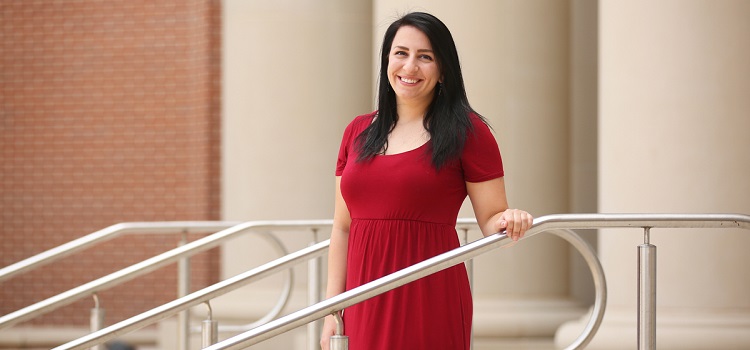 Darcey D'Amato recently took a job as a systems engineer in the aerospace division at Boeing. Her advice to students preparing for a job search: "I tell everybody: Go to conferences. Go to career fairs. Talk to recruiters."
---
#MyFirstJob is a series focused on University of South Alabama graduates who are beginning their careers.
Darcey D'Amato earned a master's degree in psychology, then decided to shift gears, start over and follow an interest in space exploration.
Science classes at the University of South Alabama led her to chemical engineering, then mechanical engineering. She became a Summer Undergraduate Research Fellow. She wound up leading a team of students working on a cube satellite in the JAGSAT program.
D'Amato began attending national conferences of SWE, the Society of Women Engineers. Before earning her bachelor's degree, she landed a summer internship at the NASA Jet Propulsion Laboratory in Pasadena, California.
"It was like a dream – I couldn't believe it was real," she said. "I remember the Juno spacecraft arriving at Jupiter in 2016, watching a live broadcast of that, and going 'Whoa.' And it ended up that my boss at JPL, the wonderful woman who hired me from the SWE conference, had worked on the Juno mission. So that was a pretty crazy moment."
D'Amato, 31, recently took a job in Seattle in the aerospace division at Boeing. She and a friend drove across the country in her Honda Civic. Cargo included a cat named Sebastian and dog named Alex.
Because of the coronavirus pandemic, she's been working from home and going into her office once or twice a week. She feels fortunate with her position as a systems engineer in Advanced Concepts Development.
"They call it rapid prototyping," she said. "It's for real engineering. They make it, test it and do it."
After being a college student, D'Amato enjoys going to work and earning a paycheck. She attends ballgames and visits museums in Seattle. She lives south of downtown near Pioneer Square Park.
"I have a tiny apartment that I pay too much for, but there's an incredible view of Puget Sound and I can see the ferries going back and forth," she said, looking out her window and growing excited. "Oh, my gosh! I can see a whale in the bay for the first time! It's an orca. I saw a little hump in the water and then mist coming out of the blowhole! Oh, I can see it again! This is amazing!"
Changing Minds, Majors
D'Amato's father is a doctor and her mother is a nurse. She grew up in Wise, Virginia, which is a small city of about 3,000 people.
"I was into books and reading growing up," she said, "so I thought I'd be an English major, or study history or archeology."
At the University of North Carolina Wilmington, she earned a degree in psychology. She chose South for graduate school in applied psychology. She was interested in suicide prevention research.
D'Amato made good grades and earned her master's degree in psychology, but felt dissatisfied.
"Something didn't click," she said. "I wasn't finding the kind of meaning that I hoped for. I had to force myself to go into my sessions."
D'Amato decided to start over with a science curriculum. She brought along all she had learned in psychology. "It's not something I regret at all," she said. "It changed my viewpoint of life in general."
D'Amato began taking classes in physics, chemistry and engineering. She worked on satellite projects. She felt better about her career path.
"It was definitely tough, but I was always the one in the front row asking questions," she said. "It was as challenging as psychology grad school, but it was a different kind of hard. I really enjoyed my engineering education."
D'Amato liked living in Mobile, too, which was a big city compared to her hometown. She joined a Roller Derby team. She went to Arts Walks, ate crawfish and explored the Gulf Coast.
"Mardi Gras is the best time of the year," she said. "And then there's beach season and kayaking season."
D'Amato got serious when it came time to planning for life after graduation. She was thrilled with her summer working for the NASA Jet Propulsion Lab.
"I never thought I would have that kind of an opportunity, but I threw myself into finding an internship as hard as I could," she said. "I did so much prep work and I went to a SWE conference in Anaheim, California, and that was the best opportunity I ever could have had. People saw my resume who never would have seen my resume. I tell everybody: Go to conferences. Go to career fairs. Talk to recruiters."
In Seattle, D'Amato is savoring her first summer in the Pacific Northwest. She doesn't miss the humidity of the Gulf Coast. She's happy to move on from college life.
"I was a student forever – like, 12 years," she said. "I have a life now. Work/life balance is important to me. I can put my work away and not think about it until the next day."
---
---