Developing Next Generation Carbon Fiber Reinforced Polymers
---
Posted on February 22, 2021 by Lance Crawford
Lance Crawford
---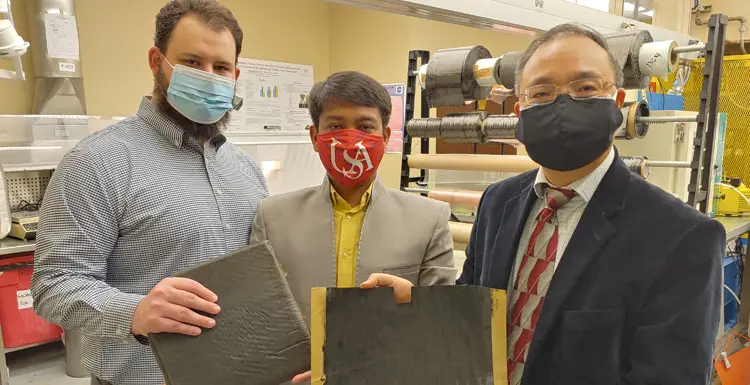 Researchers from the William B. Burnsed Jr. Mechanical, Aerospace, and Biomedical Engineering Department. From L-R; Michael Johnson, MS student and Graduate Research Assistant, Nazim Uddin, MS student and Graduate Research Assistant, Prof. Kuang-Ting Hsiao display a unidirectional ZT-CFRP Prepreg sample produced in Hsiao's lab and a ZT-CFRP Composite Panel manufactured from stacks of ZT-CFRP prepregs.
---
The University of South Alabama has received a $250,000 National Science Foundation Partners for Innovation grant to make next generation, high-performance carbon fiber reinforced polymer (CFRP) composites available for broad commercialization.
Conventional CFRP composites, usually in laminate form, provide an excellent weight-to-strength ratio but mechanical, electrical and thermal weakness limits their potential compared with metals in many applications.
This new technology has demonstrated notable improvements in those properties, allowing for far better multifunctional performance that can be better tailored to the applications. The key is the strong and highly conductive carbon nanofibers (CNFs) thread through multiple arrays of carbon fibers in a zig-zag pattern along what is known as the z-direction or thickness direction of a composite laminate panel, creating an interlocked multiscale fiber-reinforced network. This patented technology is known as ZT-CFRP and was developed by University of South Alabama mechanical engineering professor Dr. Kuang-Ting Hsiao.
"If you apply this concept, we can expect that airplanes, cars, or sporting goods utilizing ZT-CFRP will be more efficient, lower production cost, simpler to design and assemble, lighter and stronger," he said. "The saved weight could be used for adding more performance or upgrading entertainment options."
The National Science Foundation has long supported academic research, but its Partners for Innovation program focuses on identifying and supporting research and technologies that have potential for accelerated commercialization.
This required South to partner with industry. Five separate corporations have expressed interest in the project: Toray, a global leader in the supply of carbon fiber composite materials; Porsche Motorsports and MHP Americas, Inc., which are both subsidiaries of Porsche AG.; UST Mamiya, which makes graphite golf shafts; and Hexcel, a supplier of composite materials for Airbus.
"The success of this technology and its commercialization availability will potentially benefit all participating companies and the broader user base of composite materials," Hsiao said. "If the technology demonstrates readiness for commercialization, the creation of a start-up, licensing, joint-venture, and other business arrangements in various markets all are possible next steps."
The grant also includes a leadership component for students selected for the program.
South's Leadership, Education and Development plan managed by Dr. Michael Chambers, will be implemented for participating students and postdoctoral researchers. LEAD will provide specific learning objectives and outcomes in the following targeted areas of development: (1) Innovation and Entrepreneurship; (2) Commercialization and Technology Transfer; and (3) Leadership.
---
---