Helping Others Engineer Their Dreams
---
Posted on September 3, 2021 by Lance Crawford
Lance Crawford
---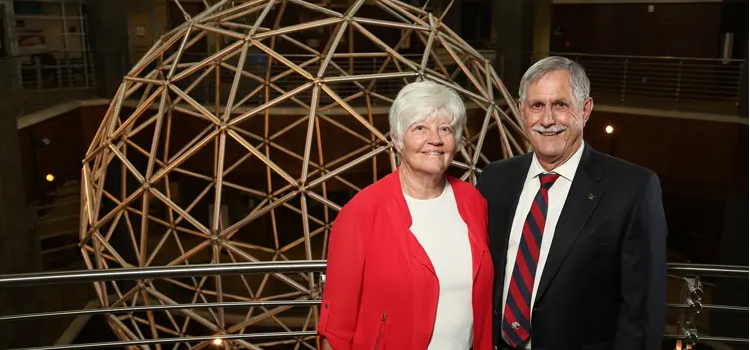 Ardent supporters of education and engineering, Drs. John and Sally Steadman hope their $3.8 million gift to South's College of Engineering helps generations of future engineering students pursue their dreams.
---
Drs. John and Sally Steadman have dedicated most of their careers to education and engineering. Now they're making a commitment to serve those passions for years to come. They have pledged a $3.8 million gift to the University of South Alabama's College of Engineering.
"The Steadman's gift will greatly expand the College of Engineering's capability to support the professional development needs of both our students and faculty," said Dr. John Usher, dean of the College of Engineering.
The Steadmans view this estate gift as repayment for a lifetime of opportunities gained through education and engineering.
"Much of the assets we have are a result of the education we received and the opportunities this provided to us," said John Steadman, dean emeritus, College of Engineering.
The couple began their careers working in industry and the federal government before moving into higher education. They arrived in Mobile from Wyoming in 2003 when John Steadman was named dean. Sally Steadman's appointment was with what is now the Honors College. In 2019, he stepped away from his role as dean, allowing both to focus on what they love most – teaching.
"We both gain energy and fulfillment from interacting with the students, both in and out of the classroom," Sally Steadman said. "With each graduation, we are proud of the new engineers who are beginning their careers."
Their gift will focus on supporting undergraduate engineering education.
"Much of the support is to be used for scholarships," John Steadman said. "We also want to improve the quality of the education students receive at South, so we hope these funds will also provide support for faculty who are passionate about teaching engineering, helping them enhance their capabilities."
The Steadmans have worked tirelessly to promote South and the College of Engineering. Bill Burnsed, a friend, and namesake of the William B. "Bill" Burnsed department of mechanical engineering has been moved to action because of their passion.
"When I met John a few years ago, I was amazed by his knowledge of all the different engineering disciplines," said Burnsed. "Their commitment to excellence was one of the key factors in my scholarship and mechanical engineering department endowments.
At the time in life when many people retire, the Steadmans are still teaching, helping students and hoping their gift supports increasing diversity in the field of engineering.
"Our students are very much in need of financial assistance and even a small scholarship will help ensure that they make progress on their degree program," Sally Steadman said. "Scholarships can also be very helpful in recruiting students to USA. By setting up scholarships for underrepresented students, we can help attract a broader student body."
The Steadman's generosity will open the doors of opportunities for students leaving South with an engineering degree in hand and a bright future in their chosen field.
"Engineering – and teaching engineering – has been a great career for us," John Steadman said. "We hope this gift will make it possible for hundreds of young people to pursue their dreams."
---
---