Carbon Fiber Reinforced Polymers
---
Posted on March 24, 2021 by USA College of Engineering
USA College of Engineering
---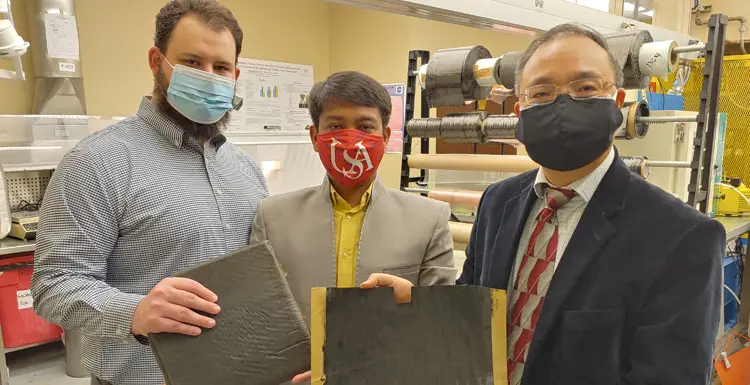 Researchers from the William B. Burnsed Jr. Mechanical, Aerospace, and Biomedical Engineering Department. From L-R; Michael Johnson, MS student and Graduate Research Assistant, Nazim Uddin, MS student and Graduate Research Assistant, Prof. Kuang-Ting Hsiao display a unidirectional ZT-CFRP Prepreg sample produced in Hsiao's lab and a ZT-CFRP Composite Panel manufactured from stacks of ZT-CFRP prepregs.
---
Professor Kuang-Ting Hsiao's research group has recently developed an innovative polymer matrix composite enriched with nanoparticles and reinforced with carbon fibers. This work was originally supported by NASA and later on by NSF, Alabama Department of Commerce, and industry. It is now further funded through NSF's Partnership for Innovation (PFI) program for exploring the commercialization feasibility with potential industrial partners in a broad range of industries including MHP Americas, Porsche Motorsports, UST Mamiya, Hexcel Corp., and Toray Composite Materials America. The composite is called ZT-CFRP and the information on ZT-CFRP can be found in several notable business magazines and company news: Composites Portal, Composite World, Composites Manufacturing, and MHP.
Original Article on Dr. Hsiao's research was published earlier this year and can be viewed by clicking: Developing Next Generation Carbon Fiber Reinforced Polymers.
---
---