The University of South Alabama Jaguar Marching Band announces Ms. Carson Watson as its next Drum Major
---
Posted on March 21, 2015 by William Petersen
William Petersen
---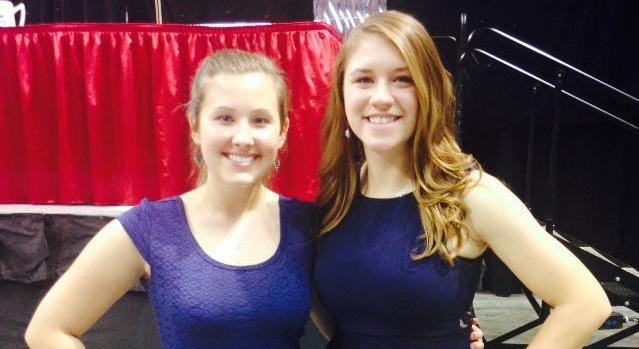 New Drum Major Carson Watson (pictured left) and current Drum Major Rebecca Mitchell (pictured right).
---
The University of South Alabama Jaguar Marching Band, under the direction of Director of Bands, Dr. William Petersen, and Associate Director of Bands, Dr. Michael Phillips, is pleased to announce the selection of Ms. Carson Watson (Prattville, AL, Major: Biology, Instrument: Clarinet) as the next Drum Major of the Jaguar Marching Band. The selection of Ms. Watson was announced to the Jaguar Marching Band at their 2014-2015 Awards Banquet in January. Ms. Watson was selected from a candidate pool of 10 current members of the Jaguar Marching Band during an audition process that lasted the course of the fall 2014 semester.
Dr. Will Petersen, Director of Bands at USA and Director of the Jaguar Marching Band, remarked that "Carson distinguished herself from a group of incredibly talented candidates, each one of which could have handled this extremely visible position with great poise and confidence. Carson showed an incredible amount of preparation and excellence in all facets of the audition including conducting, an in-the-stands simulation, fundamentals instruction, demonstration of traditional JMB Drum Major visual elements, and a fantastic final interview. Carson is an exemplary student, involved in many campus activities, and possesses great poise in all situations with many different individuals and groups. She is equally at ease with JMB student-musicians, current USA students, alumni, administrators, supporters of USA, and the general public."
Petersen continued that "the position of Drum Major of the Jaguar Marching Band requires extensive time that is not often seen during a JMB performance or gameday. Being one of the primary student faces of USA is a hefty responsibility, and I believe that Carson will follow in the footsteps of our first Drum Major Cody Salter, and current Drum Major Rebecca Mitchell, without missing a beat!"
In response to the selection as the third-ever Jaguar Marching Band Drum Major, Watson stated, "I was speechless when it was announced that I would be taking on the position of Drum Major. Because the audition process was long and thorough, there were months of build-up to the announcement. All of the other candidates did so well; it could have been any one of us. It is a huge honor to have been selected."
In response to being asked about the influence the JMB has had on her and working with departing Drum Major Rebecca Mitchell, Watson stated "being a part of such an incredible organization has meant the world to me. My experience in the JMB has shown me just how much of a positive impact that it has on people all across Mobile and the region. This presence makes each member of the JMB a representative of this university. Working with Rebecca has opened my eyes to all the behind-the-scenes responsibilities and pressures of being the face of this marching band. Striving to exemplify her professionalism and leadership has prepared me to serve as the kind of drum major that the JMB deserves."
The Jaguar Marching Band sees the departure this May of current Drum Major, Rebecca Mitchell (Ijamsville, MD, Major: Business Management [Entrepreneurship], Instrument: Trumpet). Rebecca has served as Drum Major of the JMB since 2012 and has consistently exemplified the best of the Jaguar Marching Band and the University of South Alabama. Petersen remarked "one of the best parts of my job is to work with so many talented, dedicated students from across this campus. There has been no student at USA, and quite possibly my career, that has had a bigger impact on me than Rebecca Mitchell. She is an extraordinary human being. Rebecca is passionate about everything that she undertakes, displays a genuine affection for every person she interacts with, and has created an enviable standard that all future drum majors of the JMB will look to embrace. Without Rebecca serving as Drum Major of the Jaguar Marching Band these past three years, there is no way that the JMB would have been as successful as it has been. I have grown immeasurably as an educator and person because of Rebecca's influence and friendship. I can never thank her enough for that and will always cherish our friendship."
Mitchell will be graduating this May with a degree in Business Management (Entrepreneurship), and has plans to move to Chicago and pursue a position in human resources. Rebecca remarked about her experience over the past three years:
"Words cannot express how grateful I am to have been Drum Major of the JMB for the last three years. The friendships and relationships I've formed with the students and staff of the marching band has truly made Mobile feel like home to me. I have had opportunities I never would have imagined and made connections with people in the university and community who I wouldn't have met otherwise. To say my role as drum major has affected my experience at USA is an understatement. It has helped me grow as a person and shaped my entire college experience into more than I ever dreamed it could be!"
Mitchell continued, commenting on her successor Watson, that "Carson possesses many of the skills necessary to fulfill the role of drum major, but most importantly, she has a desire to serve the band and lead every member to becoming the best they can be. Carson wants to see the band grow to its full potential and provide each student the best experience possible with the JMB. Her heart for others will ultimately help her succeed as drum major, and I am so excited to see how the band will grow under her leadership!"
While the JMB will surely miss the influence of Rebecca, she responded when asked about what she will miss the most about her time serving the JMB, "above all, I will miss all the people I have come to know and love over the past three years. The experiences and opportunities were wonderful, but the students, faculty, staff, and community members are at the heart of everything I cherish from my time as Drum Major. They have all become my family here in Mobile, and without them I would not be where I am today."
On behalf of the University of South Alabama, the Department of Music, and the Jaguar Marching Band, we offer our congratulations to Carson Watson, and our deep thanks to Rebecca Mitchell for all they have done, and will continue to do for USA and the JMB.
---
---