Jaguar Marching Band seeks applicants for Color Guard & Winterguard Instructor
---
Posted on April 6, 2023 by Dr. Will Petersen
Dr. Will Petersen
---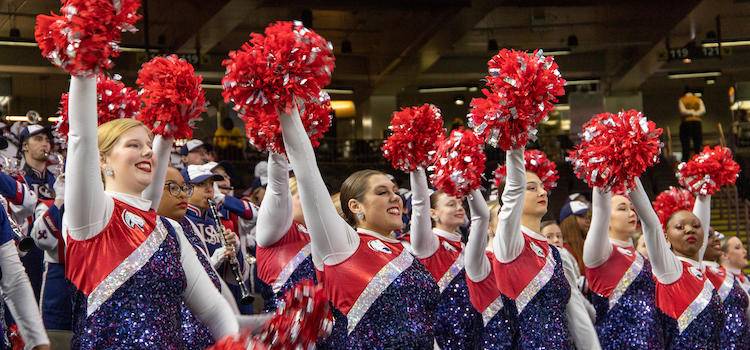 JMB Color Guard at New Orleans Bowl
---
Color Guard Director - Jaguar Marching Band
University of South Alabama
Mobile, AL
Job Overview
The University of South Alabama Jaguar Marching Band seeks high quality applicants to apply for the University of South Alabama Jaguar Marching Band Color Guard Director, beginning in August of 2023. The Color Guard Director will coordinate all activities related to the Jaguar Marching Band's Color Guard and Winterguard programs. This position will manage all aspects of the color guard program (choreography, teaching, administration) in conjunction with the Jaguar Marching Band faculty at the University of South Alabama. The successful candidate will instruct and supervise students during rehearsals and performances.
Essential Duties and Responsibilities
Instruction
Plan and implement instruction for marching band color guard, as well as winterguard programs, including teaching routines and marching drills
Plan and implement body strengthening, performance training, and equipment skill-building for students in the color guard and winterguard program
Plan and implement recruitment activities, including supervision of an audition and selection process for color guard auditionees
Perform other duties as required by the Jaguar Marching Band faculty and staff
Management and Design
Assist the Jaguar Marching Band faculty in administrative duties related to the color guard program including: budgeting, scheduling, facility coordination for rehearsals and performances, and assisting in hiring supplemental staff or clinicians;
Comply with all University of South Alabama and Jaguar Marching Band policies;
Collaborate with the Jaguar Marching Band faculty and staff to assist in developing marching band show concepts and visual design;
Assist the Jaguar Marching Band faculty and staff in the maintenance, care, and inventory of color guard equipment and uniforms;
Student Supervision and Assessment
Participate in all classes, rehearsals, performances, and games as agreed to by the Jaguar Marching Band faculty;
Oversee color guard students in rehearsal, while traveling, and at performances, games, and other activities;
Assist the Jaguar Marching Band faculty in the assessment, evaluation, grading, and administrative record-keeping of individual color guard students.
Qualification Requirements
To perform this job successfully, an individual must be able to perform each of the above essential duties satisfactorily. The requirements listed below are representative of the knowledge, skill, and/or abilities required unless otherwise stated as "preferred". Reasonable accommodations may be made to enable individuals with disabilities to perform the essential functions.
Minimum of 5 years of experience teaching color guard at the high school or collegiate level;
Collegiate color guard performance experience required; experience in DCI, WGI, or other similar activities preferred;
Ability to properly demonstrate and model flag and weapon (sabre, rifle) techniques for color guard/winterguard students;
Ability to inspire students and build enthusiasm for the color guard and winterguard activity;
Evidence of excellent interpersonal skills; demonstrates professional appearance and attitude;
Availability to teach on M/W/F rehearsals from 4:00PM-6:00PM during the fall semester. Availability to teach from 4:00PM-8:00PM (color guard techniques 4:00-5:00PM, competitive winterguard 5:00-8:00PM) on Mondays in the spring semester and 5:00PM-8:00PM on Thursdays (competitive winterguard rehearsal only). The schedule is subject to adjustment based on the successful candidates availability;
Attendance at Jaguar Marching Band performances throughout the season and Jaguar Winterguard performances throughout the WGI/GCGPC season;
Strong organizational skills;
Effective oral and written communication skills; demonstrates ability to interact appropriately with the public, faculty and staff, and others associated with the Jaguar Marching Band;
Physical Requirements/Working Conditions
Position requires significant physical activity in conjunction with the teaching and modeling of routines, techniques, etc;
Significant portions of the work environment will be outdoors in conjunction with marching band rehearsals. These portions of the work environment will be in non-conditioned spaces (field, Jaguar Training Center, Hancock Whitney Stadium);
Compensation
Compensation will be commensurate with the successful candidate's experience and availability.
To Apply
Please upload a cover letter, current resume, and listing of three references we may contact. In addition, please upload two links to two recent color guard/winterguard performances that you have taught. Both links should be of guards that you have taught and one of the examples should demonstrate design and choreography you have written.
Please upload all documents to the following link: JMB Color Guard Instructor Application Form
---
---