Applications are now open for JMB Managers for the 2016-2017 season!
---
Posted on March 18, 2016 by William Petersen
William Petersen
---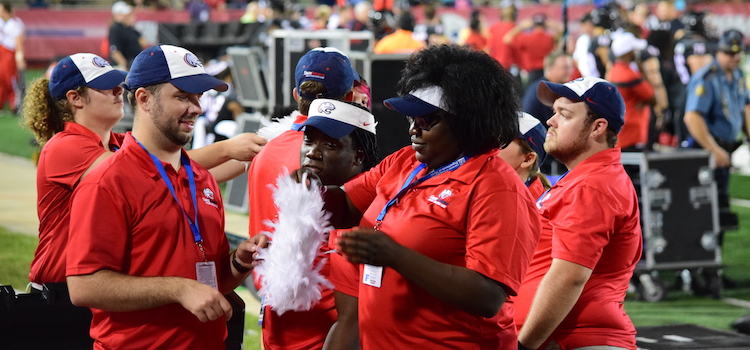 JMB Managers from 2015-2016
---
Have you wanted to be a part of the JMB but might not play an instrument? Do you love marching band but have not played or marched in a long time? Consider applying to be a Jaguar Marching Band Manager!
Jaguar Marching Band Managers are full non-playing/marching members of the JMB, and are tasked with supporting the operations of the band during rehearsals, game-days, and other JMB performances and events. Each manager who is selected receives a $1500.00 annual scholarship for their service.
Being a manager in the JMB allows you the opportunity to serve the Jaguar Marching Band, experience the excitement of Jaguar Football, and be a part of the largest, most visible organization on the University of South Alabama campus! Managers are expected to be available for all of band camp and any JMB performance. Managers are assigned to regular rehearsal shifts during the normal fall practice schedule of the JMB.
If you are interested in applying to be a JMB Manager please fill out the link below. Applications will be accepted through April 15, 2016. There are a limited number of positions open so please apply early!
Jaguar Marching Band Band Manager Applications
---
---