Congratulations to those selected for the 2017 Jaguar Marching Honor Band!
---
Posted on October 13, 2017 by Dr. William H. Petersen
Dr. William H. Petersen
---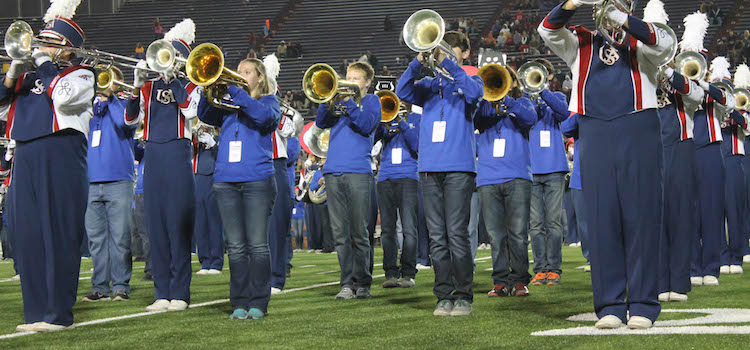 ---
Congratulations to the accepted members of the 2017 USA Jaguar Marching Honor Band! The list represents over 550 students from nearly 80 schools in Alabama and the Gulf Coast. All accepted students on this list should have received an email with information about registration. If you did not receive an email it is likely your email was entered incorrectly in the application form - please email Dr. William Petersen, Director of Bands at the University of South Alabama (wpetersen@southalabama.edu) with an updated email address.
Please note that online registration MUST BE COMPLETED PRIOR TO Wednesday, November 1, 2017. Payment is online and secure through our University servers.
ALL PARTICIPANTS MUST BRING A HARDCOPY LIABILITY RELEASE FORM WITH THEM, SIGNED BY THEIR GUARDIAN OR PARENT, AT THE TIME OF CHECK-IN ON SATURDAY, NOVEMBER 4th.
Kick off time has not been set for the game yet. We have included a tentative schedule on the Registration Website (included in the acceptance email sent to students).
Students will receive instruction from the Jaguar Marching Band Instructional Staff and Leadership Team, an honor band medal and t-shirt, catered lunch, transportation to and from Ladd Peebles Stadium on charter buses with police escort, as well a snack following their halftime performance. In addition, the Jaguar Marching Honor Band will perform with the Jaguar Marching Band during the the first half of the Jags game against ULL. You will truly become a member of the Jaguar Marching Band during this memorable event!
Congratulations to all who applied, get your online payment completed by November 1st, and we will see you for the 2017 Jaguar Marching Honor Band on Saturday, November 4th!
Go Jags!
Last Name Preferred Name Instrument High School
Aaron Sarah 017-Color Guard W.S. Neal High School Adams Iasiah 004-Alto Sax Choctaw County High School Adams Jace 002-Clarinet Central High School Adams Taylor 007-Trumpet Davidson High School Anderson Cayla 004-Alto Sax Central High School Andrews Chase 004-Alto Sax Saraland High School Arabian Katie 008-Mellophone/Marching F Horn Robertsdale High School Ard Garrett 009-Trombone Gulf Shores High School Ates Hannah 002-Clarinet Pascagoula High School Auld Dakota 017-Color Guard Baker High School Badilla Eddie 012-Tuba Saraland High School Badners Joe 009-Trombone Foley High School Bailey Ryan 013-Snare Drum Murphy High School Banks Josh 010-Baritone/Euphonium BC Citronelle High School Barrentine Jacob 010-Baritone/Euphonium BC Alabama Christian Academy Bell Anna 005-Tenor Sax West Blocton High School Bell Paul 012-Tuba Mary G Montgomery High School Bennett Jaisha 018-Twirler Murphy High School Betbeze Daniel 009-Trombone Theodore High School Bhatti. Kiran 018-Twirler Citronelle High School Biggs Courtney 018-Twirler Robertsdale High School Bishop Christian 013-Snare Drum Spanish Fort High School Bissell Jacob 004-Alto Sax Hancock High School Black Austyn 009-Trombone Chelsea High School Blakely Amelia 015-Bass Drum Benjamin Russell High School Blakeney Brendan 008-Mellophone/Marching F Horn Theodore High School Blaydes Nichole 017-Color Guard New Brockton High School Bodden Sebastian 014-Tenors (Quads or Quints) Saraland High School Bohlman Jenna 007-Trumpet Baker High School Booker Jack 004-Alto Sax Excel High School Bowlin Kelsey 017-Color Guard Hueytown High School Bowman Daisy 006-Bari Sax W.S. Neal High School Boykin Zaria 009-Trombone Jackson High School Bradford Lea 002-Clarinet Central High School Brainerd Nick 008-Mellophone/Marching F Horn Mary G Montgomery High School Brantley Sam 001-Piccolo/Flute Davidson High School Brettel Ashley 001-Piccolo/Flute Foley High School Brewer Bailey 017-Color Guard Gulf Shores High School Brewer Kris 013-Snare Drum Theodore High School Britton Jay 017-Color Guard Theodore High School Britton Wade 012-Tuba North Jackson High School Brown Lauren 007-Trumpet Foley High School Brown Olivia 002-Clarinet J. U. Blacksher High School Brumbeloe Bailey 004-Alto Sax Reeltown High School Brumbeloe Benjamin 007-Trumpet Reeltown High School Brumley Minley 007-Trumpet St. Martin high school Brunson Ben 010-Baritone/Euphonium BC Fairhope High School Bryant Hannah 017-Color Guard Saraland High School Buchanan Carter 014-Tenors (Quads or Quints) Daphne High School Bullard Ashlin 010-Baritone/Euphonium BC Alma Bryant High School Burgin Tucker 008-Mellophone/Marching F Horn Theodore High School Burkley Summer 007-Trumpet W.S. Neal High School Burnett Jennifer 007-Trumpet Spanish Fort High School Burr Abby 012-Tuba Gulf Shores High School Burt Jacob 002-Clarinet Baldwin County High School Butler Malori 007-Trumpet Prattville HIgh School Butt Rissa 017-Color Guard Gulf Shores High School Byrd Jacquelynn 017-Color Guard Citronelle High School Calixto Montse 001-Piccolo/Flute Eufaula High School Campos Fernando 007-Trumpet Robertsdale High School Capes Wyatt 007-Trumpet Davidson High School Carden Taylor 009-Trombone Jemison High School Carmichael Brooke 004-Alto Sax West Blocton High School Carpenter Chloe 004-Alto Sax Leroy High School Castle Kaitlyn 017-Color Guard Highland Home School Causey Taylor 017-Color Guard Helena High School Caylor Bradley 010-Baritone/Euphonium BC Davidson High School Cazalas Claire 004-Alto Sax McGill Toolen Catholic High School Cesarini Julianna 008-Mellophone/Marching F Horn Davidson High School Chapman CJ 009-Trombone Murphy High School Chapman Thomas 009-Trombone Saraland high school Chatmon Kaleb 010-Baritone/Euphonium BC Mary G Montgomery High School Chestang Megan 017-Color Guard Citronelle High School Chong Irene 008-Mellophone/Marching F Horn Gulf Shores High School Chong Megan 001-Piccolo/Flute Prattville HIgh School Chong Olivia 001-Piccolo/Flute Prattville HIgh School Clapham Kayla 017-Color Guard Citronelle High School Claridy Glynn 009-Trombone Helena High School Claridy Sean 009-Trombone Helena High School Clark Brandon 013-Snare Drum Huntsville High School Clark Jamie 014-Tenors (Quads or Quints) Elba High School Clark Mia 008-Mellophone/Marching F Horn Elba High School Cleckler Kathryn 018-Twirler West Point High School Cleckler Skylar 008-Mellophone/Marching F Horn Prattville HIgh School Clinton Sarah 008-Mellophone/Marching F Horn Saint Martin High School Cochran Kaylin 010-Baritone/Euphonium BC Davidson High School Coffin Oregano 014-Tenors (Quads or Quints) Theodore High School Coffman Brianna 007-Trumpet Baldwin County High School Collier Shelby 007-Trumpet Alma Bryant High School Collins Landry 012-Tuba Greenville High School Colthup Harrison 009-Trombone Foley High School Conway Brennan 015-Bass Drum Chickasaw High School Cook Ashanti 002-Clarinet Spanish Fort High School Cook Jakobe 009-Trombone Sylacauga HIgh School Cosby David 007-Trumpet Tuscaloosa County High School Cosey Justina 009-Trombone W.S. Neal High School Cosey Justina 009-Trombone W.S. Neal High School Cotton Joey 010-Baritone/Euphonium BC Sylacauga High School Cousins Gaelen 005-Tenor Sax Pascagoula High School Cowan Danyel 017-Color Guard Theodore High School Cox Kade 004-Alto Sax Stanhope Elmore High School Crawford Sadie 008-Mellophone/Marching F Horn Helena High School Cudworth Byron 004-Alto Sax Mobile Christian School Culpepper Rachel 017-Color Guard Mobile Christian School Cummings Lillian 002-Clarinet Hale County High School Cunningham Dee 012-Tuba Demopolis High School Curtis Trey 014-Tenors (Quads or Quints) Mary G Montgomery High School Daley Connor 004-Alto Sax Wetumpka High School Daniels Haley 007-Trumpet Gulf Shores High School Daniels Marlo 001-Piccolo/Flute Gulf Shores High School Daniels Victoria 004-Alto Sax St. Clair County High School Daszczuk Clay 013-Snare Drum Citronelle High School Davidson Brian 006-Bari Sax Mary G Montgomery High School Davis Cecily 012-Tuba Baker High School Davis Dani 016-Cymbals Alma Bryant High School Davis Hannah 001-Piccolo/Flute Citronelle High School Davis Ja'Mya 017-Color Guard Foley High School Davis Josh 013-Snare Drum Baker High School Davis Lily 017-Color Guard Gulf Shores High School Davis Sophie 012-Tuba Davidson High School Davison Morgen 008-Mellophone/Marching F Horn Saraland High School Davison Nolan 008-Mellophone/Marching F Horn Saraland High School Dawes Will 007-Trumpet Theodore High School Dean Chase 012-Tuba Benjamin Russell High School Dees Dylan 007-Trumpet Saraland High School Delarosa Jacob 007-Trumpet Murphy High School Diaz Erin 004-Alto Sax Northview High School Dickerson DeZayveon 007-Trumpet Stanhope Elmore High School Dickerson Tara 002-Clarinet George County High School Dickerson Roselynne 002-Clarinet George County High School Dickinson Clair 001-Piccolo/Flute Gulf Shores High School Diehl Hannah 001-Piccolo/Flute Gulf Shores High School Dillaber Ben 015-Bass Drum Murphy High School Dix Brandon 007-Trumpet Central High School Dolby Khristian 017-Color Guard McAdory High School Donald Sumerlyn 010-Baritone/Euphonium BC Spanish Fort High School Dooley Tori 002-Clarinet Robertsdale High School Douglas Kyle 008-Mellophone/Marching F Horn Alma Bryant High School Dozier J'niya 002-Clarinet Murphy High School Driggers Bethany 017-Color Guard Baldwin County High School Driskell Rachel 017-Color Guard Citronelle High School Duke Autumn 001-Piccolo/Flute Theodore High School Duke LaRissa 012-Tuba Wetumpka High School Durham Bernard 013-Snare Drum Escambia County High School Eddins Ben 009-Trombone Theodore High School Eddy Aneliese 015-Bass Drum Gulf Shores High School Erlandson Avrionna 001-Piccolo/Flute Robertsdale High School Esposito Em 017-Color Guard Chickasaw High School Estess Dylan 010-Baritone/Euphonium BC Freeport High School Fant Belle Elizabeth 001-Piccolo/Flute Mobile Christian School Faulk McKenzie 018-Twirler Flomaton High School Faulk Mitchell 005-Tenor Sax Flomaton High School Ferdon Jack 007-Trumpet Theodore High School Fields Marcus 009-Trombone Greenville High School Fitzhugh Aeriel 018-Twirler Excel High School Ford Tristan 005-Tenor Sax Escambia County High School Fore Taylor 017-Color Guard W.S. Neal High School Foster Riley 005-Tenor Sax Buckhorn High School Franklin Akili 012-Tuba Central High School Fraser Faith 010-Baritone/Euphonium BC Citronelle High School Fraser Hillary 009-Trombone Citronelle High School Frey Dawson 012-Tuba Biloxi High School Fryer Thomas 012-Tuba Saraland High School Gallander Annabelle 004-Alto Sax Tallassee High School Gandy James 007-Trumpet Davidson High School Garcia Alex 013-Snare Drum Saraland High School Gardner Dylan 005-Tenor Sax Foley High School Gardner Lexy Rae 009-Trombone Foley High School Garner Mallori 008-Mellophone/Marching F Horn Satsuma High School Gartman Hailey 007-Trumpet Saraland High School Gates Chris 005-Tenor Sax Greenville High School George Trace 015-Bass Drum Saraland High School Giannini Hannah 008-Mellophone/Marching F Horn Gulf Shores High School Gibbs Bridget 007-Trumpet Jay High School Gibson Kayla 018-Twirler Central High School Gibson Keaundra 017-Color Guard Central High School Giordano Carson 007-Trumpet Prattville HIgh School Gipson Maryssa 012-Tuba Highland Home School Glasscock Brittleigh 017-Color Guard Saraland High School Godfrey Eli 008-Mellophone/Marching F Horn Robertsdale High School Godfrey Isaac 009-Trombone Robertsdale High School Goetz Allie 017-Color Guard Spanish Fort High School Goode Heather 002-Clarinet Foley High School Goodwin Michael 014-Tenors (Quads or Quints) Stanhope Elmore High School Goodwin Ryan 004-Alto Sax Chickasaw High School Goolsby Katie 018-Twirler Brookwood High School Graham Amaya 001-Piccolo/Flute West Blocton High School Graham Brooklyn 007-Trumpet Davidson High School Graham Jimmy 007-Trumpet McGill Toolen Catholic High School Graham Noah 004-Alto Sax J. U. Blacksher High School Graham Yasmin 017-Color Guard Central High School Green Justice 012-Tuba Citronelle High School Greer Collin 009-Trombone Saraland High School Griffin Ryan 010-Baritone/Euphonium BC New Brockton High School Hadaway Anne Louise 017-Color Guard Fairhope High School Hall Jill 007-Trumpet Brantley High School Hall Kira 007-Trumpet Ramsay High School Hall Rhiannon 001-Piccolo/Flute Brantley High School Hamil Asten 017-Color Guard Murphy High School Hamm Christopher 015-Bass Drum Mary G Montgomery High School Hammack Andrea 007-Trumpet W.S. Neal High School Hammack Kaitlyn 017-Color Guard Biloxi High School Hanby Kaitlin 005-Tenor Sax Jemison High School Hankins Rebecca 009-Trombone Biloxi High School Harbison Steven 007-Trumpet Alma Bryant High School Harbison,Jr. Larry 012-Tuba Alma Bryant High School Hardeman Abbey 007-Trumpet Mary G Montgomery High School Harden Julianna 008-Mellophone/Marching F Horn Murphy High School Harper Michael 005-Tenor Sax Alma Bryant High School Harris Abby 007-Trumpet Escambia Academy Harris Will 006-Bari Sax Escambia Academy Harrison Katie 017-Color Guard Mary G Montgomery High School Harrison Kimberly 002-Clarinet Stanhope Elmore High School Hart Ivy 017-Color Guard Kinston High School Hartly Aspen 017-Color Guard Marbury High School Harvell Dylan 007-Trumpet Eufaula High School Haskew Sarah 001-Piccolo/Flute Baldwin County High School Hawkins Lindsey 007-Trumpet Satsuma High School Hayes Allison 017-Color Guard Sipsey Valley High School Hayes Trae 007-Trumpet Murphy High School Haynes Nylah 002-Clarinet Hancock High School Hearn Madi 001-Piccolo/Flute Gulf Shores High School Heaton Ashlyn 002-Clarinet Foley High School Helton Annabel 007-Trumpet Murphy High School Helton Macy 001-Piccolo/Flute Foley High School Helveston Danyelle 002-Clarinet Saraland High School Henderson Kaitlyn 001-Piccolo/Flute Benjamin Russell High School Henderson Lauren 001-Piccolo/Flute Benjamin Russell High School Henderson Tyler 009-Trombone Theodore High School Hendricks Alexandria 017-Color Guard Brookwood High School Herndon Caroline 009-Trombone Davidson High School Herrera Eber 008-Mellophone/Marching F Horn Brewer High School Herrington Adam 010-Baritone/Euphonium BC Pascagoula High School Hogue Zach 007-Trumpet McAdory High School Holley Lilly 018-Twirler Gulfport High School Honeycutt Nicholas 004-Alto Sax Brookwood High School Hornsby Kay-Lyn 010-Baritone/Euphonium BC Central High School Hornsby Kelley 018-Twirler Central High School Howard Brooke 002-Clarinet Hancock High School Howell Chelsey 017-Color Guard W.S. Neal High School Hudson Brad 014-Tenors (Quads or Quints) Arab High School Hughes Brandon 010-Baritone/Euphonium BC Northview High School Hughes Christian 004-Alto Sax Wicksburg High School Hunt Madelyn 008-Mellophone/Marching F Horn Prattville HIgh School Hunt Kamryn 017-Color Guard Kinston High School Hupf Madalyn 017-Color Guard Faith Academy Hurtado Adriana 017-Color Guard Robertsdale High School Hurtado Betsy 017-Color Guard Robertsdale High School Ikner Trent 007-Trumpet W.S. Neal High School Jackson Cody 004-Alto Sax W.S. Neal High School Jackson Elise 010-Baritone/Euphonium BC Alabama Christian Academy Jackson Imani 017-Color Guard W.S. Neal High School Jackson PJ 007-Trumpet W.S. Neal High School James Hollie 002-Clarinet Excel High School Jenkins Keshaun 005-Tenor Sax Central High School Johnson Dona 002-Clarinet Robertsdale High School Johnson Erin 002-Clarinet Buckhorn High School Johnson Kaitlin 001-Piccolo/Flute Washington County High School Johnson Randal 005-Tenor Sax J. U. Blacksher High School Johnson Ryan 004-Alto Sax Theodore High School Jolly Austin 008-Mellophone/Marching F Horn George County High School Jones Alyssa 001-Piccolo/Flute Andalusia High School Jones Dalton 014-Tenors (Quads or Quints) West Blocton High School Jones Demarcus 004-Alto Sax Jackson High School Jones Geoffrey 007-Trumpet Hancock High School Jones Hannah 018-Twirler Central High School Jones Laurel 002-Clarinet Hancock High School Keahey Toby 007-Trumpet Thompson High School Keating Lindsay 017-Color Guard Fairhope High School Kelly Jacob 013-Snare Drum Saraland High School Kelly Kierra 001-Piccolo/Flute Baldwin County High School Killcreas Chris 006-Bari Sax Baldwin County High School Kilpatrick Spencer 007-Trumpet J. U. Blacksher High School Kimble Ashleigh 002-Clarinet Foley High School Kimbro Dustin 007-Trumpet J.M. Tate High School Kinney Tre 013-Snare Drum Fairview High School Kitlica Sky 010-Baritone/Euphonium BC W.S. Neal High School Knight Patrick 012-Tuba Davidson High School Knight Tyler 004-Alto Sax Berry High School Knox-Davis Antoinette 008-Mellophone/Marching F Horn Central High School Kontak Ryan 009-Trombone Sparkman High School Lambert Lexie 018-Twirler Citronelle High School Lang Lillian 002-Clarinet Baker High School Langley Will 013-Snare Drum Saraland High School Lapp Hunter 001-Piccolo/Flute Marbury High School Layne Jaden 015-Bass Drum Kinston High School Le Randy 001-Piccolo/Flute Alma Bryant High School Leachman Ezra 010-Baritone/Euphonium BC Jemison High School Lee Reagan 018-Twirler Alma Bryant High School Lewis Adidas 008-Mellophone/Marching F Horn Central High School Lewis Brianna 007-Trumpet Biloxi High School Lewis Jakyla 017-Color Guard Murphy High School Lewis Tia 007-Trumpet W.S. Neal High School Liggett Reese 002-Clarinet Daphne High School Linton Aaron 014-Tenors (Quads or Quints) Gulf Shores High School Little Stacie 007-Trumpet Highland Home School Locke Caroline 001-Piccolo/Flute Helena High School Loper Emily 002-Clarinet Leroy High School Lowery Angel 001-Piccolo/Flute Theodore High School Lukens Kenny 007-Trumpet Baker High School Lumpkin Dyer 014-Tenors (Quads or Quints) Bayside Academy Maddox Clay 013-Snare Drum Gulf Shores High School Mahfouz Seth 015-Bass Drum Citronelle High School Majors Kayleigh 007-Trumpet West Blocton High School Malone Bianca 002-Clarinet Murphy High School Malone Brianna 017-Color Guard Baker High School Manuel Quentin 005-Tenor Sax Excel High School Marable III Tré 012-Tuba Tuscaloosa County High School Marbury Kishandria 017-Color Guard Benjamin Russell High School Mason Allie 007-Trumpet Washington County High School Mata Juan Carlos 010-Baritone/Euphonium BC Davidson High School McArthur Trey 013-Snare Drum Saraland High School McCrary Tabitha 001-Piccolo/Flute Northview High School McCulloch Mason 012-Tuba Prattville HIgh School McDonald Alex 013-Snare Drum Hancock High School McDowell Mitzi 007-Trumpet Demopolis High School McFarland Landon 012-Tuba Hancock High School McGowan Joseph 003-Bass Clarinet Mary G Montgomery High School McKinney Trey 006-Bari Sax Robertsdale High School McLaughlin Aaron 009-Trombone Jackson High School Mcleod Alex 012-Tuba Spanish Fort High School McNease Matt 012-Tuba Baker High School McVay Bailey 009-Trombone Highland Home School Medina Misty 001-Piccolo/Flute Thompson High School Menzer Kalli 007-Trumpet Hancock High School Mergenschroer Hanna 002-Clarinet George County High School Merino Alfonso 001-Piccolo/Flute West Blocton High School Miller Austin 009-Trombone Spanish Fort High School Miller Haley 002-Clarinet Mary G Montgomery High School Miller Kendra 017-Color Guard Berry High School Miller Logan 013-Snare Drum Citronelle High School Minchew Brendon 014-Tenors (Quads or Quints) Saraland High School Minke Madisen 017-Color Guard Spanish Fort High School Minnefield Adrienne 017-Color Guard Murphy High School Miskel Destiny 009-Trombone Baldwin County High School Mitchell Bri 014-Tenors (Quads or Quints) Hancock High School Mitchell Natalie 002-Clarinet Biloxi High School Molina Hailea 015-Bass Drum Hancock High School Moody Elijah 009-Trombone Demopolis High School Moore Alyssa 007-Trumpet Wetumpka High School Moore James 015-Bass Drum Daphne High School Moore Kenzie 001-Piccolo/Flute Alma Bryant High School Moore Tripp 015-Bass Drum Flomaton High School Moreno Axel 001-Piccolo/Flute Central High School Morris Clayton 009-Trombone Faith Academy Morris Katie 018-Twirler Monroe Academy Morrison Madison 002-Clarinet Foley High School Moseley Erin 002-Clarinet Leroy High School Mosquera Luis 016-Cymbals Theodore High School Mowdy Hannah 001-Piccolo/Flute Citronelle High School Neal Elizabeth 009-Trombone Buckhorn High School Neal Riane 010-Baritone/Euphonium BC Fort Walton Beach High School Nelson Gunnar 005-Tenor Sax Alma Bryant High School Nelson Zach 007-Trumpet Northview High School Newton Noah 013-Snare Drum Spanish Fort High School Nicely Cam 013-Snare Drum Thompson High School Nichols Dawson 013-Snare Drum Gulf Shores High School Nichols Mackenzie 017-Color Guard Satsuma High School Nolan Lucas 006-Bari Sax Alma Bryant High School Norris Harley 017-Color Guard Kinston High School Odom Blake 013-Snare Drum Robertsdale High School Odom Jacob 007-Trumpet W.S. Neal High School Olugbala Mana 001-Piccolo/Flute Murphy High School Orsini Geena 004-Alto Sax Central High School Orsini Toni 001-Piccolo/Flute Central High School Otts Sally 018-Twirler Oak Mountain High School Owens Hannah 007-Trumpet Robertsdale High School Owens Isabelle 001-Piccolo/Flute Citronelle High School Owens Landon 013-Snare Drum Red Level High School Owens Tatum 005-Tenor Sax Demopolis High School Packer Ty'Rec 015-Bass Drum Escambia County High School Pactor Rhian 010-Baritone/Euphonium BC Robertsdale High School Palmore David 005-Tenor Sax Theodore High School Parker Destiny 005-Tenor Sax Satsuma High School Parks Kenzie 007-Trumpet West Blocton High School Parnell Tyrus 010-Baritone/Euphonium BC Baker High School Patterson Kenzie 004-Alto Sax Excel High School Pavelka Noelle 002-Clarinet Saraland High School Payne Ashlyn 001-Piccolo/Flute Citronelle High School Pelletier Tori 001-Piccolo/Flute Theodore High School Pemberton Kennedy 004-Alto Sax Benjamin Russell High School Pendley Jessie 018-Twirler Berry High School Perkins India 010-Baritone/Euphonium BC Biloxi High School Perkins Kj 012-Tuba Central High School Perrotta Benny 012-Tuba Satsuma High School Perry Kimberlee 005-Tenor Sax New Brockton High School Pham Micheal 008-Mellophone/Marching F Horn Saraland High School Phillips Briana 017-Color Guard Foley High School Phillips Caleb 009-Trombone Mary G Montgomery High School Phillips Catherine 008-Mellophone/Marching F Horn Citronelle High School Phillips Luke 007-Trumpet Mary G Montgomery High School Pilkington Madison 009-Trombone Berry High School Pitts Annie 002-Clarinet Samson High School Ponce Abril 002-Clarinet Pelham High School Poole Taylor 013-Snare Drum Opp High School Powell Matt 007-Trumpet Northview High School Powell Zoey 001-Piccolo/Flute Mobile Christian School Power Catherine 008-Mellophone/Marching F Horn Robertsdale High School Prescott Mackenzie 013-Snare Drum Brantley High School Qualls Kai 008-Mellophone/Marching F Horn Jackson High School Ragan Chandler 005-Tenor Sax Escambia Academy Rai Hans 013-Snare Drum Saraland High School Raley Jennifer 001-Piccolo/Flute Holmes County High School Ramey Genna 013-Snare Drum Leroy High School Rankin Akeli 013-Snare Drum Chickasaw High School Rankin Jessica 001-Piccolo/Flute Samson High School Ratliff Bella 001-Piccolo/Flute Thompson High School Reed Matthew 015-Bass Drum Leroy High School Richards Trevor 013-Snare Drum Home School Richardson Mack 015-Bass Drum Mary G Montgomery High School Roberts Devin 014-Tenors (Quads or Quints) Jackson High School Roberts Jillian 017-Color Guard Chickasaw High School Robinson Cameron Robinson 009-Trombone McAdory High School Robinson Jai 001-Piccolo/Flute Davidson High School Robinson Keisa 007-Trumpet Highland Home School Robinson Kieyah 002-Clarinet Escambia County High School Rogers Harbor 011-Baritone/Euphonium TC Theodore High School Rogers Lannie 017-Color Guard Davidson High School Rolling Emily 008-Mellophone/Marching F Horn Alabama Christian Academy Rollins Charlie 009-Trombone Moody High School Romero Sydney 017-Color Guard Saraland High School Rone Presley 018-Twirler Leroy High School Rooney Devinee 017-Color Guard Theodore High School Rosado Lexi 002-Clarinet Gulf Shores High School Roubik Noah 011-Baritone/Euphonium TC Mobile Christian School Roy Nate 004-Alto Sax Gulf Breeze High School Rudd Michael 012-Tuba Washington County High School Rudolph Katie 001-Piccolo/Flute Theodore High School Ruffin Katerra 001-Piccolo/Flute Washington County High School Sampson Dareian 016-Cymbals Jackson High School Sanders Elijah 007-Trumpet West Florida High School of Technology Saucier Danny 007-Trumpet Alma Bryant High School Schock Nick 013-Snare Drum Baker High School Schuck Shane 007-Trumpet Citronelle High School Scopolites Deanna Faye 018-Twirler Murphy High School Scott Tyler 014-Tenors (Quads or Quints) Saraland High School Scribner Trevor 010-Baritone/Euphonium BC Warren Central High School Sellers Tucker 010-Baritone/Euphonium BC Forrest County Agricultural High School Senior Khadejah 001-Piccolo/Flute New Brockton High School Shabazz Kamran 004-Alto Sax Greenville High School Shaddix Ashton 017-Color Guard Gulf Shores High School Sherrill Lexie 001-Piccolo/Flute West Blocton High School Shields Abigail 002-Clarinet Saraland High School Shire Anna 017-Color Guard Foley High School Shire Destiny 002-Clarinet Foley High School Shoats Rachele 001-Piccolo/Flute Thompson High School Siegert Madison 002-Clarinet George County High School Simmons Shawn 009-Trombone Saraland High School Simoneaux Gage 010-Baritone/Euphonium BC Brusly High school Sims Skye 001-Piccolo/Flute Samson High School Singleton Justin 004-Alto Sax West Blocton High School Sipes Lana 001-Piccolo/Flute Citronelle High School Smith Abby 005-Tenor Sax McIntosh High School Smith Chloe 008-Mellophone/Marching F Horn Luverne High School Smith Hayla 017-Color Guard Satsuma High School Smith Jackson 014-Tenors (Quads or Quints) Flomaton High School Sobeck James 017-Color Guard Satsuma High School Sourdif Josh 014-Tenors (Quads or Quints) West Florida High School Southers Trevor 007-Trumpet Hartselle High School Spaulding Delani 002-Clarinet Stanhope Elmore High School Staley Kyndal 017-Color Guard Brantley High School Stancil Weldon 009-Trombone Hayden High School Stanford Addison 008-Mellophone/Marching F Horn Gulf Shores High School Starley Peyton 010-Baritone/Euphonium BC Central High School Stefurak Lane 002-Clarinet Davidson High School Steimling Grace 002-Clarinet West Blocton High School Stewart Courtney 001-Piccolo/Flute Baldwin County High School Stone Ashleigh 008-Mellophone/Marching F Horn Robertsdale High School Story Izzy 015-Bass Drum Brantley High School Streeto Mia 008-Mellophone/Marching F Horn Chickasaw High School Strickland Erin 010-Baritone/Euphonium BC Citronelle High School Sullivan Carter 014-Tenors (Quads or Quints) Cottage Hill Christian Academy Sullivan Mikayla 001-Piccolo/Flute Citronelle High School Sullivan Trevie 008-Mellophone/Marching F Horn Brewer High School Sutherlin Sarah 017-Color Guard Satsuma High School Tan Nathan 012-Tuba Davidson High School Taylor Backpack 009-Trombone Baldwin County High School Taylor Daeja 017-Color Guard Greenville High School Taylor Liz 008-Mellophone/Marching F Horn Hayden High School Taylor Luke 012-Tuba West Blocton High School Taylor Thomas 010-Baritone/Euphonium BC Theodore High School Terrell Savanna 001-Piccolo/Flute Theodore High School Terry Nathanael 007-Trumpet West Blocton High School Thompson Kayla 008-Mellophone/Marching F Horn Central High School Thornton Shannon 001-Piccolo/Flute Foley High School Thrasher Yasmin 017-Color Guard Theodore High School Tidwell Heath 011-Baritone/Euphonium TC Lynn High School Todd Thomas 015-Bass Drum Saraland High School Toombs Makaylan 017-Color Guard Central High School Trahan Joey 007-Trumpet Excel High School Tribble Natalie 004-Alto Sax Hancock High School Trigg Johnathon 007-Trumpet Saraland High School Trott Trinity 018-Twirler Citronelle High School Tucker Payton 001-Piccolo/Flute Berry High School Turnbow Alaina 001-Piccolo/Flute Murphy High School Turner Cassie 008-Mellophone/Marching F Horn Citronelle High School Turner Haley 001-Piccolo/Flute Citronelle High School Tyne Annakae 017-Color Guard Gulf Shores High School Vick Aj 014-Tenors (Quads or Quints) Leroy High School Walker K'nuckles 012-Tuba Pascagoula High School Walker Tori 017-Color Guard Citronelle High School Wallace Luke 007-Trumpet Mary G Montgomery High School Walton Seth 007-Trumpet Shelby County High School Wamble Kayla 017-Color Guard Theodore High School Ward Paige 007-Trumpet W.S. Neal High School Warren Hannah 001-Piccolo/Flute Locust Fork High School Weaver Jackson 011-Baritone/Euphonium TC Theodore High School Weaver Melody 004-Alto Sax Robertsdale High School Webster Ta'Kyra 013-Snare Drum Chickasaw High School Weed Harrison 009-Trombone Brantley High School Weeks Noah 007-Trumpet Foley High School Wehunt Della 017-Color Guard New Brockton High School Westphal Zander 004-Alto Sax Robertsdale High School Wetherill Cailan 017-Color Guard Marbury High School Wheat Ashley 017-Color Guard Saraland High School Whitaker Za'Nyia 017-Color Guard Benjamin Russell High School White Malin 001-Piccolo/Flute Flomaton High School Whittington Grace 004-Alto Sax J. U. Blacksher High School Whittington Melody 009-Trombone J. U. Blacksher High School Wiggins Franklin 013-Snare Drum Flomaton High School Willard Haley 017-Color Guard Saraland High School Williams Ariel 009-Trombone Demopolis High School Williams Hali 017-Color Guard Kinston High School Williams Jacob 007-Trumpet Jackson High School Williams Rachael 001-Piccolo/Flute J. U. Blacksher High School Williams Ray 012-Tuba Escambia County High School Williams Sarah 008-Mellophone/Marching F Horn Central High School Williamson Collin 006-Bari Sax Brantley High School Wilson Jaelon 012-Tuba Escambia County High School Wilson Lauren 001-Piccolo/Flute Alma Bryant High School Wilson Lettie 004-Alto Sax Kinston High School Wilson Matt 007-Trumpet Theodore High School Wilson Skyler 016-Cymbals Theodore High School Wolfe Victoria 003-Bass Clarinet Hillgrove High School Wood Liz 004-Alto Sax Alabama Christian Academy Woods Caroline 017-Color Guard Gulf Shores High School Wright Aliyah 001-Piccolo/Flute East Lawrence High School Wright Chastin 004-Alto Sax Jackson High School Yang Josh 007-Trumpet Gulf Shores High School Yeiter Bryar 001-Piccolo/Flute W.S. Neal High School Young Allie 017-Color Guard Chickasaw High School Zdenek Bri 012-Tuba Mary G Montgomery High School
---
---