Applications being accepted for Feature Twirler of the Jaguar Marching Band for the Fall of 2022
---
Posted on February 9, 2022 by Dr. Will Petersen
Dr. Will Petersen
---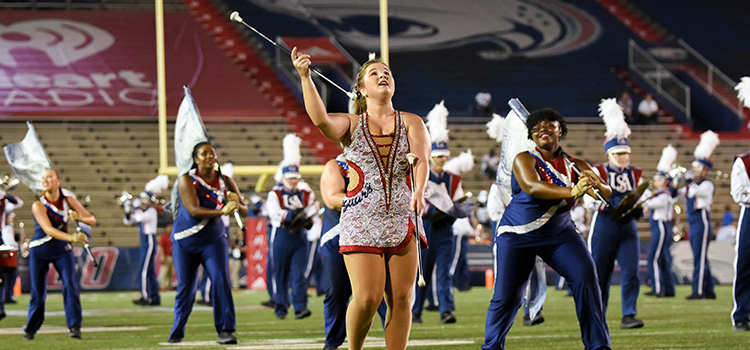 2020 JMB Feature Twirler Michaela Rader
---
Position: Feature Twirler, University of South Alabama Jaguar Marching Band
Position Begins: Fall 2022
Scholarship: $7500 – can be stacked with other academic scholarships
Application Deadline: March 10, 2022
The University of South Alabama Jaguar Marching Band seeks a feature twirler starting with the 2022-2023 academic year. The successful candidate must exhibit superior twirling abilities, perform as a first-class ambassador for the University of South Alabama, and be able to maintain excellent academic credentials throughout their career on campus. The feature twirler selected will receive a $7500 scholarship - renewable for up to four years of service to the Jaguar Marching Band if the candidate meets the scholarship's requirements. The $7500.00 scholarship award is stackable with other academic scholarships. In addition, all equipment, uniforms, and travel are paid for by the University of South Alabama Jaguar Marching Band.
Candidates MUST be full admitted to the University of South Alabama in order to be considered as a finalist for the position. Applicants must submit a cover letter, two letters of recommendation, resume/portfolio of your twirling and academic accomplishments, and a video compilation of themselves performing a solo routine along with other highlighted twirling performances. The solo routine may be from two to four minutes long. This routine should be the first item on the video compilation. In addition, the video compilation should include other examples of the applicant's competitive twirling appearances, as well as any solo and parade performances they have given. The entire video compilation should not exceed 20-25 minutes.
Applicants should be able to demonstrate a three turn, toss illusions, intermediate rolls, and multiple baton work. Applicants should also be able to show the ability to travel across a large area, flexibility, showmanship, and a strong sense of teamwork.
All submissions must be received by March 10, 2022.

Candidates can apply online here:
2022 Jaguar Marching Band Feature Twirler Application
About the Jaguar Marching Band
The University of South Alabama Jaguar Marching Band is an ensemble of over 250 select musicians, color guard, and a feature twirler. Housed in the Department of Music within the College of Arts and Sciences, the University's largest academic division, the Jaguar Marching Band serves as an ambassador for the University, the soundtrack for USA Football, and a touchstone for Jaguar fans and alumni. The band is under the direction of Director of Bands at the University of South Alabama, Dr. William Petersen.
About the University of South Alabama
Home to nearly 14,000 students and more than 125 academic programs, the University of South Alabama is a dynamic community of leaders and learners who support and challenge one another to be actively engaged citizens who advance the Gulf Coast region and the world. Founded in 1963, South's vision is to foster an environment that couples engaging learning experiences with high-level research, enabling our faculty and students to be leaders in their disciplines.
The unique and beautiful Gulf Coast region is a catalyst for discovery and innovation, and South's 1,200-acre campus has been transformed over the past decade with new facilities and resources for teaching, housing and recreation, health sciences, the arts, engineering, computer science and athletics.
Jaguar athletes compete in 17 NCAA Division I sports, including baseball, basketball, cross country, football, golf, soccer, softball, tennis, track and field, and volleyball.
The coastal region is healthier because of the USA Health system. Through its five components — Children's & Women's Hospital, University Hospital, Mitchell Cancer Institute, USA Health Physicians Group and the College of Medicine — and supported by the College of Nursing and the Pat Capps Covey College of Allied Health Professions — USA Health provides care to hundreds of thousands of people, and is a training ground for future physicians and healthcare professionals.
USA is a place where students discover and strengthen their career passions, and form connections that result in lifelong relationships. At South, we look at the world and see things that we have the power to change, affect and shape — together. So that's exactly what we do, every single day.
We are South!
---
---