The University of South Alabama Jaguar Marching Band is Seeking Applicants for Feature Twirler for the 2017 Season
---
Posted on November 6, 2016 by Dr. William H. Petersen
Dr. William H. Petersen
---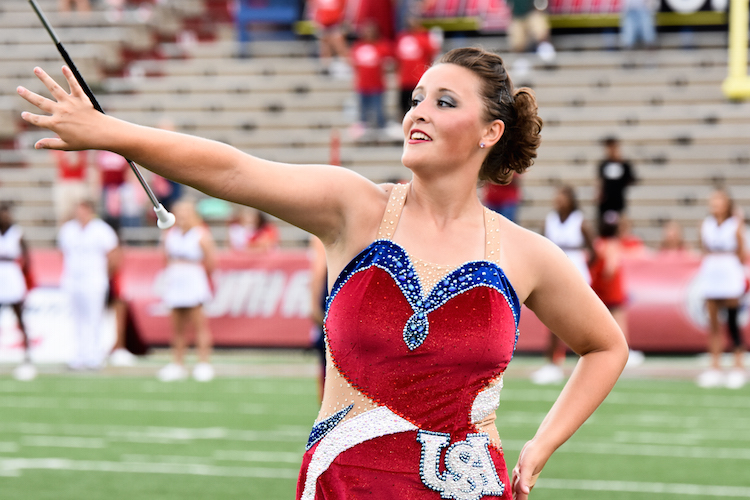 Taylor Meckley, Jaguar Marching Band Feature Twirler 2013-Present
---
2017 Feature Twirler Position Announcement

Position: Feature Twirler, University of South Alabama Jaguar Marching Band
Position Begins: Fall 2017
Scholarship: 100% coverage of tuition, fees, (in-state or out-of-state); renewable yearly through four years of service
Application Deadline: February 15, 2017
The University of South Alabama Jaguar Marching Band seeks a feature twirler starting with the 2017-2018 academic year. The successful candidate must exhibit superior twirling abilities, perform as a first-class ambassador for the University of South Alabama, and be able to maintain excellent academic credentials throughout their career on our campus. The feature twirler selected will receive a 100% scholarship (tuition, fees - in-state or out-of-state), renewable for up to four years of service to the Jaguar Marching Band. In addition, all equipment, uniforms, travel, and more are paid for by the University of South Alabama Jaguar Marching Band.
You MUST be admitted to the University of South Alabama BEFORE you can apply for the feature twirler position. Applicants must submit a cover letter, resume of your twirling accomplishments, and a video compilation (YouTube, Google Drive, Vimeo, etc.) of themselves performing a solo field routine. The field routine video may be from two to four minutes long. This routine should be the first item on the video compilation submitted online. In addition, the video should include other examples of the applicant's competitive twirling appearances, as well as solo and parade performances they have given. The entire video compilation may not exceed 30 minutes. Applicants must be able to demonstrate a three turn, toss illusions, intermediate rolls, and multiple baton work. Applicants must also be able to to show the ability to travel across a large area, flexibility, showmanship, and a strong sense of teamwork.
All submissions must be received by February 15, 2017 and should be emailed to the email address listed below:
Dr. William H. Petersen
Director of Bands, University of South Alabama
wpetersen@southalabama.edu
All video submissions become the property of the University of South Alabama and will not be returned to any applicant. By February 23 2017, up to four finalists will be notified of their selection for an on-campus audition. The on-campus audition date will be April 1, 2017. Finalists should plan to arrive in Mobile on Friday, March 31st and depart on Sunday, April 2nd. In any given year, the USA Jaguar Marching Band reserves the right to select no finalists and/or no feature twirler if no applicant is deemed qualified to serve as feature twirler of the Jaguar Marching Band.
About the Jaguar Marching Band
The University of South Alabama Jaguar Marching Band is an ensemble of over 250 select musicians, color guard, and a feature twirler. Housed in the Department of Music within the College of Arts and Sciences, the University's largest academic division, the Jaguar Marching Band serves as an ambassador for the University, a model of marching technique and instruction for the music education community, and a touchstone for Jaguar fans and alumni. The band is under the direction of Director of Bands at the University of South Alabama, Dr. William Petersen and Associate Director of Bands, Dr. Jason Rinehart.

About the University of South Alabama
Since its founding in 1963, the University of South Alabama has offered a superb, well-rounded educational experience with high academic standards. USA's fields of concentration are remarkably diverse, encompassing business, the liberal arts, education, engineering, computing, the sciences and healthcare.
USA's commitment to student success includes small class sizes and hands-on research opportunities in 100 undergraduate, graduate and doctoral degree programs. The undergraduate honors program for highly motivated and accomplished students includes course work and extracurricular activities throughout the four years of a student's undergraduate career.
In healthcare, USA provides students with an exceptional medical education through the colleges of Medicine, Nursing and Allied Health Professions. At the same time, the USA Health System serves the region with advanced and innovative care through the USA Physicians Group, USA Medical Center, USA Children's & Women's Hospital and the USA Mitchell Cancer Institute.
USA annually enrolls more than 16,000 students and has awarded 80,000 degrees in its 52-year history. The University's Mitchell-Moulton Scholarship Initiative, a $25-million matching challenge, is strengthening USA's commitment to expanding opportunities for current and future students.
---
---