Robert Holm and David Durant Receive Arts & Sciences Awards
---
Posted on November 11, 2020 by Keith Bohnet
Keith Bohnet
---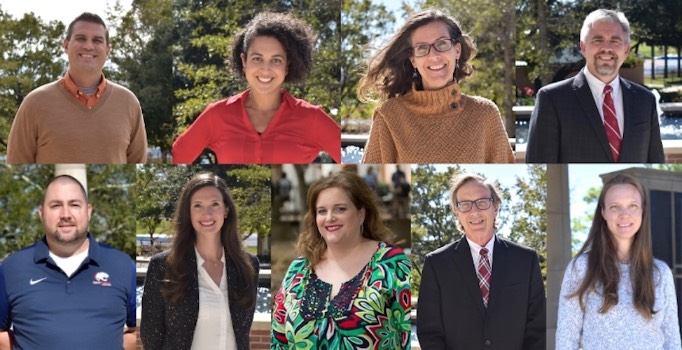 University of South Alabama Arts and Sciences faculty members were recognized for their achievements at the 39th Annual Dean's Lecture and Faculty Awards Ceremony, including, clockwise from top left, Dr. Joseph Currier, Dr. Krista Mehari, Dr. Amy Sprinkle, Dr. Robert Holm, Joel Borden, Mischa Armstrong, Kristy Britt, Dr. David Durant and Dr. Alexandra Stenson.
---
Dr. Robert Holm and Dr. David Durant, USA Department of Music Faculty, were amongst nine Arts & Sciences faculty recognized for their academic achievements at the 39th Annual Dean's Lecture and Faculty Award Ceremony on November 6. The full announcement for this event appears as a USA Press Release by Amber Day at the following address -- Arts and Sciences Faculty Awards. Specific information about the two awards given to Dr. Holm and Dr. Durant has been excerpted from that article and placed below.
----------
The Dean's Lecture Award is given to a full professor who has been employed at South for at least seven years in recognition of excellent scholarship or academic achievement throughout the faculty member's career. This year's recipient is Dr. Robert Holm, professor of music and head of the keyboard area in the department of music. Holm performed the Beethoven Sonata Cycle in eight recitals at USA (2004-2007) and recorded 16 of the sonatas on period instruments. Since 2016, Holm has performed, given master classes, and recruited students in Shaoxing, China, and São Paulo State, Brazil. Holm enjoys working at South because of the students and faculty.
"USA values my various performances as important professional development," Holm said. "The music faculty is very collegial, and I have always enjoyed collaborating on performance projects with all of the faculty during my time at South. Mobile is a beautiful city and has been a great place for me personally. I met my wife at church in Mobile and have raised my three children here. By next year, I hope to have all three kids at USA as college students."
Dr. David Durant, professor of music and director of music theory and technology for the department of music, also received the Teaching Excellence Award. Durant's music compositions have recently been included on CDs in the U.S. and Italy, and one of his recent compositions was performed virtually by the New York University New Music Ensemble. Durant composed and engineered a composition for 56 loudspeakers for the Sonic Arts Research Center in Belfast, NIR, UK, which will be performed when travel restrictions and the pandemic allow. Durant's favorite parts about his job are seeing his students succeed and go on to graduate school.
"I love seeing the success of my students as they go to graduate school and to teaching positions," Durant said. "I am happy when students of mine connect through their common experience of having studied with me, even when they never met at South. It is great to see their life experiences as they succeed in their chosen profession, have major life events, and share their pictures of their children—my grand students! I have been fortunate to have been supported as a composer by my department, college, and university."
---
---