AM/NS Calvert Contributes to K-12 STEM Outreach Programs
---
Posted on February 4, 2022 by Keith Lynn
Keith Lynn
---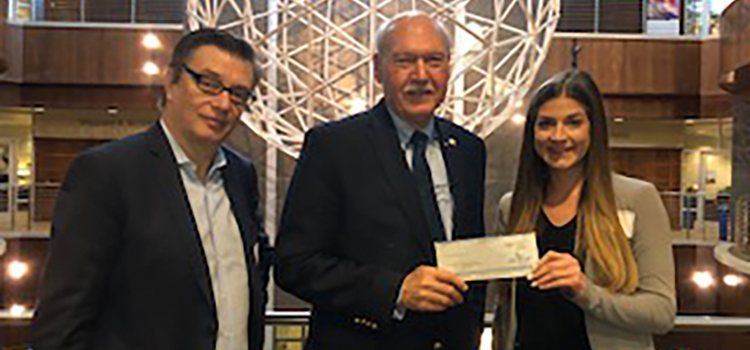 Les Barnett accepts contribution from AM/NS Calvert's Antoine Dhennin and Mallory Sikes to support the Robotics Program.
---
AM/NS Calvert, a School of Computing advisory board member company, recently contributed $5,000 in funding to support two K-12 STEM outreach initiatives that are facilitated through the School's Center for Forensics, Information Technology, and Security (CFITS).
A portion of the contribution will be used to purchase a Sony Aibo Robot for the Machine Learning and Robotics Program. The goal of this STEM outreach program is to provide experiences that will help students learn about robotics and computer programming, explore lucrative career opportunities in these fields and participate in an applied coding project to gain practical experience. The program is currently working with students at Williamson High School, and funding to purchase the Sony robot will allow students to explore sensory technologies using wired and wireless sensor networks.
The other STEM program to benefit from the AM/NS contribution is the annual Davidson High School Summer Cyber Camp. This year, the week-long camp is set to take place June 6-10 and will host inbound 9th grade Davidson students for 35 hours of instruction, hands-on activities and projects, guest speakers and real-world scenario exercises. The goal of the camp is to grow interest in cybersecurity education for college-bound students and to provide resources and tools for STEM teachers who work with these students.
AM/NS Calvert representatives, Mallory Sikes, Digital Innovation Team Manager, and Antoine Dhennin, IT/OT and Digital Director, were both on hand at the recent advisory board meeting to present the contribution to Harvey "Les" Barnett, CFITS Director.
"Since its inception, the CFITS Partner School Program has been fortunate to have the support of our industry partners," says Barnett. "We are incredibly grateful to AM/NS Calvert for funding two of our STEM outreach programs and for their commitment to making STEM educational opportunities accessible and available to our area students."
USA's School of Computing is honored to partner with AM/NS Calvert in encouraging area students to pursue their interests in STEM fields of study and to explore the many career opportunities available in the technology sector.
USA's School of Computing has been actively engaged in formal K-12 outreach since 2011 through its Center for Forensics, Information Technology and Security (CFITS) Partner School Program. The Partner School Program provides access to technology education and helps to attract local K-12 students into computing and cybersecurity disciplines in order to fill the technology pipeline in the job market and provide a viable career path. Partner School K-12 STEM outreach programs currently include the annual Davidson summer cyber camp, Hands-on Learning Lab Activities (HOLLAs) in the computer lab at Shelby Hall, Robotics camps and programs, and CS dual enrollment classes offered in conjunction with various high schools.
Past supporters of the Partner School Program and contributors to K-12 STEM outreach efforts include AM/NS Calvert, AT&T Alabama, Best Buy, Mentor Graphics (now Siemens Digital Industries Software), MTSI-Huntsville, Nfina Technologies, State Farm, Venture Technologies (now ConvergeOne), Uniti Fiber and Wells Fargo as well as many computing alumni and friends.
---
---