Casey and Doug Porter - 2022 recipients of SoC's Neil Henderson Distinguished Alumni Award
---
Posted on April 12, 2022 by Keith Lynn
Keith Lynn
---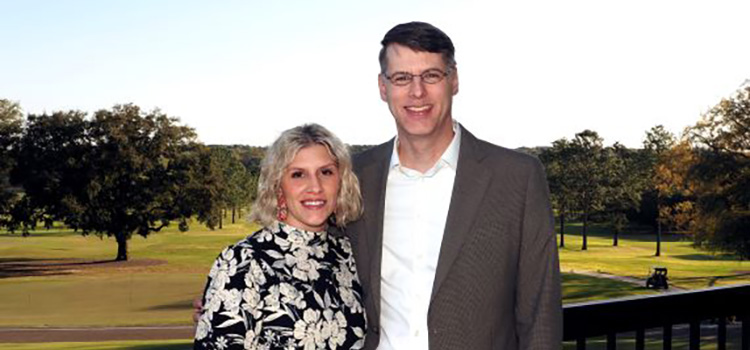 Casey and Doug Porter
---
Douglas H. Porter and Casey Kuluz-Porter have been named as the 2022 recipients of the School of Computing's Neil Henderson Distinguished Alumni Award. The Neil Henderson award was established in 2011 to honor distinguished alumni of the University of South Alabama and the School of Computing. The award is presented each year during the annual Spring Celebration scholarship dinner and is given to graduates who have achieved noteworthy accomplishments through technology, service, and philanthropy.
Casey Kuluz-Porter attended South Alabama and earned her bachelor's degree in Information Technology in 2003. While at USA, she was actively involved in Chi Omega Sorority and the Association of Computing Machinery (ACM). She currently serves as Chief Information Officer for HPC Specialty Pharmacy. In her role as CIO, she has instituted automated web processing systems in order to reduce IT overhead costs, enhanced staff productivity with training programs and drafted and implemented policies aligned with HIPAA and accreditation requirements.
Doug Porter earned his bachelor's in Spanish in 1999 and his master's in Computer and Information Sciences in 2001. While at South, he was the president of the ACM student organization. He holds almost 20 years of experience in software development and currently works as Director of Software Development for the Newport Group.
Outside of work, Casey and Doug are actively involved in community service and volunteer activities. Casey is the chapter advisor for Chi Omega sorority at USA and Doug helped to update and automate the Gulf Coast Corporate Cup race results platform and designed their webpage. Doug served the School of Computing as an adjunct faculty member from 2012 – 2015 where he taught programming and data communications and networking.
Both Doug and Casey are lifetime members of USA's National Alumni Association and currently serve as officers in the School of Computing Alumni Society where they have helped to enhance and grow alumni engagement efforts.
Doug and Casey have left a legacy of support through their naming of the Student Groups Room in Shelby Hall in honor of Dr. David Langan, retired faculty member and ACM advisor. They also established and continue to fund the Doug and Casey Porter Endowed Scholarship to benefit students who have chosen to be involved in ACM or in service or volunteer activities. The Porters truly have a heart for students and recognize the importance of mentorship to inspire student leaders.
The Porters have made a significant impact on our campus and our community through their leadership, mentorship, service and philanthropy. They embody the true spirit of successful School of Computing graduates who take the lead in using technology to better their community. We are honored to recognize Casey Kuluz-Porter and Douglas Howard Porter as our 2022 Neil Henderson Distinguished Alumni Award recipients.
---
---