South Grad Starts Cybersecurity Career at Oak Ridge National Laboratory
---
Posted on August 11, 2022 by Thomas Becnel
Thomas Becnel
---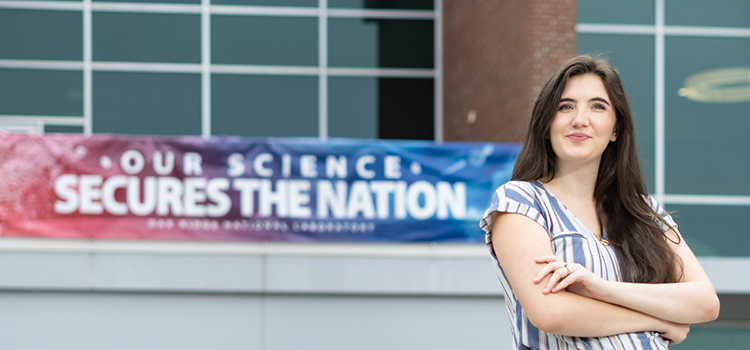 Tristen Mullins, a University of South Alabama graduate student of the year in the School of Computing, is beginning her career in cybersecurity at the Oak Ridge National Laboratory in Tennessee.
---
#MyFirstJob is a series focused on University of South Alabama graduates who are beginning their careers.
After earning her Ph.D. from the School of Computing at the University of South Alabama, Tristen Mullins is starting a job while she and her husband are raising a family at the same time.
The couple is expecting their third child as she begins a career in cybersecurity at the prestigious Oak Ridge National Laboratory near Knoxville, Tennessee. She's already talked with the human resources department about everything from maternity leave to mixed work schedules.
"One of the reasons I picked Oak Ridge is that it's super-flexible," she said. "I'm in the office a majority of the time, but if I need to work at home, I do."
The field of cybersecurity remains male-dominated, but Mullins has been surprised by the number of female colleagues at the National Laboratory. Her workplace is casual in dress and demeanor. There are several Ph.D.'s in her department, but they only call one another "doctor" when they're joking.
Her husband Alex, who earned a master's degree in computing from South in 2018, also works in cybersecurity at Oak Ridge. His family in Foley and hers outside Birmingham helped them manage child care and graduate school. Being a student and parent has helped teach her organization and discipline.
"It was tough," Mullins said, "but I think it would have been even harder if we'd have waited."
They met during a computer networking course at the University. She says she saw him in class and sat next to him. When he tells the story, it's the other way around.
They're planning to buy a house near Oak Ridge, where the cost of living is cheaper than most regions they considered. They're looking forward to snow during their first winter in Tennessee. They're enjoying a summer that is less humid than the Gulf Coast.
"It's a lot easier," she said. "In the morning, it's a lot cooler."
'Most Likely to Succeed'
Mullins grew up in Clay, Alabama, north of Birmingham, where her parents run an auto glass business. She always did well in school, especially in math and science. At Clay-Chalkville High School, Mullins was voted most likely to succeed.
She was the first member of her family to attend college. The Honors College helped draw her to the University of South Alabama. So did scholarship money.
Mullins had a double major of computer and electrical engineering. She gained a mentor in Dr. Todd Andel, chair of the department of computer science, and did undergraduate research. In 2022, she was chosen graduate student of the year for the School of Computing.
A friend in her residence hall introduced her to Camp Kesem, which is a nationwide college group that supports the children of cancer patients. She became co-director of the chapter at South.
"We'd spend all year organizing a free week of summer camp for these kids," she said. "It was nice feeling like you were part of something really big."
Graduate school for Mullins and her husband was funded in part by the Scholarship for Service program of the National Science Foundation, which offers students work in hundreds of fields. After graduation, they're required to work for a federal, state or local government agency, and become part of the Federal CyberCorps, which protects information infrastructure.
Her husband spent the last two years working at Eglin Air Force Base in Navarre, Florida. Mullins is starting work at Oak Ridge, one of the largest science laboratories in the country, with a history that began with the Manhattan Project in World War II.
In Tennessee, she's enjoying the work, and the weather, but is already missing the food of Mobile.
"Everything, especially the seafood," she said. "And there was a barbecue place by our old apartment."
Family and Career in Oak Ridge
Mullins considered job opportunities ranging from the Sandia National Laboratories in New Mexico to the Georgia Tech Research Institute in Atlanta.
She chose Oak Ridge and the mountains of eastern Tennessee.
"I think my tour in November made the decision for me," she said. "All of the trees were changing colors, and it was beautiful."
Mullins' research in cyber sensing and analytics makes use of her training in computer science and electrical engineering. Her job offers a great deal of freedom, along with responsibility to meet long-term goals and deadlines.
"The weirdest thing," she said, laughing, "is not having homework. You don't have to say, 'Oh, I'll work on that this weekend and get back to you on Monday.' You don't have to do extra stuff off the clock."
Mullins would like to work with students of her own one day. Teaching has always been one of her interests.
"I thought I'd become a professor for the longest time," she said. "Now I have co-workers at the lab who also teach college classes, so there are a lot of people who do that."
---
---