2017 Quality Enhancement Plan Celebration of Success
---
Posted on May 11, 2017 by TeamUSA
TeamUSA
---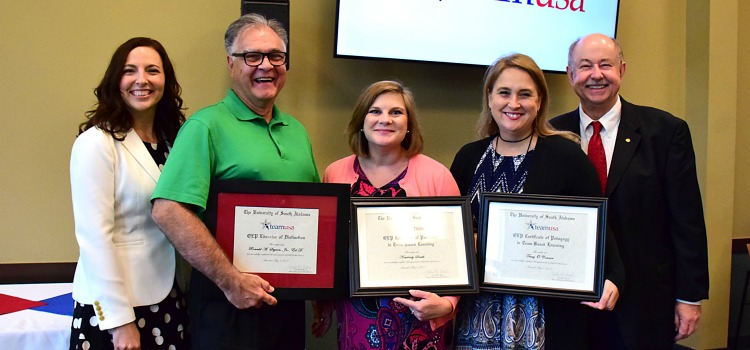 Pictured from left: Dr. Julie Estis, QEP Director; Dr. Ron Styron, 2017 QEP Educator of Distinction recipient; Dr. Kimberly Smith, 2017 QEP Certificate of Pedagogy recipient; Dr. Tracy O'Connor, 2017 QEP Certificate of Pedagogy recipient; Provost David Johnson
---
Each year, the University of South Alabama's Quality Enhancement Plan holds a breakfast celebrating faculty members who have shown a commitment to utilizing Team-Based Learning (TBL) in their courses, and awards are presented to faculty members who have excelled in their dedication to TBL. Congratulations to all of our 2017 QEP award recipients!
---
The QEP Educator of Distinction award is intended to distinguish those QEP faculty members who exhibit an exceptional conviction for the instruction and success of their students and colleagues. These award recipients express a commendable enthusiasm for the implementation of TBL as well as its impact on the quality of education it provides. Additionally, they motivate both students and faculty members inside and out of the classroom. Without a doubt, they demonstrate an admirable passion for the improvement of learning and collaboration here at the University of South Alabama and beyond. This year's recipient is Dr. Ron Styron.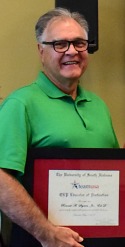 Dr. Ron Styron, Associate Professor in the Department of Leadership and Teacher Education and Educational Leadership Program Coordinator, has shown exemplary commitment and enthusiasm in educating students and guiding faculty through the process of implementing Team-Based Learning methods. Colleague Suzanne Bihan states, "Dr. Styron has established an effective trajectory of pedagogy and education to build substantive contributions to enhance and improve effective teaching modalities" and that his "interests lie in the success of students and their outcomes."
---
Recipients of the Certificate of Pedagogy have completed a minimum of five QEP Professional Development sessions, have submitted no less than three application activities, and have submitted a peer-reviewed manuscript, professional conference presentation, or grant proposal. This year's recipients of the Certificate of Pedagogy are:
Tracy O'Connor, OTD, OTR/L
Kimberly Smith, Ph.D.
---
The faculty members who receive the Professional Development Fellow award have shown initiative for implementing TBL by attending multiple QEP Professional Development sessions. This year's Professional Development Fellows are:
| | |
| --- | --- |
| Elizabeth Allison, Ph.D. | Bridget Moore, DNP |
| Suzanne Bihan, RN, MSN | Tracy O'Connor, OTD, OTR/L |
| Ellen Broach, Ed.D., CTRS | Mike Odom |
| Philip Carr, Ph.D. | Karen Peterson |
| Steven Clontz, Ph.D. | Bettina Riley, Ph.D. |
| Sharrie Cranford, Ph.D. | Sylvia Rogers, Ph.D. |
| Sam Fisher, Ph.D. | Kimberly Smith, Ph.D. |
| Stephanie Jett, Ph.D. | Jennifer Styron, Ph.D. |
| Kyre Lahtinen, Ph.D. | Candra Taylor, MS, OTR/L |
| Drew Lewis, Ph.D. | Mitchell Woltring, Ph.D. |
| Kimberly Littlefield, Ph.D. | Alice Younce, DNP |
---
Faculty members who are presented with the Pedagogical Scholar award have submitted a peer-reviewed manuscript, professional conference presentation, or grant proposal on their work with Team-Based Learning. This year's Pedagogical Scholars are:
| | | |
| --- | --- | --- |
| Elizabeth Allison, Ph.D. | Delwar Hossain, Ph.D. | Benterah Morton, Ph.D. |
| Jennifer Anderson, MSN | T.J. Hundley, M.D. | Tracy O'Connor, OTD, OTR/L |
| Haley Ballard, M.D. | Pam Johnson, DNP, RN | Angela Rand, MS |
| Lauren Brannan, Ph.D. | Kimberly Jordan, MSN, RN | Alison Rudd, Ed.D., MSN, RN |
| Kelly Byrd, MAT | Zoya Khan, Ph.D. | Kimberly Smith, Ph.D. |
| Philip Carr, Ph.D. | Drew Lewis, Ph.D. | Cindy Stanfield, Ph.D. |
| Raj Chaudhury, Ph.D. | Colleen Lynch, MSN, RN, CNL | Jennifer Styron, Ph.D. |
| Steven Clontz, Ph.D. | Cecelia Martin, MA | Ron Styron, Ed.D. |
| Jeremy Fletcher, DPT, OCS, CSCS | Sue Mattson, Ph.D. | Debra Swanzy, DNP, RN |
| Coral Gubler, Ph.D., PT, ATC | Bridget Moore, DNP | Theresa Wright, DNP, RN |
---
Those awarded with the Faculty Development Presenter award have facilitated or co-facilitated at least one professional development session. This year's recipients are:
Drew Lewis, Ph.D.
Jennifer Styron, Ph.D.
David Walker
Laura White, DScPT
David Williams
---
Faculty Learning Community Facilitator awards are presented to those faculty members who have taken charge in leading a cohort of faculty who are currently using TBL in their courses or who are considering TBL. Faculty Learning communities are formed based on common disciplines and interests, with an overarching focus on exploring effective implementation of TBL. Faculty Learning Communities Facilitators are designated to set meeting times and locations and lead communication among Faculty Learning Community participants. This year's recipients are:
Sam Fisher, Ph.D.
Dawn McKinney, MS
Karen Peterson
Sylvia Rogers, Ph.D.
Laura White, DScPT
---
---