TeamUSA Faculty Accomplishments in Team-Based Learning Research and Innovation
---
Posted on April 22, 2019 by Julie Estis, Ph.D., CCC-SLP
Julie Estis, Ph.D., CCC-SLP
---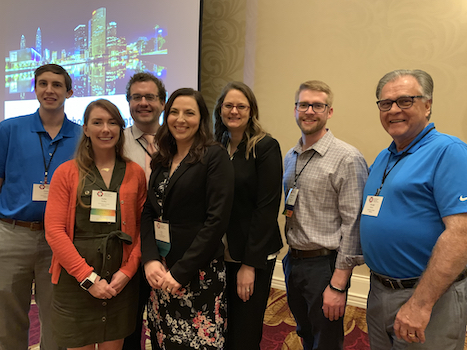 Dr. Drew Lewis, Dr. Katie Guffey, Dr. David Wiliams, Dr. Julie Estis, Dr. Lauren Brannan, Dr. Christopher Parrish, and Dr. Ron Styron (Dr. Phil Carr, not pictured) presented at the 2019 Team-Based Learning Collaborative Conference in Tampa, Florida.
---
In March, instructors and leaders from across the globe gathered in Tampa, FL for the Team-Based Learning Collaborative Conference. This year, the conference was centered around a theme of "Leading Change through TBL." Given our experience implementing and assessing TBL on a large scale, we were well-positioned to contribute to the program. Ron Styron (previous QEP director) and Julie Estis (current QEP director) were invited to present a pre-conference workshop on "Leading Change Initiatives," with our TeamUSA QEP highlighted as an example.
Highest honors went to TeamUSA faculty:
- Drew Lewis completed the TBLC Trainer-Consultant program and received the Best Poster Award for the conference.
- Shenghua Wu, Shenghua Zha, and Julie Estis received 1 of 3 TBLC grants for their project, "Integrating Team-based Learning in Improving Technical Writing Skill for STEM Students."
Please join me in congratulating the following faculty who presented (listed in order of the conference program):
- Ron Styron and Julie Estis: Leading Change Initiatives (Workshop and Panel Discussion)
- Drew Lewis: Standards Based and Specifications Grading: Shifting Student Focus from Earning Points to Learning (Workshop)
- Julie Estis: Evaluating Multiple Choice Questions (Fundamentals workshop with fellow Trainer-Consultant, Karla Kubitz)
- Christopher Parrish, David Williams, and Julie Estis: Leveraging Synchronous Engagement and Asynchronous Flexibility within an Integrated Online Model (Workshop)
- Phil Carr and Julie Estis: How to Implement TBL in Social Science General Education: Practical Considerations and Reflections (Oral presentation with Amanda Rees)
- Drew Lewis and Julie Estis: Developing Flexible Problem Solving Skills in Math Courses through Team-Based Inquiry Learning (*Best Poster Award)
- Lauren Brannan and Hannah Szatkowski: The Effects of Team-Based Learning on Preservice Elementary Teachers' Sense of Efficacy for Literacy Instruction
- Katie Guffey, Christopher Parrish, David Williams, and Julie Estis: Two Birds with One Stone: Examining Students' and Instructors' Perceptions of TBL Across Face-to-Face and Online Courses
- Phil Carr, Julie Estis, and Amanda Rees: Outcomes of TBL Implementation in General Education Social Science Courses
- Ron Styron: From Theory to Practice: Implementing 4-S Application Activities and High-level Discussion to Support Leadership Development and the Dissertation in Practice Process
- Julie Estis: Leading Change in Teaching Culture through Team-Based Learning (Workshop)
Lauren Brannan serves as the elected K-12 Member-at-Large, and I serve as the Health Sciences Member-at-Large on the TBLC Steering Committee. After meeting and planning with our Steering Committee colleagues, we are excited about the goal to increase member engagement over the next two years by increasing available resources and materials, encouraging committee involvement, and providing ongoing support for those implementing and researching TBL. Please reach out to me via email if you are interested in joining the TBLC under our institutional membership rate.
For a broader perspective, here is a summary of our overall research accomplishments related to the TeamUSA QEP:
Since our QEP began, faculty research on teaching experiences and effectiveness of TBL burgeoned far beyond expectations. Faculty provided 33 peer-reviewed presentations at disciplinary conferences such as the Human Anatomy and Physiology Society Conference, Society for American Archaeology, Association of American Colleges and Universities General Education and Assessment Conference, Association of American Geographers, & Math Fest. TeamUSA faculty have conducted 24 peer-reviewed presentations at the Team-Based Learning Collaborative Conference. Internal and external funding to support this work has grown. An internal grant program, "Enhancing Scholarship of Team-Based Learning Pedagogy" was established in Year 4 and resulted in $15,750 of funding to support seven faculty-led research projects in areas such as Science Education, Archaeology, Nursing, Communication Sciences and Disorders, Foreign Language, and Counseling. Additionally, six TeamUSA faculty took advantage of Scholarship of Teaching and Learning support funds offered by our Innovation in Learning Center. Two faculty received $5,000 grants from the American Speech-Language-Hearing-Association to support their use and study of TBL. Additional external grants have been submitted with four funded projects, three unfunded projects, and three under review. To date, seven scholarly works related to the QEP have been published, with several additional papers currently under review. Overall, research resulting from the QEP boosts individual faculty success, informs the literature on TBL, and raises our institutional research profile.
---
---