About the Book & Authors

About the Book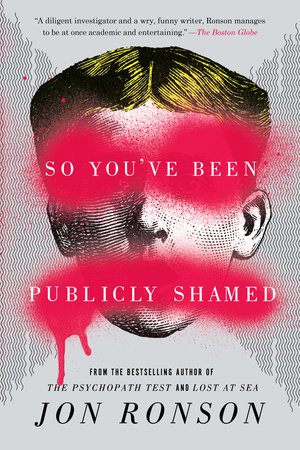 Jon Ronson has travelled the world meeting recipients of high-profile public shamings. The shamed are people like us – people who, say, made a joke on social media that came out badly, or made a mistake at work. Once their transgression is revealed, collective outrage circles with the force of a hurricane and the next thing they know they're being torn apart by an angry mob, jeered at, demonized, sometimes even fired from their job.
A great renaissance of public shaming is sweeping our land. Justice has been democratized. The silent majority are getting a voice. But what are we doing with our voice? We are mercilessly finding people's faults. We are defining the boundaries of normality by ruining the lives of those outside it. We are using shame as a form of social control.
Simultaneously powerful and hilarious in the way only Jon Ronson can be, So You've Been Publicly Shamed is a deeply honest book about modern life, full of eye-opening truths about the escalating war on human flaws – and the very scary part we all play in it.
About the Author
Jon Ronson's books include the New York Times bestseller The Psychopath Test and the international bestsellers Them: Adventures with Extremists and The Men Who Stare at Goats. The Men Who Stare at Goats was adapted as a major motion picture, released in 2009 and starring George Clooney. Ronson lives in London and New York City.
How Do I Get the Book?
Students: Copies are available for purchase at the USA Bookstore and at your local bookstore. Copies are available for loan at the University Marx Library.
Students with Disabilities: If you are a student with a documented disability and wish to request this text in an alternate format, please contact the Center for Educational Accessibility & Disability Resources at (251) 460-7212. No alternate format copies will be supplied without proper documentation.
Faculty and Staff:
If you are interested in participating in this program or reviewing the text, please email
commonread@southalabama.edu
.
Mobile Public Library Resources:
Mobile Public Library Online Card Application (temp card sent via email, good for 90 days)
12 copies of the book
2 ebooks, 1 eAudio (CloudLibrary App)
eAudio and soundtrack (Hoopla App) (simultaneous use model)