About the Book & Authors
About the Book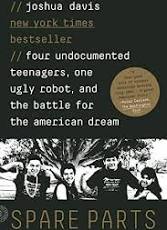 In 2004, four Latino teenagers arrived at the Marine Advanced Technology Education Robotics Competition at the University of California, Santa Barbara. They were born in Mexico but raised in Phoenix, Arizona, where they attended an underfunded public high school. No one had ever suggested to Oscar, Cristian, Luis, or Lorenzo that they might amount to much—but two inspiring science teachers had convinced these impoverished, undocumented kids from the desert who had never even seen the ocean that they should try to build an underwater robot.
And build a robot they did. Their robot wasn't pretty, especially compared to those of the competition. They were going up against some of the best collegiate engineers in the country, including a team from MIT backed by a $10,000 grant from ExxonMobil. The Phoenix teenagers had scraped together less than $1,000 and built their robot out of scavenged parts. This was never a level competition—and yet, against all odds . . . they won!
But this is just the beginning for these four, whose story—which became a key inspiration to the DREAMers movement—will go on to include first-generation college graduations, deportation, bean-picking in Mexico, and service in Afghanistan.
Joshua Davis's Spare Parts is a story about overcoming insurmountable odds and four young men who proved they were among the most patriotic and talented Americans in this country—even as the country tried to kick them out.
About the Author
Joshua Davis is the co-founder of Epic Magazine and has been a contributing editor at Wired for a decade. He has written for The New Yorker, GQ, Outside, Mens Journal, Mens Health, Maxim and Food & Wine.
He was a finalist for the 2014 National Magazine Award in feature writing and his work is anthologized in the 2012 edition of "The Best American Science and Nature Writing," as well as the 2006, 2007 and 2009 editions of "The Best Technology Writing."
In 2014, Farrar Strauss Giroux published his third book, Spare Parts, a chronicle of the triumph of a small robotics team. The book was named one of the best new books by Amazon and the BBC. The film version was released by Lionsgate in 2015 and stars George Lopez, Carlos Pena, Marisa Tomei, and Jamie Lee Curits.
In 2002, Josh completed "The Beast Within" a documentary film about his attempt to become the lightweight armwrestling champion of the world. The film won Best Documentary at the 2003 Telluride Mountain Film Festival.
In April of 2003, Josh snuck into Iraq to cover the war for Wired and later that year became a contributing editor for the magazine.
In 2005, Random House published his first book, "The Underdog" - a recounting of Davis' armwrestling, bullfighting, sumo, sauna and backward running adventures.
His second book, Entrenched, is an anthology of his work.
Interviews with Josh Davis
How Do I Get the Book?
Students: Copies are available for purchase at the USA Bookstore and at your local bookstore. Copies are available for loan at the University Marx Library.
Students with Disabilities: If you are a student with a documented disability and wish to request this text in an alternate format, please contact Student Disability Services at (251) 460-7212. No alternate format copies will be supplied without proper documentation.
Faculty and Staff:
If you are interested in participating in this program or reviewing the text, please email
commonread@southalabama.edu
.
Mobile Public Library Resources:
Mobile Public Library Online Card Application (temp card sent via email, good for 90 days)
12 copies of the book
2 ebooks, 1 eAudio (CloudLibrary App)
eAudio and soundtrack (Hoopla App) (simultaneous use model)