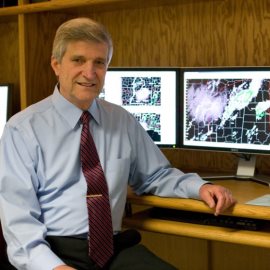 Dr. Aaron "Bill" Williams, Director Emeritus
---
Associate Professor Emeritus
University of South Alabama
Education
B.S. 1965 Florida State University
M.A. 1967 University of Missouri
Ph.D. 1971 University of Oklahoma
---
Bio
Dr. Williams has been associated with the University of South Alabama since March 1967. During that time he has taught courses in regional and physical geography, meteorology, and climatology. In addition, he has taught coastal climatology at the Dauphin Island Sea Lab and summer geography courses at the University of West Florida. In 1987, after serving for five years as General Manager of Capitol Weather Service in Mobile and a Lecturer at USA, Dr. Williams proposed and developed USA's Coastal Weather Research Center, which officially began operation on January 1, 1988. Dr. Williams returned as an Associate Professor and became the Director of the Weather Center, the only full-service weather forecasting operation in the nation located on a university campus. In 1991, he started the first undergraduate program in meteorology in Alabama. Working closely with AFROTC, the curriculum was designed to meet the requirements of the Air Force and the National Weather Service. Dr. Williams has served as Meteorology Coordinator developing the program and recruiting students.
Dr. Williams began a radio career with WKSJ on January 29, 1979 and for 20 years provided daily reports to Gulf Coast residents through heat and cold waves, floods, drought, and memorable events such as Frederic, Elena, and Danny.
From June 1, 1999 through 2001, Dr. Williams served as a severe weather analyst for WKRG-TV in Mobile and a member of the WKRG First Alert Storm Team. This was followed by a return to radio at WNSP and a current position with FM Talk 106.5.
During the summers of 1965-1967, Dr. Williams worked for the U.S. Weather Bureau at La Guardia Airport and the International Aviation Forecasting Unit at John F. Kennedy Airport in New York City.
Dr. Williams has published in the areas of radar and satellite climatology and the climatology of tropical environments. He is also publisher of the Mobile Weather and Marine Almanac.