Beginning the Challenge
University of South Alabama leaders and staff joined Jan. 16 with a group of volunteer leaders to officially launch fundraising efforts for the Mitchell-Moulton Scholarship Initiative. More than 50 members of the Mitchell-Moulton Campaign Leadership Team gathered at the Faculty Club to plan their work for the coming year and to celebrate the commencement of the historic campaign.
The Mitchell-Moulton Scholarship Initiative springs from Abraham Mitchell's commitment of $50 million to the University, announced at the University's 50th anniversary celebration in May. Of that $50 million, half will go to the Mitchell College of Business as an estate gift. The remaining $25 million is a matching gift challenge to support undergraduate scholarships. Mr. Mitchell has agreed to match, dollar-for-dollar any gift to undergraduate scholarship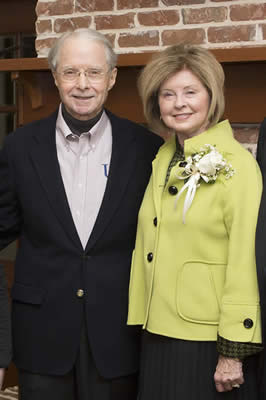 endowments.
The 55 committee members represent a cross section of influential and accomplished alumni, business and community leaders, senior University administration, deans of USA's colleges and schools, faculty, trustees and students. The Mitchell-Moulton Campaign Leadership Team is tasked with raising $25 million in scholarship support from private donors. When matched with Mitchell's challenge gift, it will add up to a $50 million increase in the endowment for undergraduate scholarships.
"This group will provide crucial leadership in shaping the future of this university," said Dr. Joseph F. Busta, Jr., vice president for development and alumni relations. "The Mitchell-Moulton Scholarship Initiative will play a critical role in enabling the University to achieve its strategic goals, and this committee is the group of leaders that will ensure that this campaign is a success."
Dr. David Johnson, senior vice president for academic affairs, focused on the impact this campaign will have on the lives of students. Johnson said the impact goes beyond the financial support scholarships provide. "It's also about the message scholarship support sends to a student," Johnson said. "It tells a student that someone believes in them, that someone is willing to invest in their future, that someone is willing to support their dreams."