General Division - Employee of the Quarter
Do you know an employee who has made outstanding contributions to his/her department and should be recognized as the General Division – Employee of the Quarter?
Nominations for the University General Division Employee of the Quarter are being accepted now!
Nominees must be regular, permanent, full-time, University General staff employees who have completed at least one year of continuous employment and have satisfactory current performance evaluations. Part-time and temporary employees are ineligible. Nominations may be made by any University employee including Division heads, Administrators, Faculty, Staff or students.
Employee of the Quarter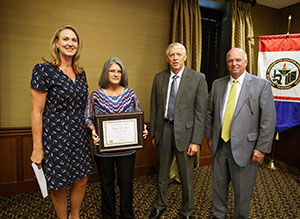 In recognition of the dedication of our USA employees, we are pleased to announce that Letitia Myers, Advancement Records Coordinator, in the Office of Development & Alumni Relations, has been selected as USA Employee of the Quarter for the third quarter of 2019.
Letitia has been described as a "difference maker" by taking the lead role in helping the division's conversion and implementation of more than 210,000 database records to a new donor and fundraising database. She has handled it all with an exceptional level of professionalism, a can-do attitude, and a commitment to excellence that is beyond compare. Letitia encourages and motivates her staff to continue to excel and to keep the work of the division moving forward. She is enthusiastic about her work and is always willing to help with any project. Letitia's willingness to work beyond the bounds of job descriptions and established processes to improve service for colleagues, alumni, donors, and friends of USA show her to be precisely the kind of difference maker on whom the "We Are South" brand is built.
In recognition of Letitia's commitment to excellence, the presentation of this award took place at the Board of Trustees meeting, on September 13, 2019.
Previous Employee of the Quarter Recipients
If you have any questions, please contact Tina Stalmach, Employee of the Quarter Selection Committee Chair, at tstalmach@southalabama.edu or by calling (251) 460-6133.