John Counts Room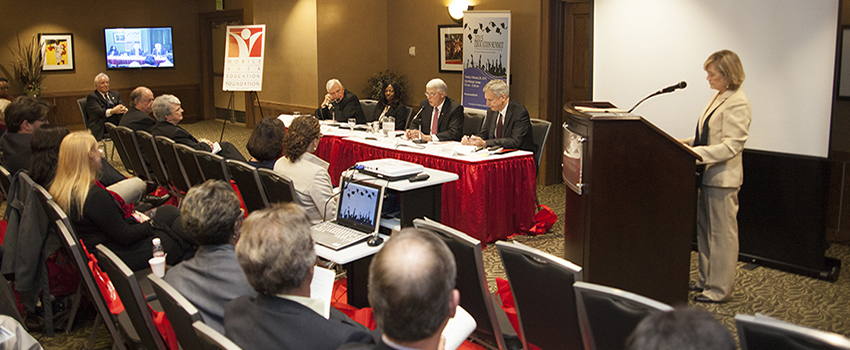 Venue Information
The John Counts Room is known for its private setting and elegant interior. This fully carpeted room has its own entrance as well as its own restroom. Decorated with chandeliers for intimate lighting, this is the number one location for a private event.
Seminars, receptions, banquets, expositions, dinners and fashion shows have been accommodated in this space. The possibilities are endless!
The room dimensions are 82' x 44' and can be separated into two rooms to accommodate smaller functions.
Room
Room Dimensions

John Counts Room

82' x 44'

(Occupancy: 184 Seated)

John Counts Room A

44' x 32'

(Occupancy: 40 seated)

John Counts Room B

44' x 50'

(Occupancy: 75 seated)
▼ Policies and Procedures
The Mitchell Center prohibits the following:
Illegal drugs or substances
Weapons or any object that may be used to inflict bodily injury or disrupt an event
Flammable materials or incendiary devices of any kind (includes chemicals)
Laser pointers, flashlights, and any similar devices
Large bags and containers (backpacks, knapsacks, coolers, etc.)
Animals (excluding service animals)
Outside food or beverage of any kind (includes alcoholic beverages)
Tobacco, e-cigarettes, and/or vaping products
Bottles, cans, projectiles, or compressed gas
Artificial noisemakers (includes bells, whistles, cowbells, etc.)
Selfie sticks/poles
Video and audio recording devices (includes GoPro, etc.)
Unauthorized solicitation, handbills, giveaways, or sampling
Camera policies vary by event
Mitchell Center reserves the right to search all persons and bags entering or exiting the building. Mitchell Center will not be held responsible for items missing, stolen, damaged or lost. Ejection from the Mitchell Center may result if you fail to comply with these policies.
Confiscated items will not be returned.
Re-Entry Policy
There is no re-entry into the Mitchell Center. This information is printed on each ticket and is displayed on every door.
▼ Rates
| | |
| --- | --- |
| John Counts Room - Non-University Rental Rate | $400 (first 4 hours) + $100 each additional hour |
| John Counts Room - University Rental Rate | $200 (first 4 hours) + $50 each additional hour |
| John Counts Room A - Non-University Rental Rate | $275 (first 4 hours) + $50 each additional hour |
| John Counts Room A - University Rental Rate | $137.50 (first 4 hours) + $25 each additional hour |
| John Counts Room B - Non-University Rental Rate | $275 (first 4 hours) + $50 each additional hour |
| John Counts Room B - University Rental Rate | $137.50 (first 4 hours) + $25 each additional hour |