Classrooms/Meeting Rooms Reservations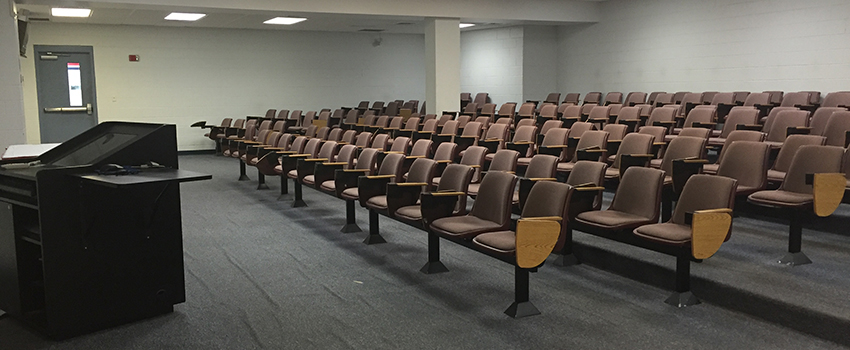 Venue Information
The Mitchell Center has three meeting rooms located on the arena-floor level of the North side of the building.
Meeting Room 1101 provides seating for 173 guests in a theater-style configuration.
Meeting Rooms 1102 and 1106 are 25' x 32' and can accommodate up to 40 guests in a reception or banquet-style function.
▼ Policies and Procedures
The Mitchell Center prohibits the following:
Alcoholic beverages and illegal substances
Weapons or potentially dangerous items
Flammable materials and incendiary devices of any kind
Hazardous chemicals or materials
Backpacks, large bags, coolers
Bottles, cans, projectiles or compressed gas
Artificial noisemaking devices such as air horns, whistles, etc
Laser pointers
The use of tobacco products
Outside food or drinks
Video or audio recording devices
Camera policy varies by event
Animals (working animals only are permitted inside the facility)
Mitchell Center reserves the right to search all persons and bags entering or exiting the building. Mitchell Center will not be held responsible for items missing, stolen, damaged or lost. Ejection from the Mitchell Center may result if you fail to comply with these policies.
Confiscated items will not be returned.
Re-Entry Policy
There is no re-entry into the Mitchell Center. This information is printed on each ticket and is displayed on every door.
▼ Rates
| | |
| --- | --- |
| Meeting Room 1101 - Non-University Rental Rate | $300 |
| Meeting Room 1101 - University Rental Rate | $100 |
| Meeting Room 1102 - Non-University Rental Rate | $150 |
| Meeting Room 1102 - University Rental Rate | $50 |
| Meeting Room 1106 - Non-University Rental Rate | $150 |
| Meeting Room 1106 - University Rental Rate | $50 |