How Would You Invest $250,000?
---
Posted on January 4, 2016
Alice Jackson
---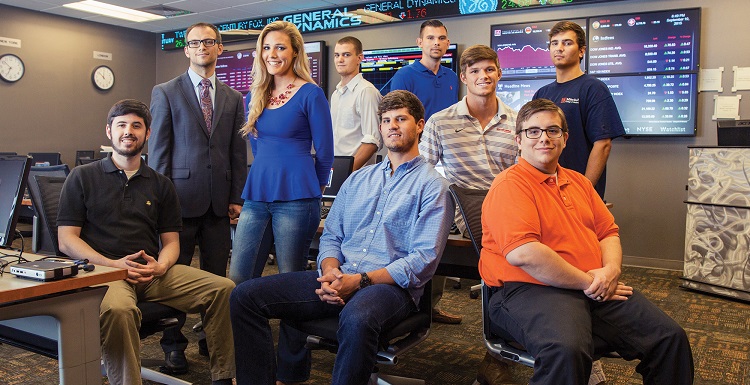 Dr. Kyre Lahtinen, standing top left, is an assistant professor of finance and the faculty advisor to the Jaguar Investment Fund. Participating students for the first semester were, from left, Tyler Yakola, Charis Singleton, Micah Calhoun, Harrison Spruiell, James Lewis, Hayden Welford, Britton Hall and Nicholas Blakley.
Download larger image
---
What would your grade be if you had to invest $250,000 belonging to the University of South Alabama and make a profit in only four months?
Britton Hall, a senior finance major in the Mitchell College of Business, and seven other students recently completed that challenge successfully for the new Jaguar Investment Fund, marking the first time a business class actually purchased stocks in a real-world scenario.
The fund surpassed its benchmark challenge, measured against the Standard & Poor's 500 Index. The S&P lost 1.6 percent during the fall semester while the JIF was down only .01 percent.
"It was incredibly educational. I don't think there's a whole lot of students in college who have had the opportunity to invest actual money like we did," Hall said.
Dr. Kyre Lahtinen, assistant professor of finance and the Jaguar Investment Fund's faculty advisor, said slightly more than half of the top 300 colleges in the nation have similar investment funds with some beginning at only $25,000 and others that manage portfolios in the millions. In Alabama, USA is one of several institutions of higher learning to establish a student-run investment fund. The funds, which came from private donors and matching funds, provide graduates with solid analysis and investment experience for their resumes, increasing each one's chances for a better job after college.
"Our fund was set up strictly as a long-term fund, which means we only make investments in the hope they will go up," Lahtinen said. "This also means we aren't going to be a high-frequency trader."
Competitive requirements for the first Jaguar Investment Fund students, both undergraduate and graduate, included completion of a senior-level investment course with at least a "B" and a minimum 3.5 GPA.
The class met for two and one-half hours each week inside the John B. Saint Financial Analysis Center. The glass-walled room contains a computerized ticker tape showing real-time market action. Setting up the fund included the addition of Bloomberg Terminals, a computerized financial data system used by finance professionals to research real-time market data.
For the first weeks of the course, students looked for potential companies for their portfolio. Working in pairs, they researched, organized data and pitched their selections to the entire class. Then, the class voted to select their first four companies. The first trade was executed on Oct. 26.
"We need at least 70 percent of the class in favor of a company in order to buy," Lahtinen said. "Between the first buy and the end of the semester, we ended up purchasing stock in five more companies for a total of nine."
The portfolio includes companies that represent varied businesses and industries – consumer staples, organic food production, specialized real estate investment, defense contracting, media and entertainment, automotive manufacturing, and entertainment and computer gaming.
"Once the trades were made, each meeting focused on what the economy was doing and how it was impacting the investments," Lahtinen said. "But students were encouraged outside class to spend additional time in the Saint Center to research and analyze incoming data. This way they get the opportunity to see how the dots connect and affect the value of a firm. There's definitely a growth in their knowledge and application of financial concepts."
Also, the students learned that financial analysis requires more than a 40-hour work week.
"Some schools liquidate their portfolios at the end of each semester, but our investments will be carried over from one semester to the next. For that reason, the last thing the students did before the end of the semester was to lay out a plan for executions provided certain things happen over the holiday break," Lahtinen said.
Three of the eight students will return for the spring semester with four new students entering the fund, and Lahtinen said he hopes students other than finance majors will sign up for the class.
"We would like to get people from other majors to participate because, with the kind of analysis we're doing on companies, it would help us to have, for instance, engineers or medical majors," Lahtinen said.
For Hall, the experience changed his future. He said he is especially proud of selecting one stock – Netflix – which turned out to be one of the fund's top performers.
"Before this class, financial analysis was on my job radar, but I wasn't really confident applying for that kind of job," Hall said. "Now, I would really love to become a financial analyst because I feel passionate about it after what I've learned in this class."
---