10 Factoids on American Crime Fiction
---
Posted on January 4, 2018
Alice Jackson
---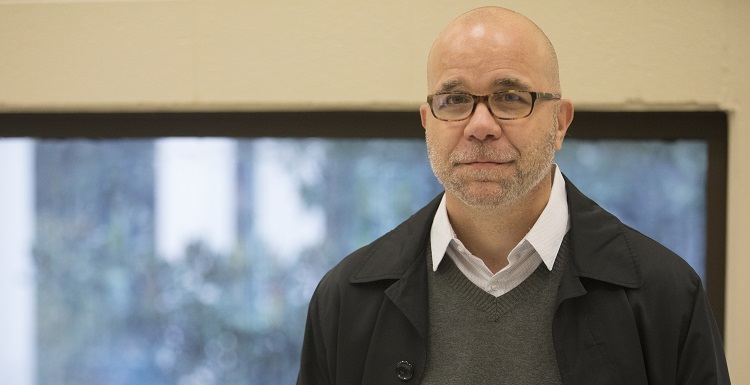 Dr. Chris Raczkowski, associate professor of English at the University of South Alabama, edited "A History of American Crime Fiction."
---
Staying inside for the coldest January in years offers time to read, and for fans of crime fiction, Dr. Chris Raczkowski, associate professor of English at the University of South Alabama, delivers with his latest book.
He shares the country's long and varied interest for the crime fiction genre in "A History of American Crime Fiction."
Raczkowski edited the book, published by Cambridge University Press, which also includes a chapter written by colleague Dr. Ellen Harrington, associate professor of English and coordinator of the department's graduate program.
To entertain, challenge and delight table mates, Raczkowski shared some of the following tidbits from the book:
Ten Things You Didn't Know About American Crime Fiction
The first "book" published in Boston was an execution sermon preached by Increase Mather, "The Wicked Man's Portion" (1675). The gallows sermons and "dying speeches" popular in colonial America were intended to scare New Englanders into reforming their criminal behavior.
One probable reason why the first detective in American literature was a Frenchman living in Paris (Poe's C. Auguste Dupin) is that there were no official detective police in the United States at the time.
The first detective novel published by any American writer, "The Dead Letter" (1867), was written by a woman, Metta Fuller Victor.
Louisa May Alcott, best known for "Little Women," wrote detective stories under the pseudonym A.M. Barnard.
Novels featuring women detectives were very popular during the 19th century.
Mark Twain's novel "Pudd'nhead Wilson" (1894) is a satirical reworking of the detective genre.
Under Herbert Hoover, the FBI assembled investigative files on many writers of crime fiction as well as crime fiction criticism, including Gertrude Stein, William Faulkner, Ezra Pound, T.S. Eliot, Walter Benjamin, Bertolt Brecht and W.H. Auden.
Dashiell Hammett, author of classic hardboiled novels such as "The Maltese Falcon" (1929) and "The Thin Man" (1934), spent time working as a Pinkerton detective.
Crime fiction has persistently led all other varieties of adult fiction in sales since the early 20th century.
"Peak TV," or what critics and scholars refer to as the contemporary golden age of television -- and seen as surpassing film as a dominant American art form --uses crime fiction as a central topic (think "The Sopranos," "The Wire," "The Shield," "Breaking Bad," " Justified," "True Detective," "Better Call Saul" and "Fargo").
---
Raczkowski joined the USA faculty in 2006. His work on American literature and culture has appeared in numerous academic journals and anthologies. He is currently at work on a manuscript on modernism and crime titled, sensibly enough, "Criminal Modernism." He earned his Ph.D. in literature at Indiana University and a bachelor of arts from Middlebury College.
---