South Extends Pathway USA Agreement with MGCCC
---
Posted on January 11, 2023
Marcomm
---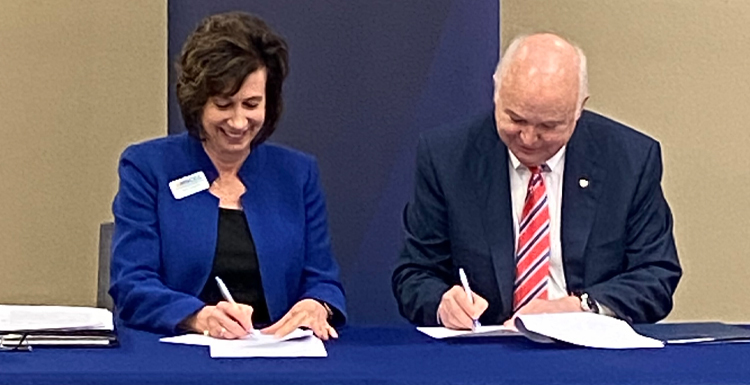 Mississippi Gulf Coast Community College President Dr. Mary S. Graham and University of South Alabama President Jo Bonner sign an agreement concerning the transfer of credits between the two institutions. The agreement is part of the Pathway USA program that allows community college students various benefits, including automatic admission to South if academic requirements are met.
---
The presidents of University of South Alabama and Mississippi Gulf Coast Community College signed a Memorandum of Agreement Wednesday that continues a program to expand access to four-year degree.
The signing ceremony took place at MGCCC's Hospitality Resort Management Center in Biloxi. The agreement is part of the Pathway USA program that streamlines the transfer process for entering South.
"Mississippi Gulf Coast Community College has been a valued partner in our Pathway USA program since 2016," said USA President Jo Bonner. "With today's renewal we look forward to many more years of providing a smooth transition for their students to advance their education at South."
Students who are admitted into the program are guaranteed admission to USA upon successful completion of the Associate of Arts degree or Associate of Science degree with a cumulative GPA of 2.0 or higher. Reverse transfer agreements will be created by USA to allow students who transfer without an associate degree to complete the degree after matriculation to USA.
"We are excited about the opportunities this affords our students who are interested in degrees offered at University of South Alabama," said Dr. Mary S. Graham, MGCCC president. "We have had a great partnership with USA for a long time, and this continuation of that partnership reflects the commitment both our institutions have to student success."
Each student in the program will receive access to a USA advisor, who will visit their campus once each term, and other benefits, including a special USA ID card, discounts to USA Jaguar Productions, library privileges, early registration, and free admission to USA athletic events.
---