Six Ways to Keep Your Resolution and Get in Shape
---
Posted on January 13, 2016 by Joy Washington
Joy Washington
---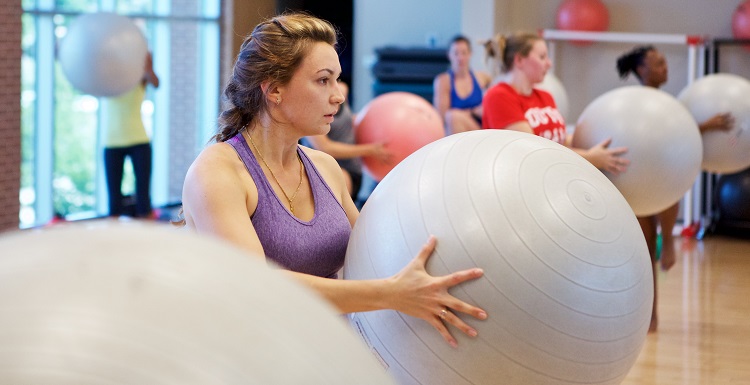 One way to stay motivated when trying to keep an exercise routine is to take a fitness class.
---
It's January 2016, and many have decided to exercise on a regular basis as a part of a New Year's resolution. Sarah Schrenk, coordinator of fitness programs at the University of South Alabama Student Recreation Center, offers six ways you can stick to a fitness routine and get good results.
Set goals. Look at your schedule to determine when and how you will include fitness in your daily routine.
Change your mindset. Exercise doesn't have to be complicated. Find something you enjoy. Whether it's walking, biking, dancing, swimming or rock wall climbing, you should have fun and include variety in your work out.
Take a class. The Recreation Center offers group fitness classes, from cycling to yoga to boot camp, that are free to members. Sometimes it's easier to exercise with others or with a friend.
Get a trainer. Take a one hour, $15 equipment orientation class so that you can learn the equipment and get a customized fitness program. If you want to work out with a personal trainer, 1-hour sessions can be purchased for as little as $16 with a 12-session package, or individual and smaller packages also are available.
Pick up the pace. Include high intensity-interval training in your fitness routine. You may power walk for a certain amount of time, and then walk slowly. Alternate fast and slow pacing to burn more calories.
Earn free swag. Stick to your exercise routine and take advantage of the incentives offered through the Student Recreation Center's Jaguar Wellness program.
For more information, including classes offered and details on personal training, visit the Student Recreation Center web site or call (251) 460-6065.
---