Business Class: Flight Attendant Reroutes to South
---
Posted on January 19, 2023
Thomas Becnel
---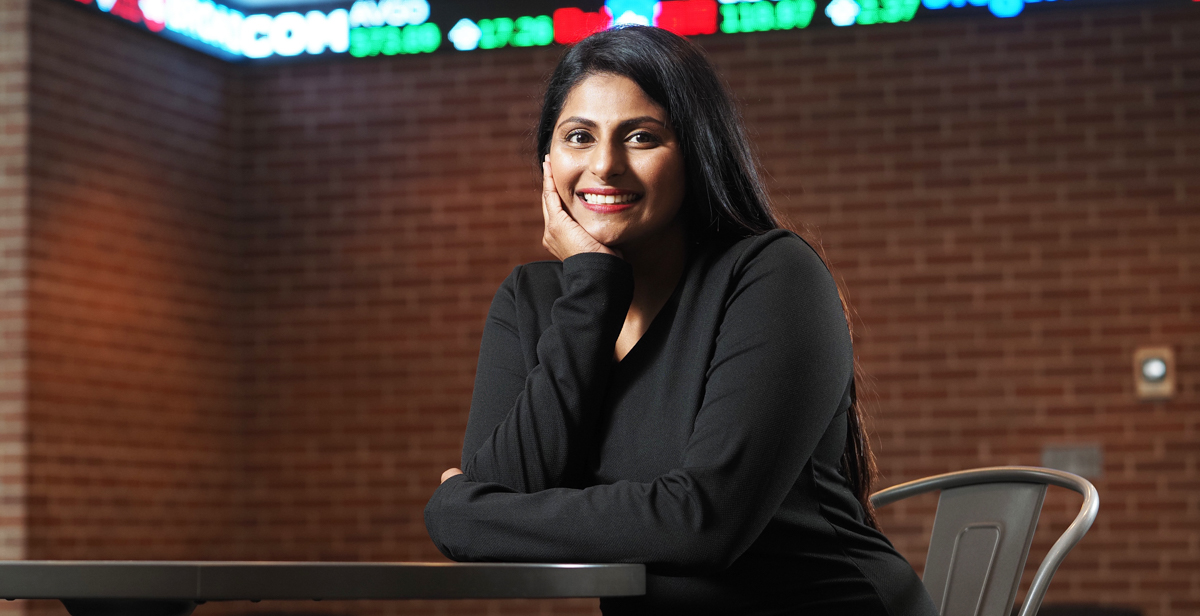 Snehal Adekar used an industry downturn caused COVID-19 as an opportunity to change course, leaving her job as a flight attendant to continue her education at the University of South Alabama Mitchell College of Business.
---
As the only child of a couple from a traditional Indian community, Snehal Adekar resisted narrow roles for women and yearned to see the world outside the city of Daman, north of Mumbai.
When she was just 18 years old, she began a career as a flight attendant for the Emirates airline. Her world changed. She was based in Dubai and flew to the great cities of Asia, Europe and North America.
"It was fun — a lot of fun," Adekar said. "I've been everywhere, 54 different countries. My favorite city was probably Tokyo. Amazing infrastructure and street life."
During her years with Emirates, she earned a bachelor's degree in business from Pune University in India. When the Coronavirus pandemic grounded the airline industry, she decided to continue her education and start a new life in the United States.
She applied to the graduate program in the Mitchell College of Business at the University of South Alabama and expects to earn her master's degree in business administration in 2024. She has a long-term goal of earning a Ph.D. and becoming a college educator.
"I've always been open to new people and new opportunities," Adekar said. "That's something I got from being a flight attendant."
As a graduate student, Adekar, 29, works with professors on different research projects and business assignments. She finds business education in America to be less theoretical and more practical than in India.
"She's an incredibly driven and motivated person – she goes 400 percent all of time," said Dr. David Turnipseed, a management professor in the Mitchell College. "I'm so happy to have her as a graduate assistant. Her work is just impeccable."
Even halfway around the world, Adekar remains close to her family. Her father has a small tire-repair business, while her mother is a schoolteacher.
"Every single day, the very first thing I do is call my mom," she said. "She needs to know everything. Every single detail."
But her daughter's home is America now. She enjoys living in Alabama. She likes the people of Mobile.
"That's the best part of South," she said. "You can ask people for help and they will step up for it, every single time."
Adekar drives a 12-year-old Volkswagen and lives off campus with her dog, Bella. She keeps busy with work and school. She does pilates and makes her own fun.
"If I'm at home," she said, "I'm probably at my computer with some kind of masala music, dancing my heart out."
Before choosing business management, Adekar thought about studying international relations. It was not for her. She says she's not a political person.
She has no regrets about her time as a flight attendant. She wouldn't trade that experience for anything. At the same time, she was ready to make a change in her life.
"Toward the end, and during COVID, I got tired of it," she said. "You start thinking, you know, how long am I going to be sitting in a jump seat, getting up to give people water?"
At South, Adekar has become involved with the Graduate Student Association. She gets to mix with classmates from other academic disciplines. There's a lot to learn.
"It's important for students to leave their comfort zones and find what's out there," she said. "It's always better to get involved in something serious. I love to see what other people know and do."
This summer, she hopes to land a business internship. She looks forward to working in management after graduation. Another goal for Adekar would be helping others follow in her footsteps.
"I'd like to do something with my life, help students who want to pursue a career here," she said. "If I could help five young women from India, that would be something."
---