Stopping a Waste of Useful Waste
---
Posted on January 23, 2020
Bob Lowry
---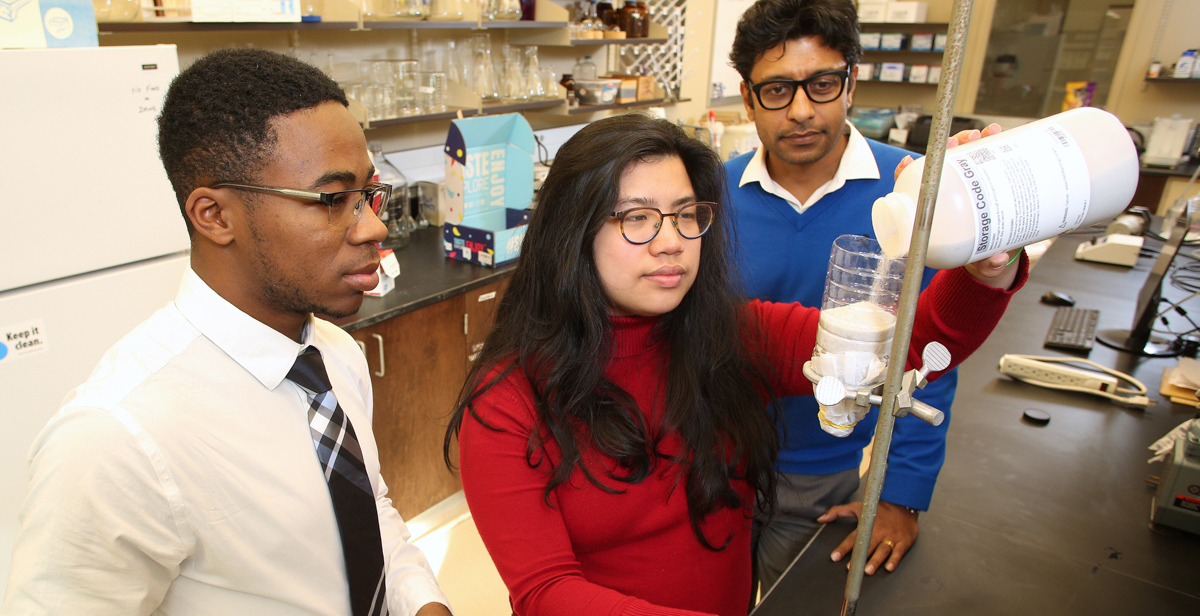 University of South Alabama engineering students Bryant Baldwin, left, and Rachel Chai, center, are creating a filter to adsorb, or adhere, phosphate from wastewater and/or stormwater, under the guidance of Dr. Arka Pandit, an assistant professor of civil, coastal and environmental engineering at USA.
---
Let's talk about sludge.
Through the wonderful process whereby your local water treatment plant takes wastewater and turns it into usable water, there's a by-product of sludge left behind.
"Typically," said Dr. Arka Pandit, an assistant professor of civil, coastal and environmental engineering at the University of South Alabama, "this sludge, which has been treated with aluminum sulfate, is dewatered and sent to the landfill, costing both money and resources." And in burying the sludge, something of value may be buried with it.
According to Pandit, the treated sludge – it's technically known as SAS, which stands for spent-alum sludge – can contain phosphorus from wastewater, stormwater and agricultural runoff.
"Eutrophication (that's when excessive nutrients in a body of water, often due to runoff from the land, cause a dense growth of plant life and death of animal life from lack of oxygen) is one of the biggest challenges of this time and, on top of that, one of its primary contributors, phosphorus, is a limited resource. So nutrient removal and recovery has enormous potential to address this two-pronged challenge," Pandit said.
The question is, how to get to the phosphorus?
Two engineering students at South have taken up the question, and together they are creating enough interest to generate some national attention.
Rachel Chai, who's majoring in civil engineering, and mechanical engineering major Bryant Baldwin recently placed second in the country in a research competition sponsored by the American Society of Civil Engineers.
The competition asked university student teams to design "forward-looking" ideas that could transform the way civil engineers approach, design and build infrastructure, and create a feasible business model. Chai developed much of the research and Baldwin developed the proposal.
"I grew up by the coast and water has been a big part of my life," said Chai, who was raised in Ocean Springs, Miss. "Through the years, I have seen some detrimental effects which seem to have no solution. This drives me to continue to pursue this problem no matter how hard it is."
How hard is it?
"Honestly, I'm a bit confused much of the time during this research," Chai smiled. "It's been a lot of question asking and 'oh, that's right' moments."
Those questions and moments usually take place in the environmental engineering laboratories in USA's Shelby Hall. It's there where Pandit and Chai have collected the treated sludge, or SAS, from the Myers Water Treatment Plant in Mobile, and have used tests to see if the sludge could adsorb phosphate from synthetic wastewater and, if yes, to determine its capacity.
"She learned two things," Pandit said. "One, the SAS has the capacity of removing phosphate from wastewater, and two, it has a preference for phosphate over other ions commonly present in wastewater."
The experiments also revealed that there is negligible to no leaching of any other metals of concern from the sludge during this process, so the problem of eutrophication is addressed by not letting the phosphorus reach water bodies.
Practically as important as the research is the sharing of the findings. This is where Baldwin came in.
"Rachel pulled me in to coach her in her presentation," he said. "I have experience in sales and had received training here at South in a special program called I-Corps, where I learned how to take a product or idea, mold it to fit the market and sell it. I do have a passion to sell products that I wholeheartedly believe in and when Rachel showed me her product, the importance of it and the big picture, I immediately supported it."
Baldwin, a graduate of Mobile's Baker High School, helped her in preparing the poster and to run a couple of sets of experiments, the results from which were included in the poster and presentation at the national competition.
"We had several late nights and early mornings in preparation of our event," Baldwin said. "The hardest part about it was that we had to work remotely. I was in South Carolina for the summer and Rachel was in Alabama. We had to do a lot of video calls almost every day to ensure we were well prepared and on the same page on everything before we presented."
The benefits of national recognition for the students are obvious, but Pandit said the long-term benefit for undergraduate students is getting engaged in research. "It helps them to think more critically, think about the broader implications and be better equipped with tools to address a challenge," Pandit said. "So, yes, this is invaluable indeed."
Chai and Baldwin are scheduled to graduate in May and both indicate they are leaning toward enrolling in graduate school.
---