How Long Until the JagTran Arrives? Check your phone
---
Posted on January 26, 2016 by Bob Lowry
Bob Lowry
---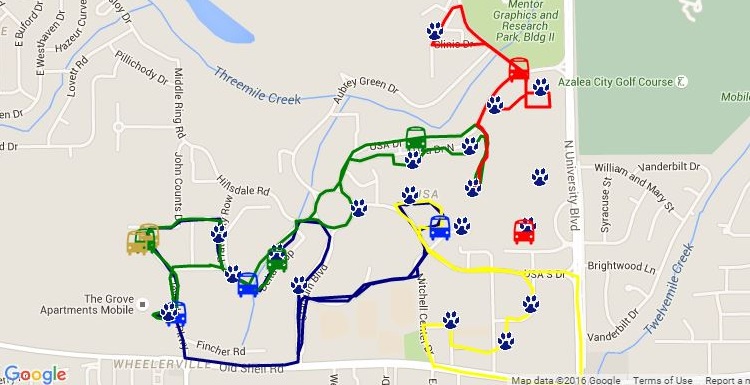 The new JagTran Tracker app uses GPS technology to show students in real time where JagTran buses are on their daily routes.
---
It started out as a class project. What it became may revolutionize student transportation at the University of South Alabama.
It's an app called the JagTran Tracker, and it's largely the result of dozens of students working together over several years. As the name suggests, the app "tracks" JagTran buses through GPS technology. For students, the JagTran Tracker lets them know when the next JagTran is coming to their stop.
"By accessing the JagTran Tracker via the web browser of their smartphone, students can see where JagTrans are in real time," said Student Government Association President Ravi Rajendra. "Students no longer have to guess when the next JagTran will arrive at a stop. Knowing where JagTrans are allows students - both residents and commuters - to better plan their commute across campus." JagTran buses have been part of the University landscape since 2005, running four routes through the day to transport students throughout the campus.
Although it's brand new for the spring semester, the JagTran Tracker was years in the making. The app was developed over the course of multiple semesters by student teams mentored by Dr. Todd McDonald, a professor in the School of Computing.
"I started on this idea in the 2012 spring semester as a group software engineering project," said McDonald. "We were looking at what the general requirements might be for tracking JagTran, what kind of devices might be viable in terms of cost and long-term maintenance and funding, and some basic ideas for software architecture."
Students Caleb Hall of Mobile and Chris Camp of Saraland were part of that first class. "Initially, it felt more like a class project than anything," said Hall, but it soon became much more. "The entire class took on the different roles of a software development team," said Camp.
In 2013, the project went outside the laboratory. "We engaged stakeholders that I knew would need to be involved if the project was to ever become a reality," said McDonald. Numerous meetings would follow, involving Transportation, Computer Services, the College of Engineering and the SGA, discussing issues such as placement of GPS tracking devices on the buses, hosting and maintaining the app on the University web servers, inclusion of engineering students in the project, and financial support.
"Our first computing senior project in spring 2014 made a lot of headway in the design of the tracker app as it is now, and the engineering student team members came up with a prototype pressure pad sensor that could be used later to track passenger loads," McDonald said.
Hall worked on it again during the 2014 fall semester, when it was his senior project. "At that point, I was excited for what the JagTran Tracker could become," said Hall. Two other senior project teams in fall 2014 and spring 2015 continued to refine the system architecture, document the design and analysis of the system, improve the user interface code, and set up testing scenarios using a hosted web server, said McDonald. The project was almost ready to hand over to Computer Services.
This past summer, McDonald worked with Reeve Cabral, systems analyst in the Computer Services Center, to set up and execute a successful test run on USA hosted machines. A prototype was fully tested during the 2015 fall semester, and the result is the JagTran Tracker, fully operational starting this spring semester. Computer Services will be able to support the system using their existing contracts for networked devices. "As a South Alabama alum (2002, Computer Science), I am no stranger to the traffic/parking issues on-campus between classes," said Cabral. "I hope this project will help students track and use JagTran to get to their classes on time and reduce traffic on campus."
The University last semester revamped JagTran routes and introduced other enhancements to better meet the campus transportation needs of students. "The JagTran Tracker continues that improvement process, and we look forward to its success," said Todd Culp, manager of Facilities Services, which includes JagTran. The new Orange route will be added to the Tracker in a few weeks.
While the JagTran Tracker can benefit all students using campus transportation, there's an extra benefit to the students who created the app.
"This project was a grassroots idea that was predominantly implemented by students here at South and who got to be part of it because of the great curriculum opportunities that both Computing and Engineering offer our students," said McDonald. "They learned about the complexity of building a system like this from the ground up, getting sponsorship and stakeholder involvement, the difficulties of communication among teams of different students, and the frustration of dealing with technology that doesn't always work right."
"The project overall taught me how to look at problems from a different angle and introduced me to the challenges of making different systems communicate efficiently," Hall said. Nearly 40 students – all of them now graduated, by the way – participated in some feature of the JagTran Tracker's development, from concept to design to testing to execution.
Hall and Camp, who both earned bachelor's degrees in computer science, are employed in Mobile by Rural Sourcing Inc., as are several of their project teammates. "We all feel the project definitely helped prepare us for the 'real world.' We faced deadlines, owner expectations, constraints and even roadblocks in trying to get this application off the ground," said Camp. "We're all looking forward to seeing this application, and the years of work put into it by all the people involved, put to use to help current and future South Alabama students."
The JagTran Tracker app can be accessed at jagtrantracker.southalabama.edu and it is also available as a link on the main USA app that can be downloaded from the Apple App Store or Google Play.
---