Studies in Social Justice: South Ph.D. Student Focuses on At-Risk Youths
---
Posted on January 24, 2022
Thomas Becnel
---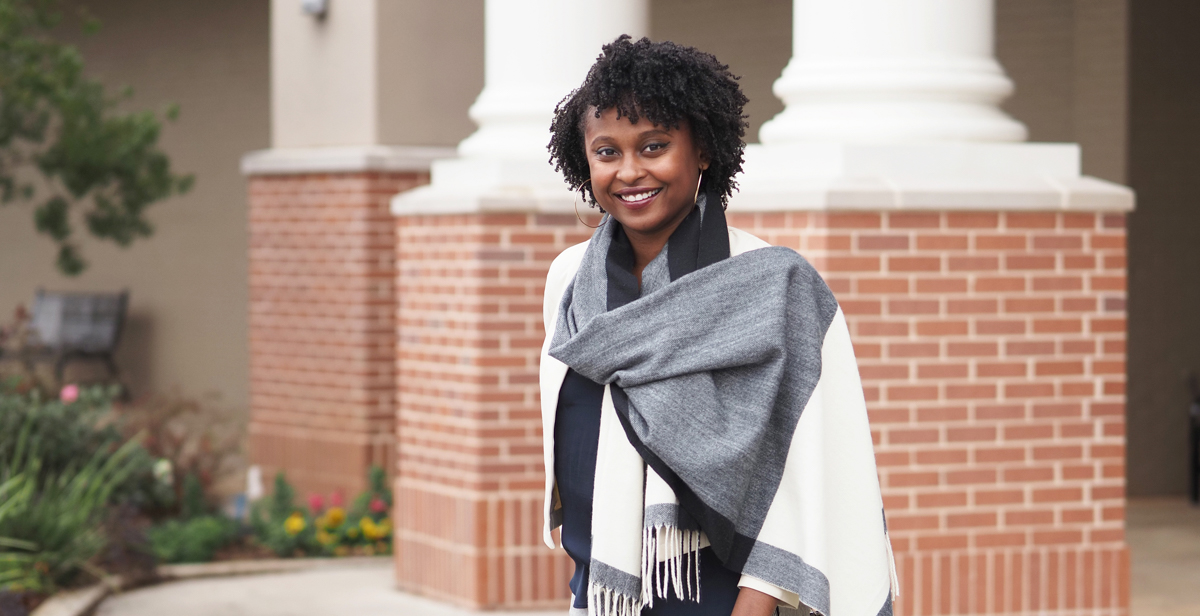 University of South Alabama doctoral student Kim Pusey says her work has been fueled by her own upbringing and observations of race and the criminal justice system. "Part of my work, part of the research I do, is in service of trying to make things better for little black and brown kids," she said.
---
The University of South Alabama is running a series beginning Martin Luther King Jr. Day that focuses on South students, employees and alumni who are advancing Dr. King's vision in six areas – poverty, jobs and wages, housing, education, justice and peace. Today's story is on justice.
Kim Pusey, a Ph.D. student in clinical and counseling psychology, is writing a dissertation that will explore different categories of juvenile offenders based on intelligence, personality and childhood trauma.
Her master's thesis, a South nominee for the Council of Southern Graduate Schools Thesis Contest, examined the influence of racial and crime stereotypes on verdicts and death penalty recommendations.
Pusey's interest in social justice dates back to her education at Dr. Michael Krop Senior High School north of Miami. As the daughter of Jamaican immigrants living in a diverse community, she wondered why some students were headed off to college, while others wound up incarcerated or worse.
One of her classmates was Trayvon Martin.
He was the 17-year-old Florida student shot and killed by George Zimmerman, a Neighborhood Watch volunteer, who was later acquitted by a jury of second-degree murder and manslaughter. The 2013 trial drew national attention to Martin's hooded jacket and Zimmerman's "Stand Your Ground" defense for shooting an unarmed person.
For Pusey, 25, the case was a wake-up call.
"I grew up under the false impression that racism was a thing of the past, we're not doing that anymore, we're good," she said. "When the trial came about, and there was no justice, that changed my perception of race and racism and what's going on in the country. That was the biggest turning point for me. I decided I needed to do my part in some way. Part of my work, part of the research I do, is in service of trying to make things better for little black and brown kids."
Pusey and Martin weren't close friends. More like friends of friends who'd share lunch and see each other in passing.
"He was cool, a sweet kid, just like any other kid who went to my school," she said. "It was devastating to know he could be killed, and nothing would be done about it. I could see how Black Lives Matter emerged from that. I remember thinking that my life, the lives of my friends, the lives of my cousins, they didn't matter. That means there's a lot of work to be done."
Pusey chose the University of South Alabama for graduate school because the Mobile Juvenile Court Collaborative, a partnership which began in 2008, gave her the opportunity to work with at-risk youths. That's been her focus. She'd like it to become her career.
Dr. Tres Stefurak, professor of counseling psychology and associate dean in the College of Education and Professional Studies, is Pusey's adviser and mentor. She's worked for him as a psychologist-in-training at the Strickland Youth Center, a juvenile detention facility in Mobile, providing mental health services.
"I've watched her get horribly traumatized teenagers to open up to her," Stefurak said. "She's very unassuming. She doesn't try to control people. If you've been through a lot of things, that makes you feel comfortable, because you don't feel like that person is a threat.
"She's one of the most authentic people we've had in the program. She's open, transparent, and she always puts clients at ease."
Pusey is more interested in clinical services than academic research, but she won recognition with her master's thesis. It involved surveying prospective jurors about the details of a mock trial vignette in which the race of the offender and type of crime committed were manipulated. Her work will be recognized at the Spring Graduate Research Forum in March.
"She doesn't choose the easy route," Stefurak said. "A lot of times, for a thesis, we allow students to do easier projects with existing data, but she was adamant about developing her own idea and methods. What she chose is something I've not done a lot of work in, so she was kind of leading me into that territory."
Miami, Tampa and Mobile
Pusey (pronounced "pew-zee") grew up in South Florida.
Both of her parents are from Jamaica. Her father worked in real estate before retiring, while her mother is a psychiatric nurse. She has little or no accent, but Jamaican phrases will sneak into her conversations. She "plugs out" electronic devices, for instance, rather than unplugging them.
In high school, Pusey won a state poetry contest with an entry called "scribble On Me and Make Me Yours." She also taught herself computer coding. At the University of South Florida in Tampa, she studied psychology with a minor in creative writing.
At South, with classes, counseling and work on her dissertation, Pusey hasn't had much free time. She doesn't see many movies. Only recently did she watch "Good Will Hunting," the 1997 Oscar-winner about a therapist counseling a troubled young genius.
In Mobile, Pusey has been to a Mardi Gras ball, and enjoys tumbling and roller skating. After completing her dissertation this spring, she plans to do a year-long internship. She's applied to programs across the country.
"My time in Mobile is coming to an end," she said. "I'm very sad, actually."
Career in Counseling
In three years at South, Pusey has gotten training and practical experience. Sometimes she'll do 20 hours of counseling a week. She's still learning her craft.
"It still feels new; I still get nervous," she said. "I want to help my clients. I want the very best for them."
Pusey says she's more comfortable listening than talking. She loves to hear about the lives of people who come to her.
Developing professional detachment is one of the challenges for young counselors.
"When I come away from a client, I take pieces of their story home with me," she said. "I think about my clients. I think about them when they're not my clients. Self-care is a big way to make sure I don't feel too much of the burdens of my job."
This spring, Pusey will find out where she's going for her year-long internship. After that, she's not sure. She thinks one day she might return to Florida.
She's enjoyed her academic work at the University of South Alabama, but doesn't think she's interested in a career in teaching or research.
"I don't know if I have the zeal for scientific work that I see in academics here," Pusey said. "My zeal, my passion, is for people. I want to work on a multidisciplinary team. I want to be doing therapy, assessment and consultation. And I'm hoping to work with system-involved and justice-involved youths and families. That's the dream."
---