From Part-Time Barista to Business Owner, USA Grad Enjoys Success of Planning and Preparation
---
Posted on February 2, 2016 by Marketing and Communications
Marketing and Communications
---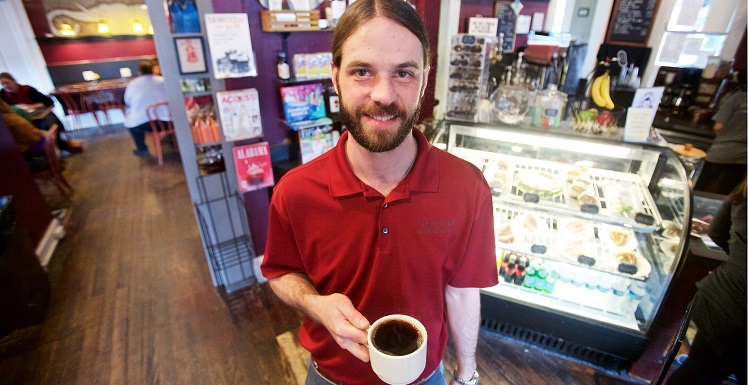 Alan Tolson, a business graduate and owner of Carpe Diem Coffee & Tea Co., said the Springhill coffee house is experiencing double-digit growth. One emerging sector: Churches looking to provide parishioners with coffee before or after service.
---
Alan Tolson walked into Carpe Diem Coffee & Tea Co. 17 years ago as a University of South Alabama student looking for part-time work. He started out as a barista, quickly worked his way into the roasting room and, today, as owner, is responsible for a company that employs 15 and is a fixture in the Springhill community.
"A whole lot of preparation and planning goes into a transition like that," Tolson said of purchasing the business in 2013. "So it was kind of a relief to finally get everything buttoned up and handed over, but more than anything it was really rewarding. A whole lot of work finally paid off."
That groundwork was laid while Tolson earned his bachelor's degree in management from the University of South Alabama's Mitchell College of Business; the Mobile native, now 35, graduated in 2004.
"Because I majored in management, I was exposed to all the different aspects of business – everything from finance and accounting to marketing – and that exposure to all the different facets has been invaluable because when you're a small business owner, you're kind of the head of each of those departments," he said. "You can't just walk down the hall and have somebody else take care of something. Certain actions in certain realms impact other areas of the business, and my education helped me to be mindful of the interrelation between the different fields."
Of course, top-notch talent with a commitment to customer service is what makes Carpe Diem hum seven days a week, Tolson said. His staff, primarily part-time employees, includes several South Alabama students.
"The baristas enjoy the flexibility of the hours. It's really tough to balance work and school when you're trying to graduate," said Tolson, who was only 19 when he began working for Carpe Diem's original owners, Tomi Sue and Van Rusling.
Carpe Diem debuted in 1995, and distinguished itself quickly as the only local coffee house at the time to roast its own beans. Although Tolson began as a barista in August of 1999, he said he had talked his way into the roasting side of the business by December, and the rest fell into place.
"It really was the most amazing job I could have had as a student," he said. "When I was roasting back then there really weren't set hours. I was just responsible for getting the job done, so that meant sometimes I'd come in, roast, fill some orders and go to class. I just kind of came and went – some really early mornings and a lot of late nights – and I was always really grateful for how flexible they were."
Tolson said he was offered first right of refusal to buy the shop and wholesale coffee business in 2013. And although he wouldn't turn a blind eye to the right opportunity, Tolson said that he is content to operate the single location for now with plans to renovate the kitchen later this year in order to accommodate an expanded menu.
"We're seeing positive, year-over-year growth in the double digits, so that's good. I wouldn't rule out a second location as part of a longer-term, five-year plan, but a lot of effort goes in to that kind of transition, and I don't think it would be wise to spread myself across two locations right now," he said, noting the planned kitchen expansion once completed will most likely generate two additional jobs and an array of healthier menu items he feels the market will support.
Meanwhile, the wholesale coffee side of the business remains steady, servicing not only regional customers but also a large portion of the southeast.
A surprisingly robust emerging sector, he said, has been area churches looking to provide parishioners with coffee before and after services. He now counts between 12 and 15 congregations among his customers.
Tolson said he is proud to partner with area businesses to cross-promote local products. For instance, Carpe Diem coffee is available at another Old Shell Road fixture, Cammie's Old Dutch Ice Cream Shoppe.
"This past summer we partnered with Cammie to create a signature ice cream we could sell, and she came up with a Melipone (Mexican) vanilla. She really nailed it," Tolson said.
Above all, Tolson said Carpe Diem Coffee & Tea Co. works diligently to remain visible – and involved – with the community that has supported it for more than 20 years, whether it's partnering with local schools or hosting the annual Santa Run to raise funds for the Big Brothers Big Sisters of South Alabama.
"I just feel that it's important for us to give back and do what we can for the community since they are the ones supporting us," said Tolson, who personally serves on the board of Loaves & Fishes in Mobile and on the advisory committee for the Dauphin Island Sea Lab.
---