A Lifetime of Learning: Why One Ph.D. Student Came Back for More
---
Posted on February 4, 2020
Emmy Rieske
---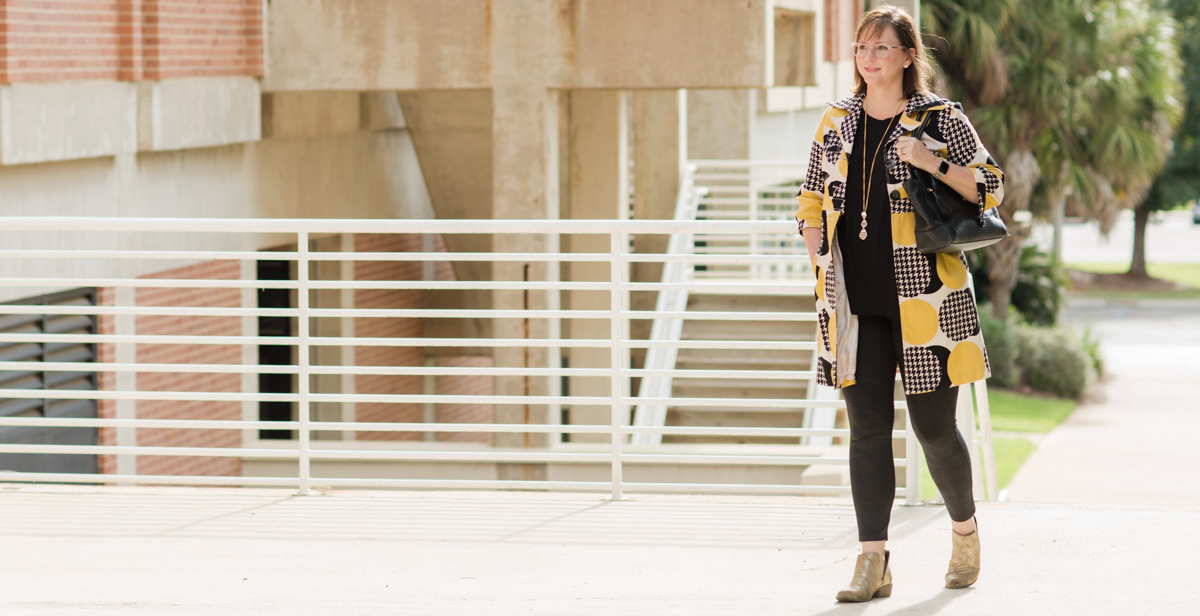 Stacey Wellborn, a Ph.D. student in business administration at the Mitchell College of Business, said her education is giving her a new perspective. "I have spent the last 20 years working, building businesses, closing businesses and learning lessons," she said. "Going back to school to pursue my doctorate gives me the opportunity to learn more deeply about why things work — or don't work."
---
From Texas to North Carolina, with lots of stops in between, Stacey Wellborn has gained a lifetime of experiences. Over the last 20 years Wellborn has spent most of her time operating as an independent marketing consultant and small agency owner. Wellborn's educational journey started in Tuscaloosa, Ala., where she graduated with a bachelor's in hospitality management, then she attended graduate school in Greensboro, N.C., where she received her master's in counseling in higher education, and she's currently working toward her Ph.D. in business administration in marketing at the University of South Alabama Mitchell College of Business.
Wellborn is fashioned with many different hats: She is a visiting instructor and internship coordinator for the communication arts department at Spring Hill College in Mobile. She owns a communications firm which specializes in public relations, online marketing and event management, and is the founder and yard boss at the Container Yard, a coworking space in downtown Mobile.
The Container Yard is a work space for entrepreneurs, small businesses, corporate nomads and non-profit organizations. They recently moved into their second location, tripling in size and membership capacity. They provide a flexible, creative work environment that serves to provide a collaborative, supportive community. The Container Yard came into being when one of Wellborn's partners, a developer, had an interesting space that he wanted to fill with a lively, energetic business. After researching several coworking spaces in Atlanta, they decided to open the Container Yard at the Marine Street Lofts in 2016. In 2019, they moved to the renovated former Red Cross building, another project of their partner. Since moving in May 2019, they have already exceeded expectations and are looking to expand to Baldwin County in 2020.
With so much experience, one might ask, why a Ph.D. in business? Wellborn said, "My goal is to teach full time at the college level. I am interested in marketing communications, but as an entrepreneur myself, I am also interested in studying how businesses get started, how they build awareness and use communications to grow their organizations."
Wellborn has always loved the pursuit of education, "I have wanted to pursue a doctorate and teaching since my days living in Austin and working in student affairs at the University of Texas. I had the opportunity to teach an undergraduate leadership class and fell in love with teaching. As life happens, I am just now able to pursue this dream and believe everything happens at the right time."
The decision on where to go to obtain her Ph.D. was easy for Wellborn. She wanted to experience face-to-face interactions with her classmates and professors. "When I found the USA program, I was so excited. When I first discovered the program, there was only a management concentration. When Dr. Joe Hair came to USA and added the marketing concentration, I knew the time was right."
Even more important than the face-to-face with Mitchell College of Business professors like Hair, Wellborn needed a program that fit her busy schedule, "I love the classroom experience and the focused weekend schedule. With my full schedule, I needed a structure that would allow me to continue to work, teach and attend school."
Wellborn describes her experience as "hard, stressful, exciting and fun! The program is challenging enough to be scared at first, but it's also given me the confidence that I can rise above the fear and succeed. The best part has been getting to know my classmates. We have an awesome cohort and I have made some great friends! I look forward to seeing them each seminar weekend. All of our professors are amazing! I am grateful to our MCOB-based faculty, who are brilliant and here for us. I also appreciate our Global Scholars, who make the journey to be here with us and share their knowledge."
Wellborn says the Ph.D. program has given her a new perspective. "Since starting this program, I have started to look at everything differently. I have always believed in using data to make decisions, but now with the knowledge gained about the research process, I want to test and research everything. I find myself changing my ways of thinking and talking with clients and friends. Research has truly become a passion and focus in my life."
As an entrepreneur, Wellborn has learned many lessons, including how to bounce back from failure. "I have spent the last 20 years working, building businesses, closing businesses and learning lessons. Going back to school to pursue my doctorate gives me the opportunity to learn more deeply about why things work — or don't work — and will give me the credentials to teach college students. I want to be able to teach the foundations of business and marketing and share my real-world experience as an entrepreneur and professional communicator."
---