New Labs Open for Freshmen
---
Posted on February 17, 2017
Alice Jackson
---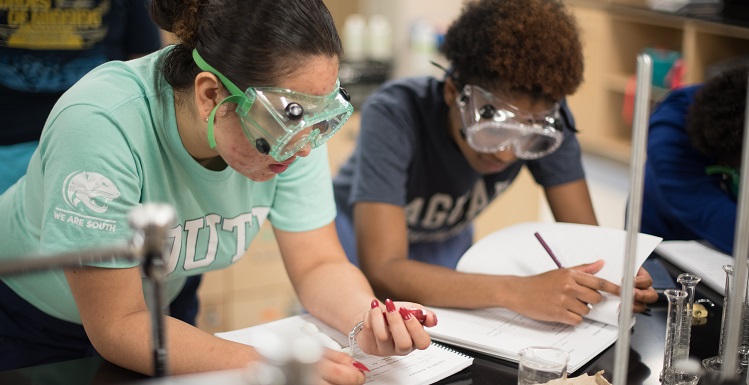 In spring 2014, student enrollment in chemistry was 2,152. This semester, 350 more students are enrolled. New labs will help meet increased demand.
---
To meet the unprecedented increase of chemistry students at the University of South Alabama, first-year chemistry students now have their own laboratories.
"After years of planning, our instructional activities have expanded into newly renovated space in a separate building," said Dr. David Forbes, professor and chair of chemistry. "Our first-year chemistry students began using the new laboratories at the beginning of this semester."
The renovated area is located on the second floor of the newly named Science Laboratory Building, south of and across USA South Drive from the Chemistry Building. The renovated building was formerly known as the Engineering Laboratory Building.
The $3.5 million renovation included:
Four large instructional laboratories equipped with the latest technology as well as accommodations for disabled students.
Three classrooms, which can accommodate up to 18, 40 and 50 students.
A staff-equipped stockroom for chemical supplies.
Offices for full-time and part-time faculty as well as a full-time graduate assistant.
Four full-time faculty members and one staff employee relocated into the facilities.
"There's so much more space and organization in these new labs," said Alaysia McNair, a biomedical sciences major, as she prepared for a lab with Dr. Richard O'Brien, assistant professor of chemistry.
"I love these labs, and they provide a better atmosphere for our first-year students," O'Brien said.
The increasing student numbers are a direct result of increasing enrollment in the College of Engineering and the College of Nursing, "which has an early acceptance program that adds more students," Forbes said. "This has doubled our capacity for general chemistry labs, and as a result this meets the needs of our students and offers flexibility at all levels."
In spring semester 2014, student enrollment in chemistry was 2,152. This semester, Forbes said 350 more students are enrolled, the equivalent of 15 sections.
In the past, the department has had to turn away researchers because of space shortages, but Forbes said now the department is even able to accommodate a Mitchell Cancer Institute researcher while her laboratory is being renovated.
"The administration has been tremendously supportive of this," Forbes said. "We are grateful for it meeting our needs."
---