South Collaborates with Coastal Alabama Community College, Jones College on Early Acceptance Program
---
Posted on February 21, 2020
Thomas Becnel
---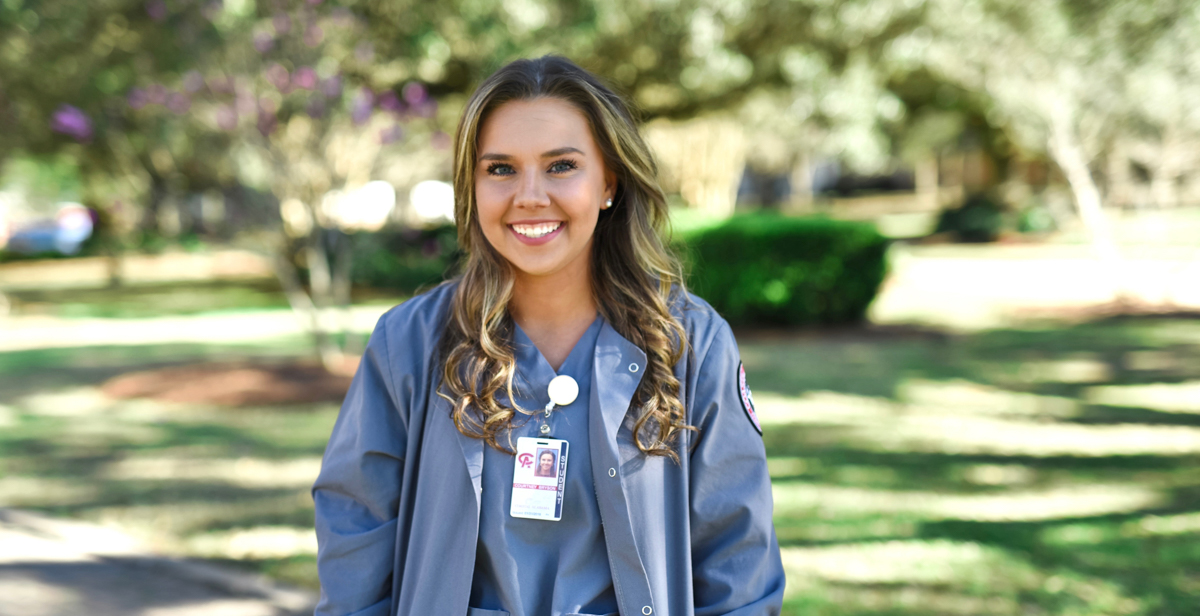 Courtney Bryson, who is completing her clinical work to become a registered nurse and earn an associate degree from Coastal Alabama Community College, is already taking online classes at the University of South Alabama toward a Bachelor of Science in nursing.
---
Courtney Bryson will get a head start on her nursing career this year, thanks to a new partnership between Coastal Alabama Community College and the University of South Alabama.
Right now, the 22-year-old Mobile native is completing clinical work to become a registered nurse and earn an associate degree in nursing from Coastal Alabama. She's also starting online classes for a Bachelor of Science in nursing from South.
Following this schedule should save Bryson a semester of school. Great news for someone ready to start working. That was her reaction when she first heard about the USA's RN-to-BSN program.
"When they asked what we thought, I said, 'Absolutely,'" Bryson said. "If it's going to speed up the process, let me in."
Dr. Heather Hall, dean of the College of Nursing at South, said the community college connection is part of an aggressive recruiting campaign. An early acceptance program and collaborative partnership will also expand to Jones College in Mississippi, both institutions announced earlier this month.
"The College of Nursing administration, faculty and staff are interested in helping students complete the degree to meet their goals in the nursing profession," Hall said. "We wanted to make sure there's a curriculum in place to encourage them to continue their education. We are committed to the success of our students and assisting them to complete the baccalaureate degree."
South has made a commitment to RN-to-BSN students by adding 30 percent tuition discounts. Instead of paying $482 per credit hour, the rate will be $328 per hour. "That was key," Hall said.
Bryson has always wanted to be a nurse. She's the oldest of four sisters, which might help explain her desire to become a registered nurse. Her mother is a respiratory therapist who works in the neonatal intensive care unit at USA Health Children's & Women's Hospital.
At South, Bryson started out in the nursing program, but decided to change her major to psychology.
"I want to serve in medical missions, so I wanted the psychology background, to better understand people," she said. "I love understanding the 'why' behind people's actions."
For the nursing program at Coastal Alabama, Bryson has been driving back and forth across Mobile Bay. On those long rides, she listens to nursing lectures or '80s music – John Mellencamp and Pat Benatar.
She tries to schedule free days for her online nursing courses at South.
"It works for me, with all the driving and clinical hours," she said. "You can do it around your schedule."
For Hall, that flexibility is part of a win-win situation for everyone — Mobile area nursing students, Coastal Alabama Community College and the University of South Alabama.
Online courses have helped South become one of the largest colleges of nursing in the nation. Today, it has nearly 4,000 students. Overall, the college has educated nearly 14,000 nursing professionals.
Hall believes Bryson will be the first of many Coastal Alabama students to enter the RN-to-BSN program. There's room to grow as the nursing profession grows. Registered nurses know that a bachelor's degree will help them advance their nursing degree and become managers and supervisors.
"Once they see that students are successful and the impact the baccalaureate degree has on their career in nursing, we hope to assist many students in the process of enrolling into the program," Hall said. "It would be wonderful to have all them come into the program. We'd welcome all of them."
---