South Advancing Regional 'Innovation Ecosystem'
---
Posted on March 2, 2017
Marketing and Communications
---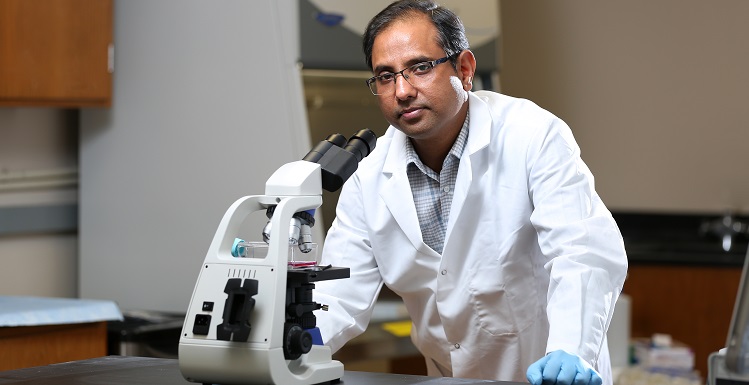 Dr. Sanjeev K. Srivastava, an instructor in the Health Disparities in Cancer Research Program at the USA Mitchell Cancer Institute, is the director of cell biology and genetics for Tatva Biosciences, which has a lab in USA's Coastal Innovation Hub. One of Tatva's primary technologies is the development of sun protection creme that uses silver nanoparticles in an effort to block and repair DNA damaged by sun radiation. The Coastal Innovation Hub was one of the University's early inroads into developing the region into an innovation ecosystem.
---
Two words – innovation and entrepreneurship – have made a prominent entrance into the local lexicon since the University of South Alabama led efforts several years ago to establish southwest Alabama as a federally designated manufacturing community.
Lynne Chronister, South's vice president for research and economic development, said a lot can change in a short amount of time when the right partners unite for a common goal.
"Developing an innovation ecosystem was one of two primary areas we identified in our first proposal for the U.S. Department of Commerce's Investing in Manufacturing Communities Partnership designation for Mobile moving forward. Public conversations prior to that didn't include terms like innovation and entrepreneurship. They just were not part of our community dialogue," she said.
The latest example of the region's evolution is on display on St. Louis Street. The Mobile Area Chamber of Commerce Foundation recently closed on an early 20th-century warehouse that will house Innovation PortAL, a long-discussed technology-centered incubator and accelerator. Chronister and Dr. Michael Chambers, USA assistant vice president for research innovation, sit on the Innovation PortAL Board of Directors, a measure of South's commitment to the innovation cause.
Innovation PortAL is backed by a $2.9 million Economic Development Administration grant, and is the latest in a series of innovation-centered efforts with South's fingerprints on it. Others include a business incubator on USA's campus and 1702, which pulls together an annual class of Mobile CEOs to foster collaboration and entrepreneurship.
Innovation PortAL is, by far, the most visible and ambitious effort to-date that seeks to elevate Mobile's cachet as an incubator of innovation and high-tech manufacturing.
Executive Director Hayley Van Antwerp confirmed initial discussions call for the development of 18,000 square feet with plans to expand to 35,000 square feet at full build out.
Once finished, the facility is expected to encompass a full city block on the former "Automobile Alley" that is now viewed as the city's technology corridor.
Van Antwerp said Innovation PortAL is projected to serve as many as 300 entrepreneurs during its first five years, generating an estimated 500 jobs while contributing roughly $5 million to the local economy.
South joins the city of Mobile, Mobile County, the Mobile Area Chamber of Commerce and a host of private companies and foundations that have committed a collective $1.9 million match for the project expected to cultivate innovative, financially viable businesses while positioning Mobile as the Gulf Coast's entrepreneurial hub.
"Our region has been a leader in large-scale economic development over the past two decades, which has led to increased prosperity. Entrepreneurship is our next great growth opportunity, and the Chamber wants to foster that growth," said Chamber President and Chief Executive Officer Bill Sisson.
Chronister, whose entrepreneurial fact-finding research has included looking at St. Louis, New Orleans, Greenville, S.C., and Hamburg, Germany, said the dialogue in Mobile is shifting because local partners can see the revitalizations – and results – the mindset is garnering both nationally and internationally.
"All of those communities do it differently, but when we were in Greenville, it didn't matter what we talked about, the terms innovation and entrepreneurship were part of every conversation, from housing to business development. It's only beginning to happen here, but it is happening. We have built our own community here in our region that balances and supports manufacturing with small business and innovation," she said.
Chronister said South's commitment to Innovation PortAL embodies the University's commitment to community engagement, one of its five strategic priorities.
So whether it is commercializing research begun on campus or helping local companies expand supply chains by developing innovative manufacturing techniques, Innovation PortAL provides myriad avenues for South to contribute to that greater good.
Chronister anticipates "a lot of the technology spinning out of the University will eventually reside in Innovation PortAL," so South's visibility will increase in the heart of downtown Mobile.
"The University is one of the largest employers in our region, and Mobile is our community, and we believe very strongly in engaging our community and having an open campus and supporting our community in every way we can," she said.
"Job training, especially in the technology industry, is going to be absolutely critical for us to grow, and if we're going to recruit high-tech industry, they have to have the skilled labor pool to draw from. That is the hole that Innovation PortAL, along with Mobile's new designation as a TechHire city, can help fill," Chronister said.
Van Antwerp said the ultimate goal is ensure Mobile's continued manufacturing success by providing the proper environment for innovators to succeed or fail quickly and pivot to the next advancement.
"Innovation PortAL has a niche focus in manufacturing technology, and we hope that our programs and facility are the catalyst to encourage the next generation of manufacturers here in Alabama and nudge existing manufacturers to remain competitive in the marketplace," she said.
---