Majoring in Geography, Going Pro in Volleyball
---
Posted on March 8, 2017
Marketing and Communications
---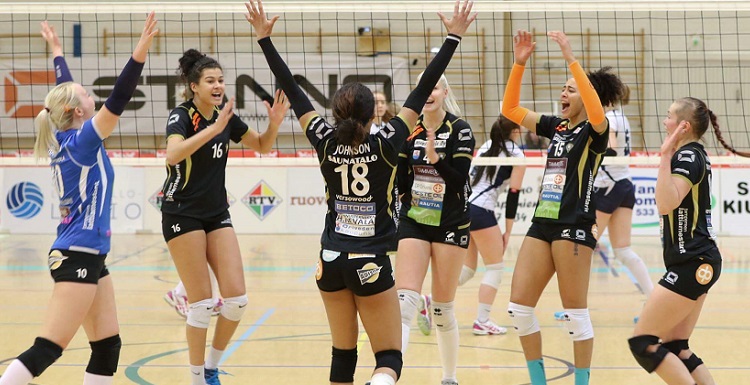 Mechell Daniel, No. 16, second from left, plays professional volleyball for OrPo in Finland. At South, the geography major from England made the all-conference team each of her four years with the Jaguars. OrPo photo.
---
Mechell Daniel came a long way to play volleyball at the University of South Alabama. After a stellar four-year career with the Jaguars, she traveled even farther to launch her professional career.
"In America, everyone drives around to go everywhere," said Daniel in a video interview from Finland. "Here, I walk 10 minutes in snow and ice to practice, to go to the store, to go out lunch with my teammates, to do everything. And I have to put on a massive jacket and lots of other clothes and snow boots." She turned her phone around and stretched out her legs to show off her heavy black boots — quite a contrast to the flip-flops she wore to the beach during her time at USA.
Daniel plays for the Orividen Ponnistus (OrPo) in the Lentopallon Mestaruusliiga, or the Finland Championship Volleyball League. The club is based in Orivesi, a town of about 9,400 people, 120 miles north of Helsinki. "It's a really tight-knit community," Daniel said. "Everybody has been very friendly and welcoming."
She came to South in 2013 from her hometown of Chelmsford, England. She had dreamed of playing professional volleyball since a coach at The Boswells School got her interested in the sport when she was 11. In search of better collegiate competition than European universities offered, she emailed volleyball coaches at more than 100 NCAA Division I schools.
South and Hofstra University on New York's Long Island both invited her to fly in for an official campus visit. But she had time for only one visit, and Hofstra asked first. The New York visit was scheduled for late October 2012 — which is when Hurricane Sandy hit the East Coast. At the last minute, Daniel headed to USA instead.
"I loved it," she said. "The coaches were really friendly. Everybody was really nice to me."
Daniel was Sun Belt Conference Freshman of the Year in 2013 and made the all-conference team each of her four years with the Jaguars. She was primarily an offensive player — a 6-foot-3 outside hitter — and ranks second on the Jags' career record list with 1,511 kills. She also ranks seventh with 1,037 career digs, a defensive statistic, so she was a multidimensional player.
"She's tall, quick and athletic, and she is agile and has speed," said USA head coach Amy Hendrichovsky. "That's what has made her as good as she is."
Hendrichovsky described Daniel as one of the kindest souls she has ever coached. "She was all about the team. She's one of those great players who is more about other people than herself."
Daniel majored in geography with a minor in psychology. She graduated early, with honors, in December 2016. That allowed her to join OrPo during the middle of the October-through-March regular season. South assistant coach Jordana Price, who played professionally, helped match Daniel with Elite Volley Agency who lined up the job. Daniel had traveled elsewhere in Europe, especially in the Netherlands, her mother's home country, but she had never visited Finland.
"In college, the coaches coach you more, maybe even mother you more, if that's the right word," she said. "They try to mold you with rules, with drills, things like that. On the professional level, they're not coaching you so much. They assume that you should know what you have to do." She said she's expected to be an all-around player, not only spiking for kills but also blocking, passing, and digging.
She's enjoying the challenge of professional competition, and she likes exploring a new culture and getting to know her teammates. Even the hours-long bus rides to away games give her a chance to see the countryside. Daniel said she is open to her long-term prospects, but eventually moving back to the United States definitely interests her.
Hendrichovsky thinks she has "a very bright future," no matter what she tries. "Whenever we played anywhere, even the opponents' fans would want to talk to her and have pictures taken with her. She just has that presence."
Daniel said she wanted to thank the university "for the continuous support and all the help through the years. The people at South really helped me achieve my goals." She misses many things about her college life: the Alabama weather, her friends, her Jags teammates. However, she added with a laugh, "I do not miss the 5:45 a.m. workouts."
---